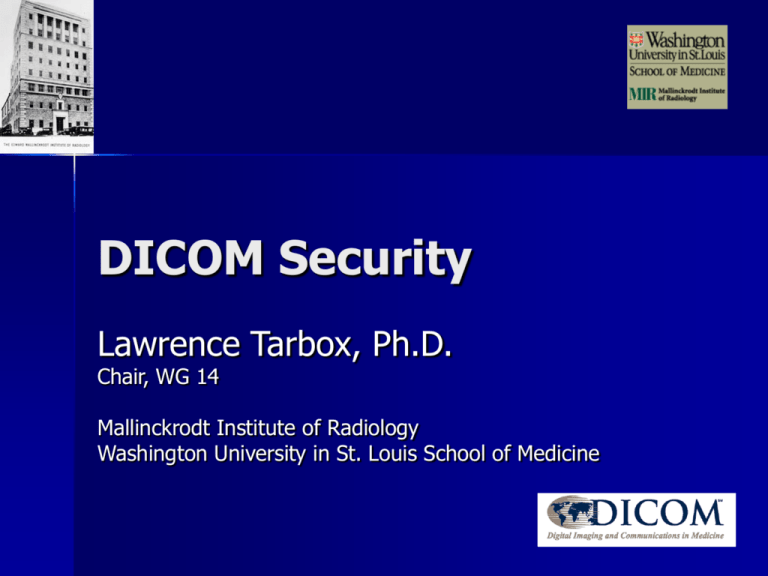 DICOM Security
Lawrence Tarbox, Ph.D.
Chair, WG 14
Mallinckrodt Institute of Radiology
Washington University in St. Louis School of Medicine
1300
3 Supplements

Digital Signatures in Structured
Reports
– In its public comment period (Supp. 86)

Audit Trail Messages
– Frozen Trial Use Draft (Supp. 95)

Extended Negotiation of User Identity
– Out for letter ballot now (Supp. 99)
Digital Signatures in
Structured Reports
Supplement 86
Status



Was on hold while WG 14
concentrated on other supplements
Has evolved to meet a new set of use
cases
Now in public comment – please give
us your input!
Contents

Addresses issues brought up in Digital Signature
implementations:
– Digital Signature Purpose field (e.g. author, verifier,
transcriptionist, device)
– Reports with multiple signers

Adds methods to securely reference other
composite objects
– Via Digital Signature in the referenced object
– Via MAC embedded in the reference itself


Adds profiles for using Digital Signatures in SRs
Extends Key Object Selection template to address
new use cases
Key Use Case
How can an application know what
objects constitute a complete set?
Options Considered

Why not MPPS?
– MPPS is not a persistent (composite)
object
– MPPS could trigger generation of a signed
Key Object Selection document

Why not Storage Commitment
– Did not wish to change semantics some
applications currently associate with
Storage Commitment
Key Object Selection
Extensions

New Document Titles:
– Complete Study/Acquisition Content
– Manifest
– Related Contend

Allow Key Object Selection Documents
to refer to other Key Object Selection
Documents (not allowed previously)
Give Us Feedback

Public Comment document available
on the DICOM web site:
http://dicom.nema.org

Mail comments to:
how_clark@nema.org
Audit Messages
Supplement 95
Status




Supplement 95 was frozen last June for trial
use
Several trial implementations of the new
audit trail message format now exist (IHE
Connectathon 2005)
No significant changes expected before
letter ballot this spring
IHE considering deprecating the initial
message format
Lets Clear the Confusion!

Base XML message format specified in RFC
3881
– To be shared by multiple domains
– Needs vocabulary definition to be useful

Supplement 95 profiles, augments, and
defines DICOM-specific vocabulary
– Use the schema in Supplement to create
messages and read DICOM extensions
– Audit repositories can interpret key using the
schema in the RFC
Beware the Ides of March
Last chance to make suggestions
before it goes to ballot! Send any
comments to:
how_clark@nema.org
before mid-March!
Extended Negotiation of
User Identity
Supplement 99
Use Cases


Facilitates audit logging
Step toward cross-system
authorization and access controls
– DICOM still leaves access control in the
hands of the application

Query Filtering
– For productivity as well as security
Design Goals






Independent of other security mechanisms
Avoid incompatibility with the installed base
No changes to current DICOM security
mechanisms
Minimum of changes to existing implementation
libraries
Extensible for future mechanisms, e.g. Security
Assertion Markup Language (SAML)
Established during association negotiation before
any regular DIMSE transactions take place,
allowing SCU to reject associations based on ID
Several Options




User identity alone, with no other
security mechanisms
User identity plus the current DICOM
TLS mechanism
User identity plus future lower level
transport mechanisms (e.g. IPv6 with
security option)
User identity plus VPN
Extended Negotiation
Response Expected
DICOM Application Entity "A"
User ID
Sub-item
(58H)
ID Type
(3)
User ID
A-ASSOCIATE
Request
(A
B)
DICOM Application Entity "B"
A-ASSOCIATE
Response
(A
B)
User ID
Sub-item
(58H)
ServerResponse
Extended Negotiation
No Response Expected
DICOM Application Entity "A"
User ID
Sub-item
(58H)
ID Type
(3)
User ID
A-ASSOCIATE
Request
(A
B)
DICOM Application Entity "B"
A-ASSOCIATE
Response
(A
B)
(No Sub-Item)
ID Type Profiles

Un-authenticated identity assertion
– Systems in a trusted environment

Username plus passcode
– Systems in a secure network

Kerberos-based authentication
– Strongest security
Kerberos

Kerberos employs a Key Distribution Center (KDC)
that
– Authenticates the user
– May be incorporated into local login process
– Provides a Ticket Granting Ticket (TGT) to the local system


Local application uses TGT to ask KDC to generate
the Service Ticket, which then is passed in the
Association Negotiation Request
Remote application uses the Service Ticket to
securely identify the user, and optionally generate a
Server Ticket that is returned in the Association
Negotiation Response
Prepared for the Future


Could support any mechanism that
supports uni-directional assertion
mechanism (e.g. using PKI and Digital
Signatures)
Does not support identity mechanisms
that require bi-directional negotiation
(e.g. Liberty Alliance proposals)
What's Next in DICOM
Security?
Suggestions accepted!