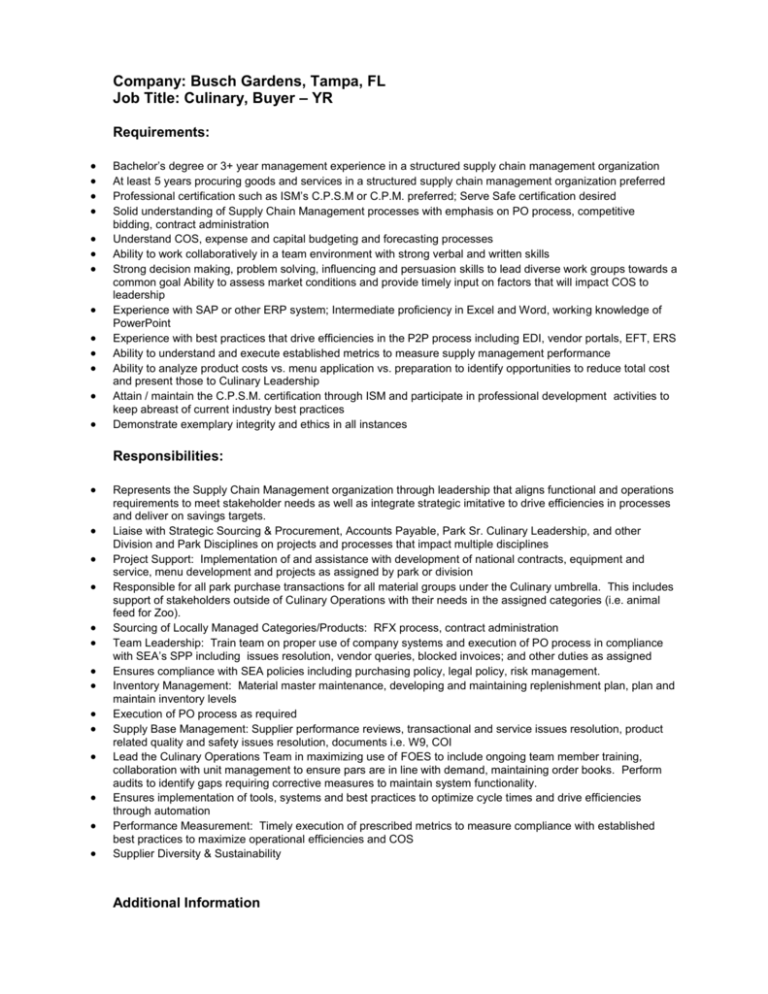 Company: Busch Gardens, Tampa, FL
Job Title: Culinary, Buyer – YR
Requirements:













Bachelor's degree or 3+ year management experience in a structured supply chain management organization
At least 5 years procuring goods and services in a structured supply chain management organization preferred
Professional certification such as ISM's C.P.S.M or C.P.M. preferred; Serve Safe certification desired
Solid understanding of Supply Chain Management processes with emphasis on PO process, competitive
bidding, contract administration
Understand COS, expense and capital budgeting and forecasting processes
Ability to work collaboratively in a team environment with strong verbal and written skills
Strong decision making, problem solving, influencing and persuasion skills to lead diverse work groups towards a
common goal Ability to assess market conditions and provide timely input on factors that will impact COS to
leadership
Experience with SAP or other ERP system; Intermediate proficiency in Excel and Word, working knowledge of
PowerPoint
Experience with best practices that drive efficiencies in the P2P process including EDI, vendor portals, EFT, ERS
Ability to understand and execute established metrics to measure supply management performance
Ability to analyze product costs vs. menu application vs. preparation to identify opportunities to reduce total cost
and present those to Culinary Leadership
Attain / maintain the C.P.S.M. certification through ISM and participate in professional development activities to
keep abreast of current industry best practices
Demonstrate exemplary integrity and ethics in all instances
Responsibilities:














Represents the Supply Chain Management organization through leadership that aligns functional and operations
requirements to meet stakeholder needs as well as integrate strategic imitative to drive efficiencies in processes
and deliver on savings targets.
Liaise with Strategic Sourcing & Procurement, Accounts Payable, Park Sr. Culinary Leadership, and other
Division and Park Disciplines on projects and processes that impact multiple disciplines
Project Support: Implementation of and assistance with development of national contracts, equipment and
service, menu development and projects as assigned by park or division
Responsible for all park purchase transactions for all material groups under the Culinary umbrella. This includes
support of stakeholders outside of Culinary Operations with their needs in the assigned categories (i.e. animal
feed for Zoo).
Sourcing of Locally Managed Categories/Products: RFX process, contract administration
Team Leadership: Train team on proper use of company systems and execution of PO process in compliance
with SEA's SPP including issues resolution, vendor queries, blocked invoices; and other duties as assigned
Ensures compliance with SEA policies including purchasing policy, legal policy, risk management.
Inventory Management: Material master maintenance, developing and maintaining replenishment plan, plan and
maintain inventory levels
Execution of PO process as required
Supply Base Management: Supplier performance reviews, transactional and service issues resolution, product
related quality and safety issues resolution, documents i.e. W9, COI
Lead the Culinary Operations Team in maximizing use of FOES to include ongoing team member training,
collaboration with unit management to ensure pars are in line with demand, maintaining order books. Perform
audits to identify gaps requiring corrective measures to maintain system functionality.
Ensures implementation of tools, systems and best practices to optimize cycle times and drive efficiencies
through automation
Performance Measurement: Timely execution of prescribed metrics to measure compliance with established
best practices to maximize operational efficiencies and COS
Supplier Diversity & Sustainability
Additional Information
Date Posted: 4/28/2014
Date Removed: 5/12/2014
Department: Culinary
Salary: $43,488 - $54,360
Position Type: Salary
Job ID: #948
Relocation Provided: Yes
Recruiter: Miguel Morales
External candidates must apply with resume at www.buschgardensjobs.com.