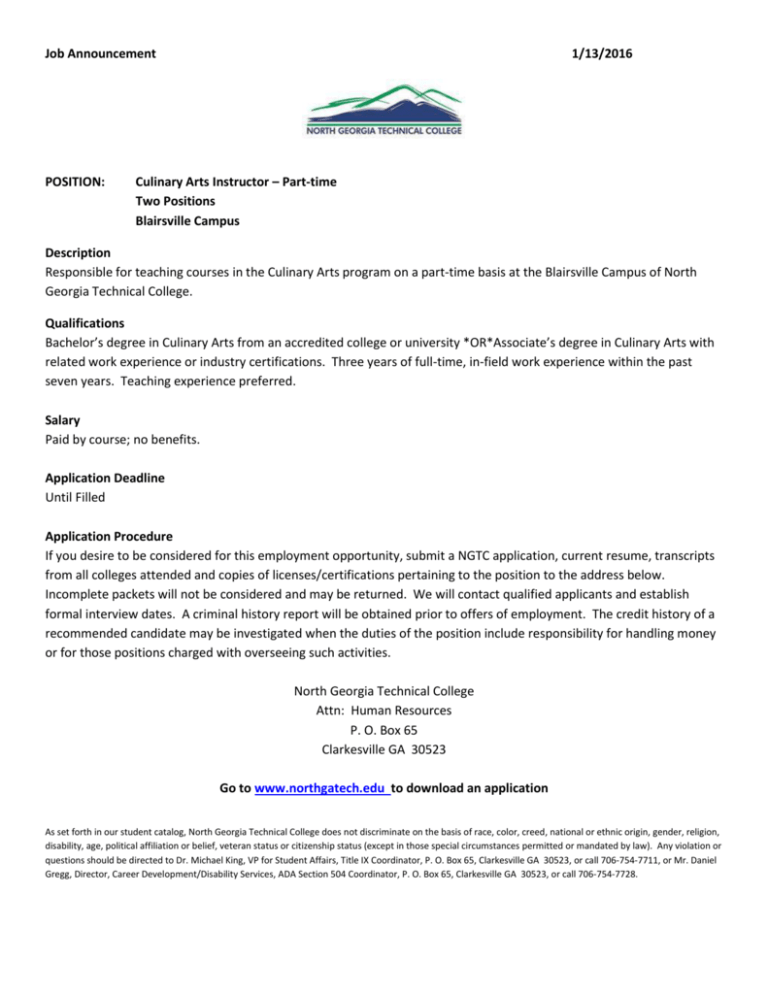 Job Announcement
POSITION:
1/13/2016
Culinary Arts Instructor – Part-time
Two Positions
Blairsville Campus
Description
Responsible for teaching courses in the Culinary Arts program on a part-time basis at the Blairsville Campus of North
Georgia Technical College.
Qualifications
Bachelor's degree in Culinary Arts from an accredited college or university *OR*Associate's degree in Culinary Arts with
related work experience or industry certifications. Three years of full-time, in-field work experience within the past
seven years. Teaching experience preferred.
Salary
Paid by course; no benefits.
Application Deadline
Until Filled
Application Procedure
If you desire to be considered for this employment opportunity, submit a NGTC application, current resume, transcripts
from all colleges attended and copies of licenses/certifications pertaining to the position to the address below.
Incomplete packets will not be considered and may be returned. We will contact qualified applicants and establish
formal interview dates. A criminal history report will be obtained prior to offers of employment. The credit history of a
recommended candidate may be investigated when the duties of the position include responsibility for handling money
or for those positions charged with overseeing such activities.
North Georgia Technical College
Attn: Human Resources
P. O. Box 65
Clarkesville GA 30523
Go to www.northgatech.edu to download an application
As set forth in our student catalog, North Georgia Technical College does not discriminate on the basis of race, color, creed, national or ethnic origin, gender, religion,
disability, age, political affiliation or belief, veteran status or citizenship status (except in those special circumstances permitted or mandated by law). Any violation or
questions should be directed to Dr. Michael King, VP for Student Affairs, Title IX Coordinator, P. O. Box 65, Clarkesville GA 30523, or call 706-754-7711, or Mr. Daniel
Gregg, Director, Career Development/Disability Services, ADA Section 504 Coordinator, P. O. Box 65, Clarkesville GA 30523, or call 706-754-7728.