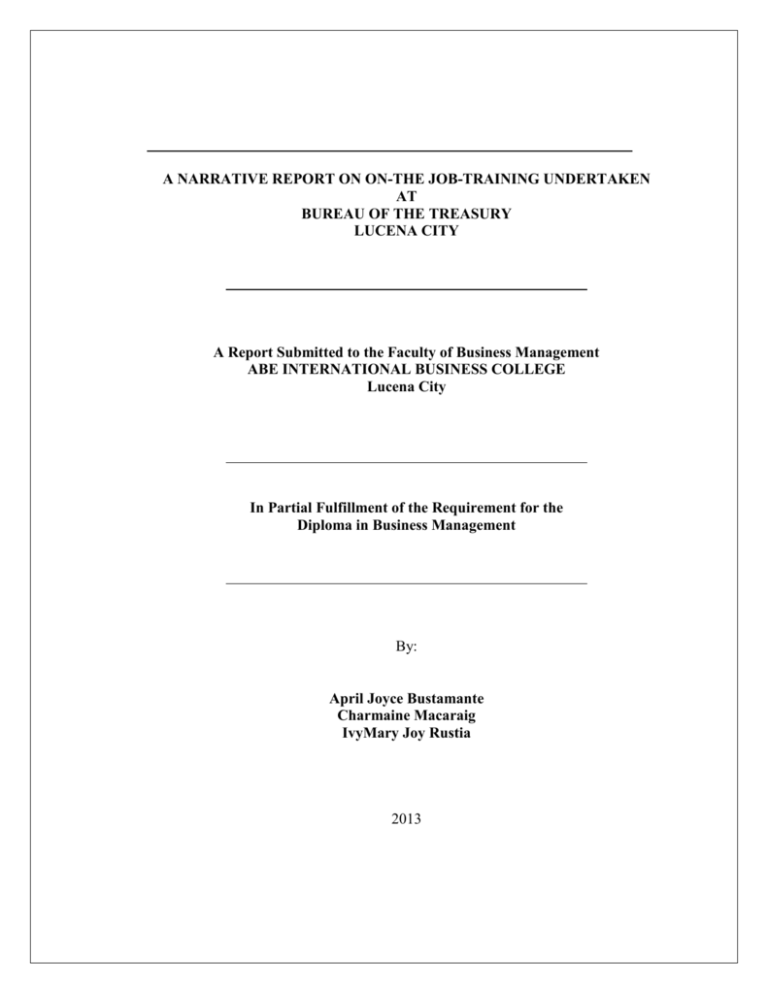 A NARRATIVE REPORT ON ON-THE JOB-TRAINING UNDERTAKEN
AT
BUREAU OF THE TREASURY
LUCENA CITY
A Report Submitted to the Faculty of Business Management
ABE INTERNATIONAL BUSINESS COLLEGE
Lucena City
In Partial Fulfillment of the Requirement for the
Diploma in Business Management
By:
April Joyce Bustamante
Charmaine Macaraig
IvyMary Joy Rustia
2013
APPROVAL SHEET
This narrative report attached hereto entitled "A NARRATIVE REPORT ON
ON-THE-JOB TRAINING UNDERTAKEN At Bureau of the Treasury–Lucena
City prepared and submitted by April Joyce Bustamante, Charmaine Macaraig and
Ivy Mary Joy Rustia in partial fulfillment of the requirements for graduation for the
diploma in Business Management, is hereby endorsed for approval.
FOR DARIA PAR - HUGHES
OJT Coordinator
OIC Dean, ABE International Business College
____________________
Date
Accepted and approved in partial fulfillment of the requirements for the Program
in Diploma in Business Management (DBM).
2013
CERTIFICATE OF COMPLETION
Acknowledgement
We are thankful to the Lord
For giving us the strength and health to finish the said undertaking
We would like to thank
Our parents and elder sister
They were always supporting us and encouraging us with their best wishes
Thank you to our entire professor
Who have played a vital role in our studies and have guided us
At every step with their precious ideas
We would like to thank all the DBM II
For the grateful moments that we've share for the whole two years
Especially to my group mates for helping me to finish
this thesis
We would like to gratefully acknowledge the
Bureau of the Treasury
For the chance to be a part of their team
OJT TRAINEE
Dedication
We dedicate our work to
Our parents
We also dedicate this to our respective adviser
Ms. Amelia Bicaldo and Ms Daria Par- Hughes
Who have played a vital role in our studies and have guided us at every step with their
precious ideas
No doubt this dedication is insufficient and we can never repay
For the role which they have played in our studies
but we are sure that their work will prove
Itself an asset in our life
And lastly to our friends and classmates
because if we have a problem
You are always there and give us strength to fight and fight.
You teach us how to be a good leader
and a good follower
OJT TRAINEES
ABE
INTERNATIONAL
BUSINESS
COLLEGE
VISION,
MISSION,
PHILOSOPHY OF EDUCATION, DEPARTMENT GOALS AND PROGRAM
History of ABE International Business College
The ABE International Business College (ABE) is a vital extension and the
premier global resource of management and leadership education in the Philippines. As
with other global institutions attempting to succeed in today's digital age, ABE is
continuously working and investing in state-of-the-art facilities in developing
comprehensive curricula and create a niche in the market as one of the leaders not only in
the business management but hotel and restaurant management as well as tourism
courses.
It is anchored on the same ideals and vision of ABE in London as the market leader in
cost-effective provisions of high quality British management education. It is the official
certifying degree in the United Kingdom and is a recognized credential for overseas
employment.
Similarly in the Philippines, ABE pursues the same global vision of providing holistic
and quality education and the advantage of providing international accreditation and
flexible payment schemes.
ABE was founded in 1999 to meet the growing demands of world-class, but affordable
business education in the Philippines. It is a subsidiary of the AMA Group of Companies
and an important part of AMA Education System, Asia's pioneer and largest I.T. based
education.
ABE was set up not only to produce leaders in business world, but also to develop these
leaders into techno entrepreneurs and professionals. Professionals who are responsive to
the needs of science and the global community, ABE trained them to be strategic thinkers
who will take the long term view and to see the big picture. The college strictly adheres
to the groups" mission of bringing holistic, relevant and globally I.T. based education.
Although experts have long agreed that schools need to adapt to today's changes. ABE
has posed the answer by reworking its curricula in tune of business worldwide. In fact,
ABE curriculum has been so well crafted that is accepted worldwide and first here in the
Philippines.
In traditional business schools, they teach the basic theories of business and commerce,
but ABE takes it further. ABE used e-business in curricula, used new tools of
technologies and information and telecommunication. There is really no way to go but to
ride in this digital wave. It is how businesses operating right now, it is how they will
operate the future. That is why we are offering the students a new way of learning that
can regularly be applied to the new economy. ABE instructions do not encourage chalk
and talk, we included point and click and embrace information culture for students and
Professors then share information and learn not only through traditional methods.
Students today need to learn how to transact, for example via computers over networks
and the World Wide Web and the Internet. They need to learn new modes of payment
such as electronic fund transfer, smart cards and digital cash. These and more, are only
the tip of an iceberg.
ABE teaches not to copy but to become capable and self-reliant. The school trains its
students to improve the existing products and to create new ones.
Today, ABE is practically the only school which has been made into business academic
programs focusing on changes that are happening and will be happening.
ABE have made a contribution to the students 'in reaching their professional destinations.
These students symbolize the changes happening in today's world of business.
Right now, ABE is gaining a strong position and a solid reputation among top employers
both locally and around the world. And now ABE is the only school in the country that
provides graduates who are competitive in both the local and international business
scenes.
Thus, with ABE OJT program abroad, plus the opportunity to earn while learning, there
is no way ABE graduates cannot compete and be accepted in those jobs and opportunities
here and abroad.
Mission
Provide a holistic, relevant, quality and globally-recognized IT-based education in
all levels and disciplines. With this mission, it aims to produce professionals and leaders
that will be responsive to the needs of science and the international community cognizant
of the welfare and benefits of its men and women thereby realizing their potentials as
productive members of society for the honor and glory of God Almighty.
Vision
To be the leader and dominant provider of relevant and globally recognized information
technology - based education and related services in the global market.
Philosophy of Education
Education is a lifelong development of Human element within the context of
social – cultural environment in which he lives and operates. Learners is an individual
capable of full acquisitions of self actualization and productivity through encounters and
exposures to various learning conditions Teacher is a catalyst who initiates and provides
learning process adapted to individual differences of the learners, utilizes effective and
modern learning techniques with the ultimate goal of maximizing the learner's potential
growth process.
Business Administration/Business Management Department Goals
In pursuit of the College Vision/Mission, the Department of Business
Management is committed to develop students with well rounded personality flexible
enough to adjust in the changing needs of time for global competitiveness which are
related to research, extension and production; equip, them with knowledge and skills in
Business Management and other related fields in Science and business.
The Objectives of the Business Administration/Business Management Program
The Diploma in Business Management leading to the Bachelor of Science in
Business Management aims to develop the student's intellectual emotional and skills
competencies provided with the advanced and detailed knowledge of the design
implementation and management of issues involved in the operation of Business
Management leading to responsive and pro – active students through various theories
acquired and academic exercises coupled with the on – the – job training activities
towards highest globally competitive professional and E – Business Leader of the Global
Community.