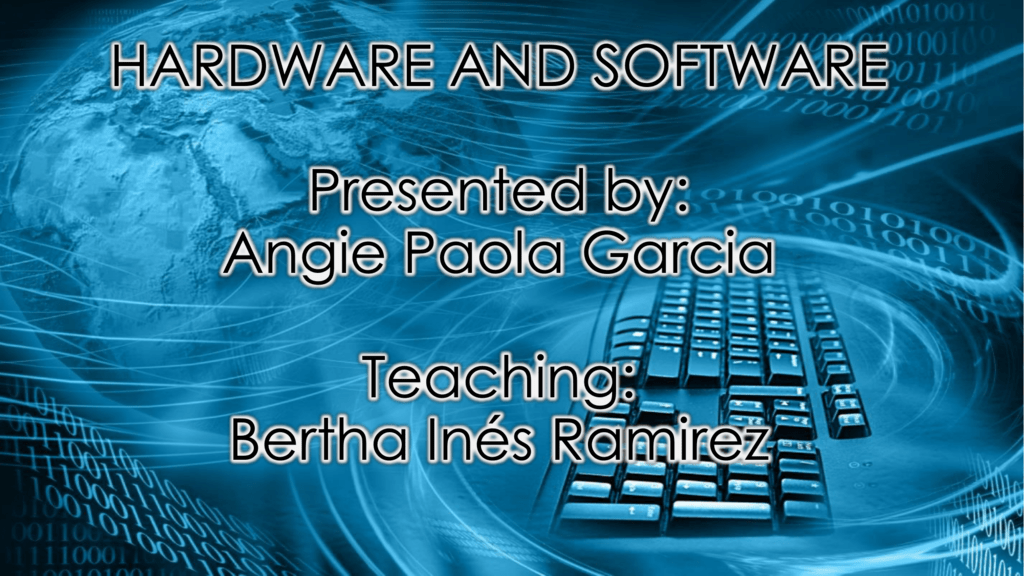 HARDWARE AND SOFTWARE
Presented by:
Angie Paola Garcia
Teaching:
Bertha Inés Ramirez
HARDWARE
HARDWARE is the physical aspect of computers,
telecommunications, and other devices. The term arose as
a way to distinguish the "box" and the electronic circuitry
and components of a computer from the program you put
in it to make it do things.
The Hardware has several components, among them are:
MOTHERBOARD
A motherboard is one of the most essential parts of a
computer system. It holds together many of the crucial
components of a computer, including the central
processing unit (CPU), memory and connectors for input
and output devices.
PROCESSOR
A processor, or "microprocessor," is a small chip that resides
in computers and other electronic devices. Its basic job is to
receive input and provide the appropriate output.
The central processor of a computer is also known as the
CPU, or "central processing unit." This processor handles all
the basic system instructions, such as processing mouse and
keyboard input and running applications.
RAM
RAM (pronounced ramm) is an acronym for random access
memory, a type of computer memory that can be
accessed randomly; that is, any byte of memory can be
accessed without touching the preceding bytes.
GRAPHICS CARDS OR VIDEO CARD
A video card connects to the motherboard of a computer
system and generates output images to display. Video
cards are also referred to as graphics cards. Video cards
include a processing unit, memory, a cooling mechanism
and connections to a display device.
SOUND CARD
Alternatively referred to as a sound board or audio card, a
sound card is an expansion card or integrated circuit that
provides a computer with the ability to produce sound that
can be perceived by the user through a peripheral device
like speakers or headphones.
NETWORK INTERFACE CARD
A network interface card (NIC) is a computer circuit board
or card that is installed in a computer so that it can be
connected to a network.
Personal computers and workstations on a local area
network (LAN) typically contain a network interface card
specifically designed for the LAN transmission technology
HARD DISK
A hard disk is part of a unit, often called a "disk drive," "hard
drive," or "hard disk drive," that stores and provides relatively
quick access to large amounts of data on an
electromagnetically charged surface or set of surfaces.
DISK DRIVE
A disk drive is a device that reads and/or writes data to a
disk. The most common type of disk drive is a hard drive (or
"hard disk drive"), but several other types of disk drives exist
as well. Some examples include removable storage
devices, floppy drives, and optical drives, which read
optical media, such as CDs and DVDs.
SOFTWARE
Software means computer instructions or data. Anything
that can be stored electronically is software, in contrast to
storage devices and display devices which are called
hardware.
Without software, computers would be useless.
INTERNET BROWSER
FIREFOX: is the highly popular free web browser. Mozilla's
next generation of browsers that include such great
features as tabbed browsing, popup blocking, and other
features not found in other browsers at the time.
MOVIE PLAYER
VLC PLAYER: is a free and open-source media player for
Microsoft Windows, Linux, and Mac OS that is capable of
playing any every audio file, various video files, and even
DVD movies.
GRAPHICS PROGRAM
CORELDRAW: Is a computer application design vector
graphic, so it uses mathematical formulas in its content.
E-MAIL
E-mail software program by Microsoft that enables users to
send and receive e-mail on their computer. There are two
versions of Outlook; Microsoft Outlook Express and Microsoft
Outlook.