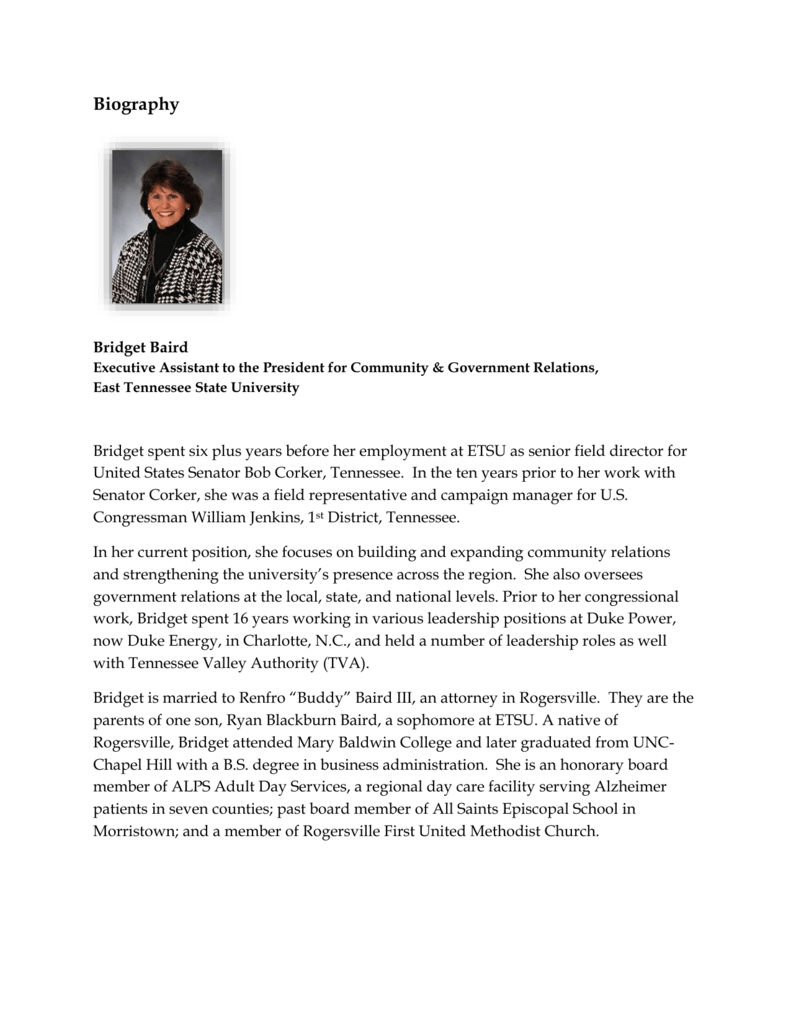 Biography
Bridget Baird
Executive Assistant to the President for Community & Government Relations,
East Tennessee State University
Bridget spent six plus years before her employment at ETSU as senior field director for
United States Senator Bob Corker, Tennessee. In the ten years prior to her work with
Senator Corker, she was a field representative and campaign manager for U.S.
Congressman William Jenkins, 1st District, Tennessee.
In her current position, she focuses on building and expanding community relations
and strengthening the university's presence across the region. She also oversees
government relations at the local, state, and national levels. Prior to her congressional
work, Bridget spent 16 years working in various leadership positions at Duke Power,
now Duke Energy, in Charlotte, N.C., and held a number of leadership roles as well
with Tennessee Valley Authority (TVA).
Bridget is married to Renfro "Buddy" Baird III, an attorney in Rogersville. They are the
parents of one son, Ryan Blackburn Baird, a sophomore at ETSU. A native of
Rogersville, Bridget attended Mary Baldwin College and later graduated from UNCChapel Hill with a B.S. degree in business administration. She is an honorary board
member of ALPS Adult Day Services, a regional day care facility serving Alzheimer
patients in seven counties; past board member of All Saints Episcopal School in
Morristown; and a member of Rogersville First United Methodist Church.