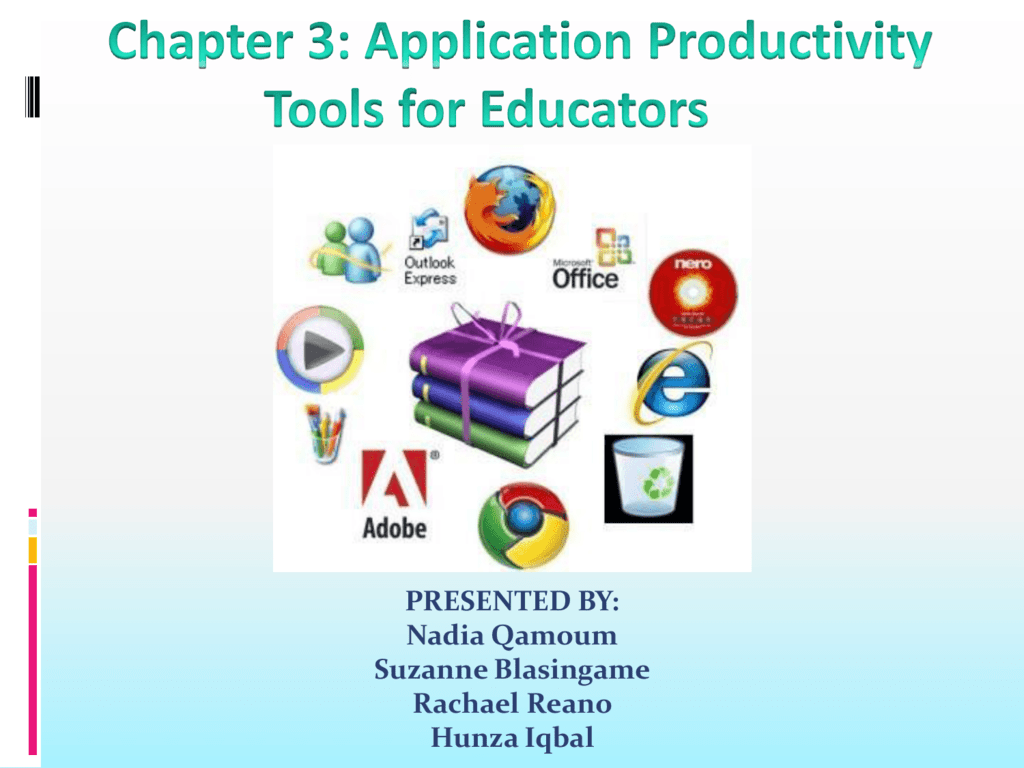 PRESENTED BY:
Nadia Qamoum
Suzanne Blasingame
Rachael Reano
Hunza Iqbal
An Operating System contains two different types
of software:
•System Software: Which consists of programs that control
the operations of the computer. System software is used as the
interface between the user (application software) and the
computers hardware.
•Operating System: which is a type of software. It contains
instructions that coordinate all the activities of the hardware
devices in a computer. The system also allows you to run
application software.
• Microsoft Windows
• Windows XP
• Windows Vista
• Windows 7
• Macintosh Operating System or MAC
OS
Software's are designed to communicates with the
user in a certain way, through user interface.
There are two types of User Interface:
1. User Interface: Which controls how the user enters
data or instructions and how the information is
presented on the screen.
2. Graphic User Interface (GUI): It combines text,
graphics, and other visual cues to make software
applications easier to use.
•
•
•
•
•
•
•
•
•
AutoCorrect
Auto Format
Collaboration
Columns
Grammar Checker
Ink Input
Macros
Mail Merge
Reading Layout
•
•
•
•
•
•
•
•
Research
Smart Tags
Tables
Templates
Thesaurus
Tracking Changes
Voice Recognition
Web Page
Development
A collection of individual application
software packages, sold as a single
package.
 Suites are less expensive than buying
individual applications.
 All applications are installed at once.
 Applications in suites are designed to work as
part of a larger set, sharing common features.
Document is a piece of work created with an
application and saved on a storage medium
with a unique file name.
 Creating: involves developing a document of
your choice. ( Word Document , PowerPoint,
Spread Sheet ....etc. )
 Editing: is the process of making changes to
the document.( Fixing the misstates and
adding thing you might have missed )
 Formatting: Changing the appearance of the
document.
 Saving: save many times while creating the
document. Then at the end of its creation use
the save as option.
 Voice Recognition Software: Speak into the
computers microphone and watch your words
display on the screen. ( Ex. Note Taking Software.)
 Productivity Software: Help make people be
more effective while performing daily duties .( Ex.
Word Processing , Spreadsheets, Presentations
graphics, Data base , personal information. )
 Personal Information Managers: Software
application that is installed on PDA's , Smart
Phones ( I Phones ). Helps you stay organized
 Video: consists of full-motion images
played back at various speeds.
 Video editing software allows you to
either edit or add audio components.
 Can help you modify a part of a video,
called a clip. For example you can:
 Add and remove clips
 Add special effects like sounds, banners,
credits, text and more.
 PC and Macintosh
computers include extensive
audio and video editing
compatibilities.
 Popular programs used by
teachers include iMovie,
iLife, Movie Maker, and Final
Cut.
 You and your student can
even make your own videos
using those programs.
 Special needs software: also called assistive
technologies software, is designed specifically
for students with physical impairments or
learning disabilities.
 It helps them in completing school assignments
and everyday tasks.
 speech synthesis software: software used by
students with speech and vocal muscle
disorders to help them participate in
classroom discussions. This software reads
the text out loud to them.
 Includes programs like:
 text enlargement
 talking calculators,
and more.
 Today, there are several software available to
teachers to use as tools to enhance teaching and
learning methods for students with special needs.
 When students use software for learning with
assistive devices, such as touch screens and adaptive
keyboards, their ability to succeed increases, and
that is our main goal.