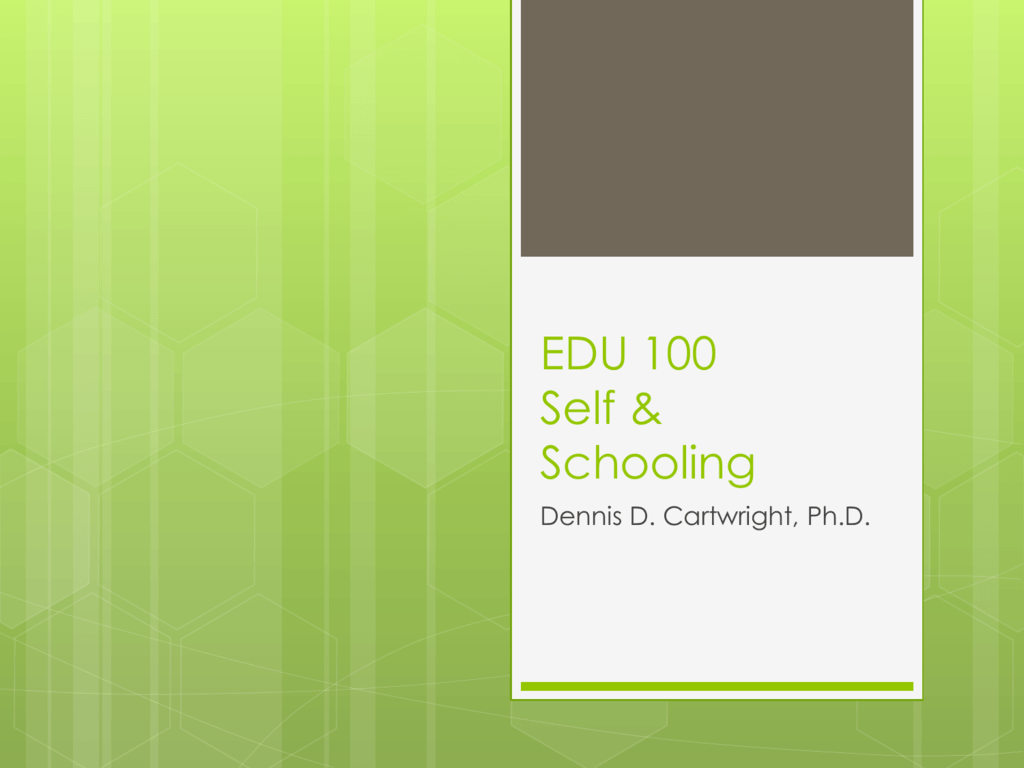 EDU 100
Self &
Schooling
Dennis D. Cartwright, Ph.D.
Review Syllabus
 Questions
 Blog
– coi100.wordpress.com
 Field
Experience


12/8 hours
Log
Conceptual Framework
 Mission
 Vision
 Beliefs
 Dispositions
Educative Community
Community of Learners
Constructivist learning
Critical Caring Pedagogy
Who Are You
 Name
 Where
are you from
 Freshman, Sophomore, Junior, Senior
 Major
 Why are you interested in teaching – or
not?
 Something others might not know
Leonardo da Vinci
 What
do you know
about him?
 What
would you
like to know?
Some scholars have
ranked him as the
greatest genius of all
time
Seven Principles of Da Vinci

Curiosita
Dimonstrazione
Sensazione
Sfumato
Arte/Sceinze
Corporalita
Connessione

Context – Culture






Middle Ages - Dark Ages
 What
do you know of this period in
history?
 Pp
13-14
 Culture
today
 Renaissance
Woman/Man in 2011?
Humble Beginnings
 Born
- April 15, 1452
 Mother – Caterina –
 Father – Ser Piero da Vinci  Raised by grandfather (Notary)

Leonardo
 Apprentice
– Andre de Verrocchio – six years
 Company St. Luke – Apothecaries, physicians
and artists
 Anatomy
Late teen- early twenties

Good lookin dude



Arrested – before 24th birthday




Strolling through Florence - Silk leggings, long
alburn-blond curls – rose-colored velvet tunic
storytelling, beauty, physical grace, humorist,
conjurer, musician
Prison
"The greater the sensibility the greater the
suffering…much suffering."
dismissed
Started receiving commissions

The Adoration of the Magi (p. 28)
"Feathers
shall raise men even as
they do birds, toward heaven; that is
by letters written with their quills."

Leonardo da Vinci
Review/Reflect

Item #1 Write down the things you can
remember about the education department
conceptual framework.

Item #2 Write down anything you can
remember about Leonardo da Vinci and/or
the dark ages
Moved to Milan

Patronage of Ludovico "the Moor" Sforza


The Last Supper (p. 29)
Studied








Botany
Anatomy
Astronomy
Geology
Flight
Geography
Inventions
Military innovations
The Equestrian Monument
 24
ft tall
 Wooden model
 80 tons of bronze
 Fall

of Ludovico defeated by French
Da Vinci – without a patron
Patrons
 Borgia
– commander of Papal armies –
known for violence
 Signoria of Florence

Works
 Battle
of Anghiari (p. 33)
 Mona Lisa
Mona Lisa
Traveled to France
 Francois
patron

I – King of France became his
No loyalty
 to
patrons
 to the Pope
 to the country of his birth


Was free to pursue his interests –
Francois allowed him almost unlimited
freedom to pursue his interests.
Final Days

Stroke



As death approached, Leonardo, never religious but
always deeply spiritual, "desired scrupulously to be
informed of Catholic practice and the good and holy
Christian religion." (Vasari)
"as a day well spent brings blessed sleep, so a life well
lived brings a blessed death."
Final days filled with repentance and apologized to
"God and man for leaving so much undone."



Died May 2 1519 - 67-
Many of his works were never finished – only 17 of his
paintings exist and some are not finished. Notes never
organized and published.
Added perspective and landscape to paintings (p. 39)
Inventions


Plans
Domestic/Commercial - automation


Military –


flying machine, parachute, extendable ladder, threespeed gear shift, machine for cutting threads, bicycle,
adjustable wrench, snorkel, hydraulic jack, revolving
stage, locks for a canal system, horizontal waterwheel,
folding furniture, olive press, automated musical
instruments, water-powered alarm clock, therapeutic
armchair, crane for cleaning ditches
Armored tank, machine gun, mortar, guided missile,
submarine
Science –

Botany, Anatomy, Geology and physics (Pp. 44-45)
Can we all develop into a
Leonardo?

We can all become more than we think we
can?



IQ





Genetic
Developmental
Alfred Binet (1857-1911) Can IQ change?
What does it measure?
Howard Gardner –
Brain Capacity -
Curiosita
 An
Insatiably Curious Approach to Life
and an Unrelenting Quest for Continuous
Learning

Why to five year olds ask so many questions
and seniors ask so few?
 Maturity
 Amount
 School
 Society
they know
What did the self assessment
teach you about yourself?
 Pair
Share
100 questions
 Did
anyone make a list?
What did you learn
 About
Leonardo?
 About
yourself?
 About
being a teacher?
Conceptual Framework
 Does
anything in this chapter relate to
anything in the conceptual framework?
Two Questions
 What
was the most important thing you
learned this week (in class or through
reading)
 What,
if anything, are you still confused
about?
Dimostrazione
 Comment
on someone's reflection about
Curiosita
 Describe an experience that changed
your life or that altered what you believed
and explain why it had that impact.