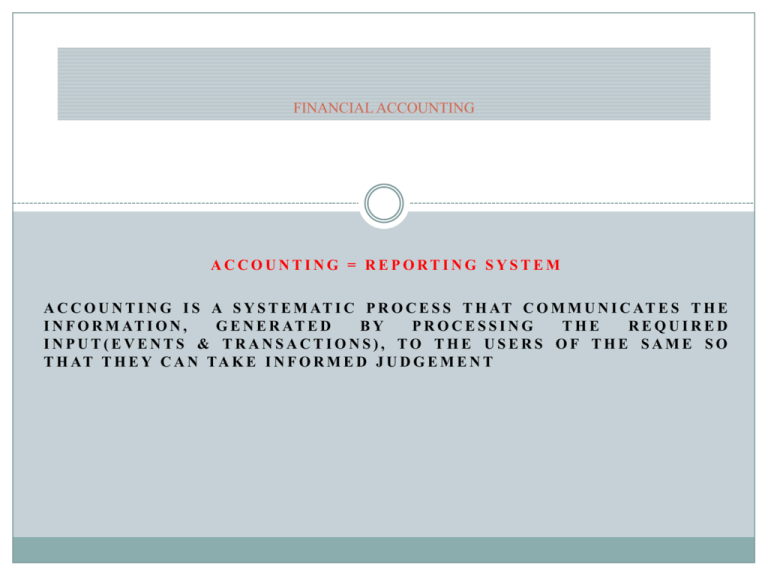 FINANCIAL ACCOUNTING
ACCOUNTI NG = REPORTI NG SYSTEM
A C C O U N T I N G I S A S Y S T E M AT I C P R O C E S S T H AT C O M M U N I C AT E S T H E
I N F O R M AT I O N ,
G E N E R AT E D
BY
PROCESSING
THE
REQUIRED
INPUT(EVENTS & TRANSACTIONS), TO THE USERS OF THE SAME SO
T H AT T H E Y C A N T A K E I N F O R M E D J U D G E M E N T
USERS OF ACCOUNTING INFORMATION
 EXTERNAL USERS
PROSPECTIVE INVESTORS
LENDERS
GOVERNMENT
ANALYSTS
 INTERNAL USERS
MANAGEMENT
EMPLOYEE
USERS TAKEN TOGETHER ARE KNOWN AS STAKEHOLDERS
ACCOUNTING
FINANCIAL
EXTERNAL REPORTING
COST
MANAGEMENT
INTERNAL REPORTING
ANY SYSTEM HAS THREE PHASES
 INPUT
 PROCESSING
 OUTPUT
JOURNAL
INPUT
EVENTS &
TRANSACTION
PROCESSING
OUTPUT
INFORMATION
LEDGER
QUALITY OF INFORMATION
INFORMATION GENERATED BY ACCOUNTING MUST HAVE THE FOLLOWING
CHARACTERISTICS :
 RELIABILITY
 DEPENDABILITY
 RELEVANCE
 COMPARABILITY
 UNDERSTANDABILITY
ACCOUNTING PRINCIPLES & CONCEPTS
GAAP = GENERALLY ACCEPTED ACCOUNTING PRINCIPLES
GAAP ARE PRINCIPLES, RULES, STANDARD,CONCEPTS AND CONVENTIONS
FOLLOWED UNIFORMLY BY THE ACCOUNTANT IN THE PREPARATION AND
PRESENTATION OF FINANCIAL STATEMENTS.
SO GAAP ARE THE BACKBONE OF THE WHOLE SYSTEM OF ACCOUNTING
ACCOUNTING CONCEPTS AND ASSUMPTIONS: FUNDAMENTAL ACCOUNTING
ASSUMPTIONS ARE GOING CONCERN
 ACCRUAL

OTHER ACCOUNTING CONCEPTS





MONEY MEASUREMENT CONCEPT
ACCOUNTING PERIOD CONCEPT
ENTITY CONCEPT
DUAL ASPECT CONCEPT
COST CONCEPT
ACCOUNTING CYCLE
ECONOMIC EVENTS & TRANSACTIONS
JOURNAL
SPECIAL
CASH
BOOK
PETTY
CASH
BOOK
GENERAL
PURCHASE
DAY BOOK
SALES
DAY
BOOK
PURCHASE
RETURN
BOOK
SALES
RETURN
BOOK
BR
BOOK
BP
BOOK
SIX ENTRIES
ARE MADE
i) OPENING
ii) CLOSING
iii) ADJUSTMENT
iv) RECTIFICATION
v) TRANSFER
vi) RESIDUARY
LEDGER
GENERAL
DEBTORS
CREDITORS
TRIAL BALANCE
FINAL ACCOUNTS
THE REPEATATIVE PROCESS OF JOURNAL TO LEDGER TO TRIAL BALANCE AND
PREPARATION OF FINAL ACCOUNTS EVERY YEAR ARE KNOWN AS ACCOUNTING
CYCLE.
DOUBLE ENTRY PRINCIPLES
SCIENTIFIC BASIS OF ACCOUNTING.
IT STATES THAT EVERY TRANSACTION HAS TWOFOLD ASPECTSONE RECEVERCALLED DR
OTHER GIVER CALLED CR
RULES OF JOURNAL
GOLDEN RULE
PERSONAL ACCOUNT – DR - RECEIVERS
CR - GIVER
REAL ACCOUNT
- DR WHAT COMES IN
CR WHAT GOES OUT
NOMINAL ACCOUNT - DR EXPENSES & LOSSES
CR INCOME & GAINS
ACCOUNT- AN ACCOUNT IS A PLACE IN THE LEDGER WHERE
SIMILAR TRANSACTIONS ARE RECORDED
MODERN RULE
ASSETS, EXPENSES, LOSSES – DR INCREASE
CR DECREASE
LIABILITIES, INCOME, GAINS - DR DECRASE
CR INCREASE
TERMINOLOGY
 ASSETS- RESOURCES UNDER THE CONTROL OF AN ENTERPRISE AS A RESULT OF
PAST TRANSACTION BENEFIT OF WHICH WILL FLOW INTO THE ENTERPRISE IN
FUTURE.
 LIABILITIES-PRESENT OBLIGATION AS A RESULT OF PAST TRANSACTION THAT
WILL BE MATURED IN FUTURE.
 EXPENSES – OUTFLOW OF RESOURCES OTHER THAN DRAWINGS THAT WILL
RESULT IN DECREASE IN EQUITY.
 INCOME – INFLOW OF RESOURCES OTHER THAN CAPITAL INTRODUCTION THAT
WILL RESULT IN INCREASE IN EQUITY.