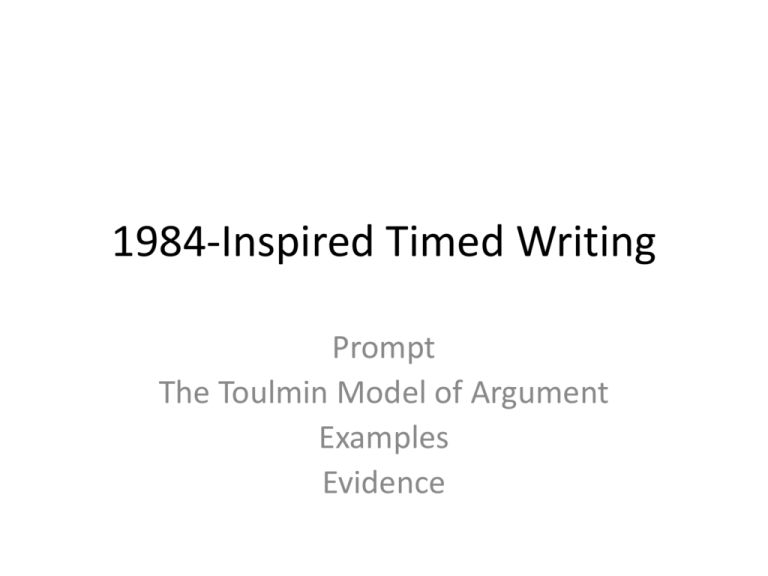 1984-Inspired Timed Writing
Prompt
The Toulmin Model of Argument
Examples
Evidence
Opening Writing
H.L. Mencken (1880-1956) wrote, "The average
man does not want to be free. He simply wants
to be safe."
What are your first, knee-jerk, reactions and
thoughts to this observation? Do you agree or
disagree?
Prompt
American essayist and social critic H.L. Mencken
(1880-1956) wrote, "The average man does not
want to be free. He simply wants to be safe." In
a well-written essay examine the extent to
which Mencken's observation applies to
contemporary society, supporting your position
appropriate support.
This is your next paper. We will outline it today
and draft it next time.
Plan
This is not a "just go for it assignment." In fact it is
pretty methodical. We are going to use the Toulmin
Model of Argument. It is used by SDSU and several
other universities in and out of Cali.
________________________________
In the first move it involves:
• Claims
• Grounds
• Warrants
Claims: "So what is your point?"
The CLAIM is the point (thesis).
Example: You should send a birthday card to
grandma, because she sent you one on your
birthday.
Example: I drove last time, so it is your turn this
time.
Claims
• Claims are:
– FACT: focus on empirically verifiable occurrences
– JUDGEMENT / VALUE: involving opinions,
attitudes, and subjective evaluations
– POLICY: advocating courses of action that should
be undertaken
Which claim best addresses the prompt?
Grounds: "What is your proof?"
• Grounds refers to the proof or EVIDENCE an
arguer offers
• Grounds can consists of:
– Statistics
– Quotations
– Reports
– Findings
– Physical evidence
– Forms of reasoning
How you categorize your evidence…
Remember: Think: Capital Punishment
1.
2.
3.
4.
5.
Political
Legal
Historical
Psychological
Values
6. Economic
7. Pragmatic
8. Sociological
1.
2.
3.
4.
5.
6.
7.
8.
The American public voted for it
It's the law/It shouldn't be the law
It has/has not worked in the past
Most prisoners on death row were
abused children
It is right (eye for an eye)/It is not
right (two wrongs don't make a
right)
It's too expensive to kill
prisoners/to keep prisoners in jail
It doesn't work/It's a pragmatic
deterrent
A large number of people on death
row are poor and people of color
Last move: Warrant
• Warrant is the inferential leap that connects
the claim to the grounds.
• Example: I am running a high temperature. I
bet I have an infection.
– A fever is often a sign of an infection
– I could just be hot.
– It could be nothing, but logically it is a fever
caused by an infection.
Bad example of a Warrant
•  example:
"I have an "F" in English because I think the teacher
hates me."
• It would be more reasonable to connect failing to bad
grades on assignments, zeroes, a bad attitude, a lack of
skill or even care.
• One could fail and still be liked.
• One could pass and not be liked.
• One does not have much or anything to do with the
other.
Warrant (last one)
• Example: That dog is probably friendly. It is a
Golden Retriever.
•
•
•
•
Warrants can be based on:
Ethos
Logos
Pathos
Altogether Now
Claim:
• Most modern people would claim to be proud
of the freedoms this nation offers; however,
average people have proven themselves more
than willing to give up these freedoms to
ensure personal security.
Grounds (evidence):
• In 2010 a poll asked Americans if the gov't had
gone too far restricting civil liberties:
• 25% said "yes"
• 63% said "no"
Warrant (logic that connects claim to grounds)
A majority of Americans understand that
measures need to be taken for personal and
national security that have not been previously
taken. The status quo failed; thus, The Patriot
Act was both necessary and welcomed by the
public.