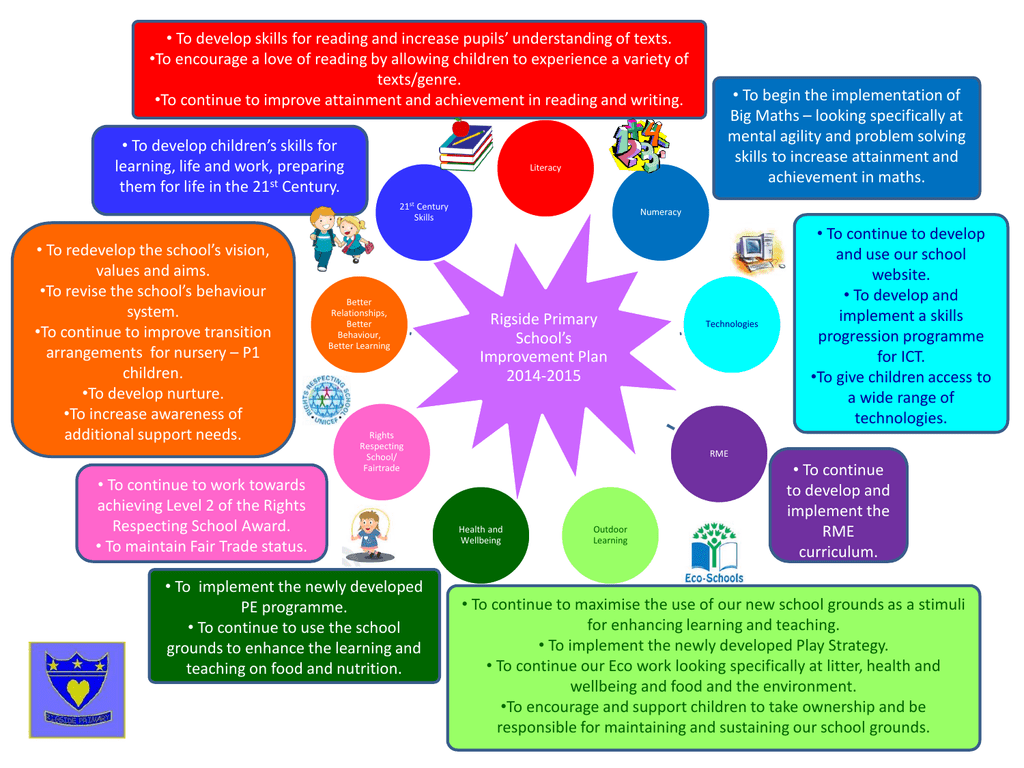 • To develop skills for reading and increase pupils' understanding of texts.
•To encourage a love of reading by allowing children to experience a variety of
texts/genre.
•To continue to improve attainment and achievement in reading and writing.
• To develop children's skills for
learning, life and work, preparing
them for life in the 21st Century.
Literacy
21st Century
Skills
• To redevelop the school's vision,
values and aims.
•To revise the school's behaviour
system.
•To continue to improve transition
arrangements for nursery – P1
children.
•To develop nurture.
•To increase awareness of
additional support needs.
Better
Relationships,
Better
Behaviour,
Better Learning
Numeracy
Rigside Primary
School's
Improvement Plan
2014-2015
Rights
Respecting
School/
Fairtrade
• To continue to work towards
achieving Level 2 of the Rights
Respecting School Award.
• To maintain Fair Trade status.
• To implement the newly developed
PE programme.
• To continue to use the school
grounds to enhance the learning and
teaching on food and nutrition.
• To begin the implementation of
Big Maths – looking specifically at
mental agility and problem solving
skills to increase attainment and
achievement in maths.
Technologies
• To continue to develop
and use our school
website.
• To develop and
implement a skills
progression programme
for ICT.
•To give children access to
a wide range of
technologies.
RME
Health and
Wellbeing
Outdoor
Learning
• To continue
to develop and
implement the
RME
curriculum.
• To continue to maximise the use of our new school grounds as a stimuli
for enhancing learning and teaching.
• To implement the newly developed Play Strategy.
• To continue our Eco work looking specifically at litter, health and
wellbeing and food and the environment.
•To encourage and support children to take ownership and be
responsible for maintaining and sustaining our school grounds.