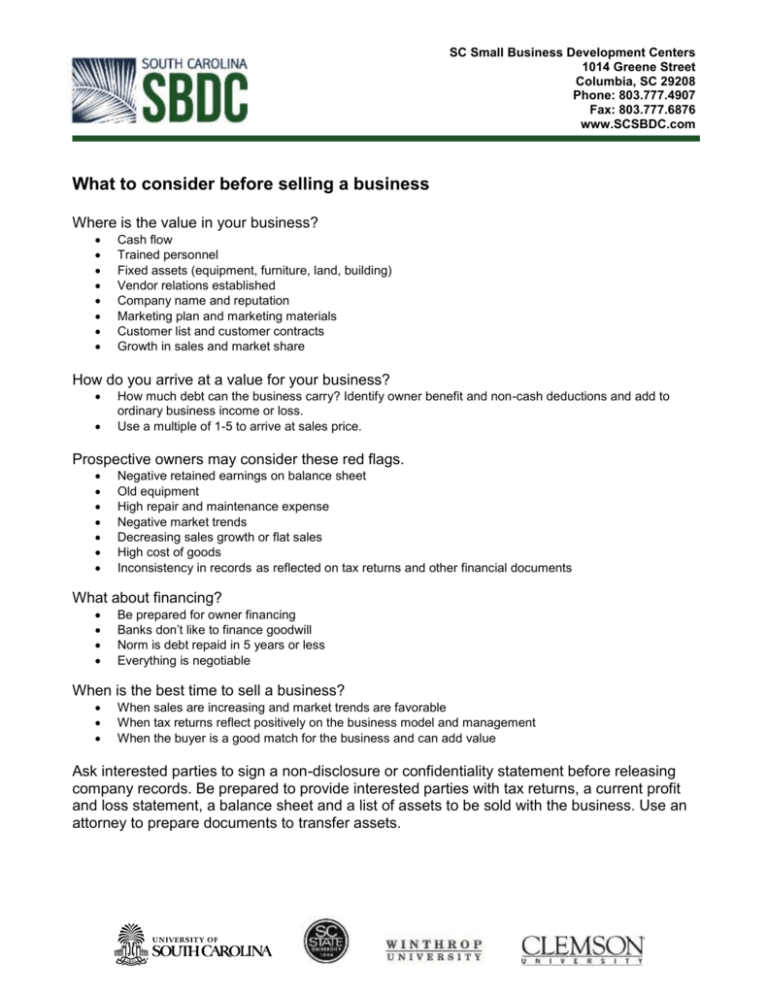 SC Small Business Development Centers
1014 Greene Street
Columbia, SC 29208
Phone: 803.777.4907
Fax: 803.777.6876
www.SCSBDC.com
What to consider before selling a business
Where is the value in your business?








Cash flow
Trained personnel
Fixed assets (equipment, furniture, land, building)
Vendor relations established
Company name and reputation
Marketing plan and marketing materials
Customer list and customer contracts
Growth in sales and market share
How do you arrive at a value for your business?


How much debt can the business carry? Identify owner benefit and non-cash deductions and add to
ordinary business income or loss.
Use a multiple of 1-5 to arrive at sales price.
Prospective owners may consider these red flags.







Negative retained earnings on balance sheet
Old equipment
High repair and maintenance expense
Negative market trends
Decreasing sales growth or flat sales
High cost of goods
Inconsistency in records as reflected on tax returns and other financial documents
What about financing?




Be prepared for owner financing
Banks don't like to finance goodwill
Norm is debt repaid in 5 years or less
Everything is negotiable
When is the best time to sell a business?



When sales are increasing and market trends are favorable
When tax returns reflect positively on the business model and management
When the buyer is a good match for the business and can add value
Ask interested parties to sign a non-disclosure or confidentiality statement before releasing
company records. Be prepared to provide interested parties with tax returns, a current profit
and loss statement, a balance sheet and a list of assets to be sold with the business. Use an
attorney to prepare documents to transfer assets.