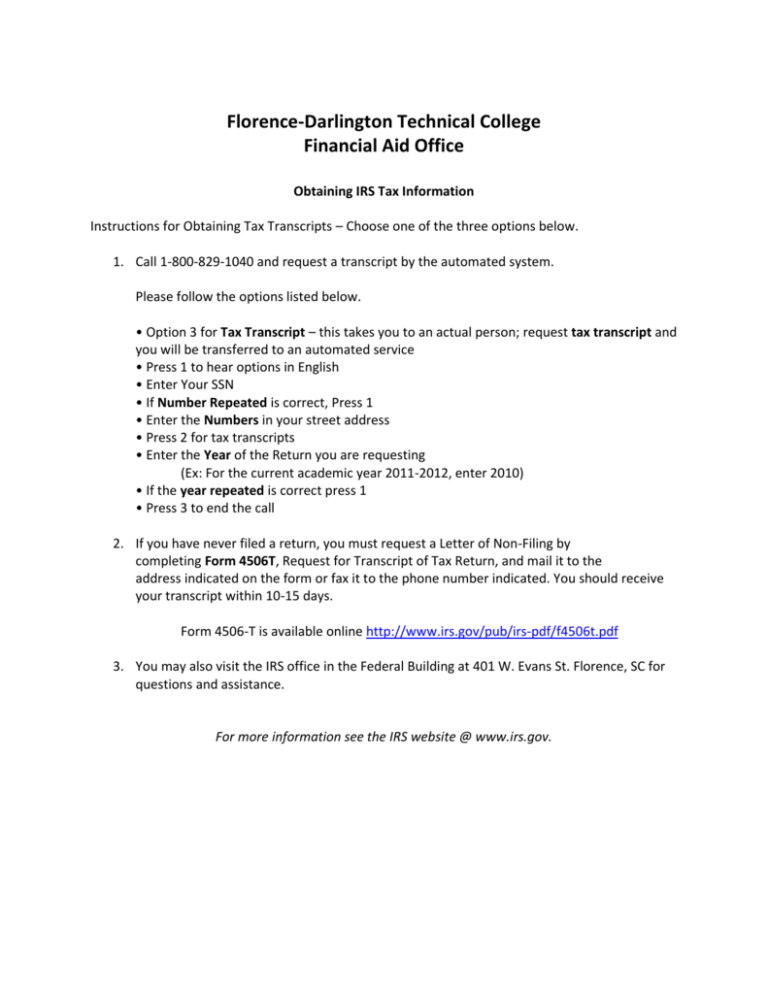 Florence-Darlington Technical College
Financial Aid Office
Obtaining IRS Tax Information
Instructions for Obtaining Tax Transcripts – Choose one of the three options below.
1. Call 1-800-829-1040 and request a transcript by the automated system.
Please follow the options listed below.
• Option 3 for Tax Transcript – this takes you to an actual person; request tax transcript and
you will be transferred to an automated service
• Press 1 to hear options in English
• Enter Your SSN
• If Number Repeated is correct, Press 1
• Enter the Numbers in your street address
• Press 2 for tax transcripts
• Enter the Year of the Return you are requesting
(Ex: For the current academic year 2011-2012, enter 2010)
• If the year repeated is correct press 1
• Press 3 to end the call
2. If you have never filed a return, you must request a Letter of Non-Filing by
completing Form 4506T, Request for Transcript of Tax Return, and mail it to the
address indicated on the form or fax it to the phone number indicated. You should receive
your transcript within 10-15 days.
Form 4506-T is available online http://www.irs.gov/pub/irs-pdf/f4506t.pdf
3. You may also visit the IRS office in the Federal Building at 401 W. Evans St. Florence, SC for
questions and assistance.
For more information see the IRS website @ www.irs.gov.