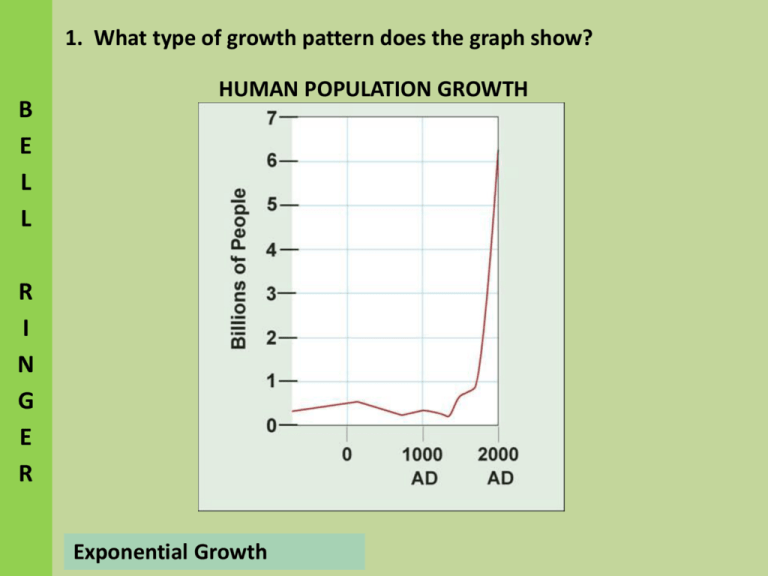 1. What type of growth pattern does the graph show?
B
E
L
L
HUMAN POPULATION GROWTH
R
I
N
G
E
R
Exponential Growth
HUMAN POPULATION
GROWTH
Objectives:
• Identify how the
birthrate and death rate
affect the rate at which a
population changes.
• Compare the age
structure of rapidly
growing, slow-growing,
and no-growth countries.
HUMAN POPULATION GROWTH
Historical Overview
Like the populations of many other living organisms, the size of the
human population tends to increase with time.
 For most of human existence, the population grew slowly
 Limiting factors (competition, disease, parasitism, and natural
disasters) kept population sizes low.
 About 500 years ago, the human population began growing more
rapidly due to easier and safer advances in agriculture and
industry.
 Death rates were dramatically reduced due to improved
sanitation, medicine, and healthcare, while birthrates remained
high.
PATTERN OF HUMAN POPULATION GROWTH
Human Population Growth
1. The size of the human population began to increase
exponentially after the
a. bubonic plague.
b. development of plowing and irrigation.
c. Industrial Revolution.
d. development of the first cities.
2. Which of the following is NOT a potential limiting factor of
human population growth?
a. famine
b. medicine
c. war
d. disease
Factors that help Predict Patterns of Human Population Growth
• Birthrates
• Death rates
• Doubling time
• Age structure of a population
Birthrate is the number of live births per 1000 population in a given
year.
Death rate is the number of deaths per 1000 population in a given
year.
Population Growth Rate (PGR) = Birthrate – Death rate
Doubling time is the time needed for a population to double in size.
Demography: The study of human populations that examines the
characteristics of human populations and attempts to explain how
those populations will change over time.
Demographic Transition: A dramatic change in birth and death rates.
Stage 1: High death rates and high birthrates.
Stage 2: Death rate drops, while the birthrate remains high (the
population increases rapidly).
Stage 3: Birthrate decreases, causing population growth to slow.
The demographic
transition is complete
when the birthrate
falls to meet the death
rate, and population
growth stops.
3. After the demographic transition is complete, a population
a. grows rapidly.
b. grows slowly.
c. begins a period of rapid decline.
d. stays about the same size as time passes.
Age Structure: how many people of different ages make up a given
population.
• Demographers can predict future growth using models called agestructure diagrams.
Age-structure diagrams show the population of a country broken
down by gender and age group.
4. An age-structure diagram shows a breakdown of a population by
a. location and age group.
b. age group and gender.
c. birthrate and death rate.
d. age group and emigration rate.