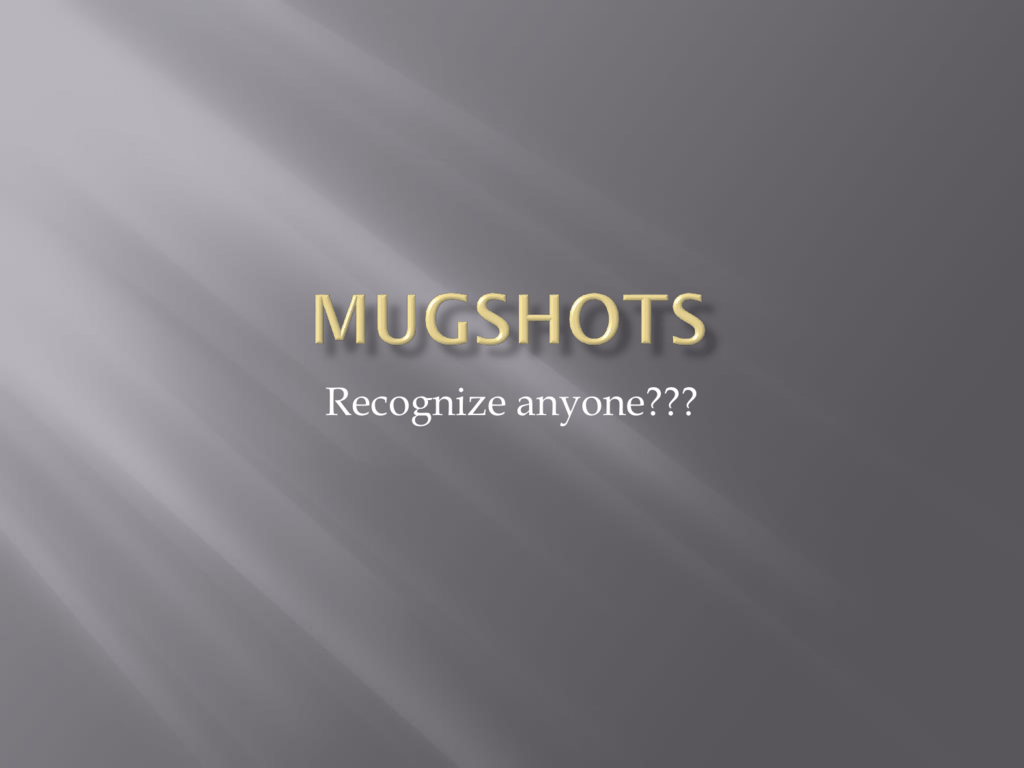 Recognize anyone???

Snooki (real
name: Nicole
Polizzi) was
arrested in July
2010 for
disorderly
conduct. The 22year-old star of
the MTV show
"Jersey Shore"
was booked into
a Seaside
Heights jail,
where she posed
for these mug
shots.
Paris Hilton
Paris Hilton is seen here in
the third mug shot of her
young career. The dopey
heiress, 29, was arrested
last night (8/27/10) after a
bag of cocaine fell out of
her purse during a traffic
stop on the Las Vegas Strip
(her boyfriend's car was
pulled over by a cop who
smelled marijuana wafting
from the SUV).
Lindsey Lohan
Lindsay Lohan posed for
the above Los Angeles
County Sheriff's
Department mug shot in
July 2010 after being
booked into the
Lynwood Correctional
Facility. The actress, 24,
was ordered to serve
three months in jail after
a judge determined that
she violated the terms of
the probation she was
put on following two
2007 DUI arrests.
MARSHALL
MATHERS, EMINEM,
SLIM SHADY
Marshall Mathers, III (aka
Eminem) was arrested twice in
June 2000 on gun charges in
Michigan, and was hit with
probationary sentences in both
cases, one in Royal Oak, the
other in Warren (above you'll
find mug shots from both
those arrests). The rapper was
nabbed by Warren cops for
carrying a concealed weapon
and assault after fighting with
a man he saw kissing his
estranged wife Kim outside of
a club. He also got popped for
brandishing a weapon during
a parking lot beef with
members of the rival rap outfit
Insane Clown Posse
JOBA Chamberlain
New York Yankees pitching
phenom Joba Chamberlain was
arrested in October 2008 for drunk
driving. The athlete pleaded guilty
in April 2009 to a DUI charge and
was placed on probation for nine
months and had his driver's license
suspended for 60 days. After
Chamberlain was pulled over for
speeding in Lincoln, Nebraska, a
state trooper noticed an open bottle
of Crown Royal whiskey on the
front passenger seat of the BMW
the ballplayer was driving. After
failing a pair of field sobriety tests,
Chamberlain took a Breathalyzer
test, which showed his blood
alcohol content was .134, above the
state's .08 limit.
Jay - Z
Rap star Jay-Z (real name: Shawn
Carter) was arrested by New York
City cops in December 1999 for
allegedly stabbing a record
executive at a Manhattan nightclub.
Originally charged with felony
assault, the performer pleaded
guilty in October 2001 to a reduced
misdemeanor count and was
sentenced to three years probation.
What a couple!!
AMY Fisher and Joey
Buttafuoco
Amy Fisher posed for this New
York State Department of
Correctional Services mug shot in
September 1997, five years after
pleading guilty to shooting her
lover Joey Buttafuoco's wife. The
so-called Long Island Lolita was
paroled from the Albion
Correctional Facility in 1999.
JOHN WAYNE BOBBIT
John Wayne Bobbitt,
he of the formerly
severed penis, was
arrested by Las
Vegas police seven
times for a variety of
offenses between
1994 and 2002.
SON of SAM
DAVID BERKOWITZ
'Son of Sam' David Berkowitz
posed for this New York State
Department of Correctional
Services mug shot in March
2003. The serial killer received
six consecutive sentences of 25
years to life for a late-70s
murder spree in New York
City that left six people dead
and seven others injured.
Berkowitz, who claims he does
not deserve parole, was denied
it in 2002, the first time he had
been eligible. He is currently
incarcerated at the Sullivan
Correctional Facility.
Charles Manson was
photographed by
the California
Department of
Corrections in
September 2006 at
the age of 71. The
convicted murderer,
serving a life
sentence at Corcoran
State Prison, will be
eligible for parole
(for the twelfth time)
in 2012.
JAMES BROWN
'Godfather of Soul' James
Brown, 70, was arrested by
Aiken County cops in
January 2004 and charged
with domestic violence
after allegedly pushing his
wife to the floor during an
argument at the couple's
South Carolina home.
Tommie Rea Brown, 33,
suffered 'scratches and
bruises to her right arm
and hip' during the
bedroom dispute,
according to investigators.
Jeffrey
Dahmer
The above mug shot of
serial killer Jeffrey Dahmer
was taken in August 1982
after he was arrested by
Milwaukee cops for
exposing himself at a
Wisconsin state fair.
Dahmer was arrested again
in July 1991 and charged
with the murder of 17 men
and boys over the course of
13 years. In 1992 he was
found guilty of 15 counts of
murder and sentenced to 15
life terms. In November
1994 the 34-year-old
Dahmer was beaten to
death by another inmate.
BILL GATES
Microsoft boss Bill Gates was
photographed by the Albuquerque,
New Mexico police in 1977 after a
traffic violation (details of which
have been lost over time).
THE KILLER CLOWN
Serial killer John Wayne Gacy
posed for the above Des
Plaines Police Department
mug shot in December 1978.
Known as the 'Killer Clown,'
Gacy was later convicted of
murdering dozens of men and,
in May 1994, executed by lethal
injection.
Colin Ferguson
Colin Ferguson, whose
December 1993 rampage on
the Long Island Rail Road left
six dead and 19 wounded,
posed for this New York State
Department of Correctional
Services mug shot in April
2003 after being transferred to
the Attica Correctional Facility.
Ferguson, sentenced to a
minimum of 315 years in
prison, will not be eligible for
parole until 2309.
Dr. Death
Dr. Jack Kevorkian was convicted
in April 1999 of murder.
Photographed by the Michigan
Department of Corrections,
Kevorkian is serving a prison
sentence of 10 to 25 years. The
euthanasia crusader's conviction
stemmed from his assistance in the
suicide of a 52-year-old man
suffering from Lou Gehrig's
disease. A videotape of that suicide
later aired on the CBS
newsmagazine '60 Minutes,' and
was used as evidence against him
during his Oakland County Circuit
Court trial.
BROCK LESNAR
Brock Lesnar, the World Wrestling
Entertainment champion, was once
arrested for illegally possessing
steroids, though the felony charge
against the 26-year-old athlete was
dismissed four months after his
January 2001 arrest. Lesnar, pictured
in the above mug shot, was popped
by Louisville Division of Police
detectives after receiving and opening
a parcel that cops said contained a
'large amount of steroids.' Lesnar, a
295-pound former college wrestling
champ, was in Kentucky training at a
WWE facility. Hit with a trafficking in
controlled substances charge, Lesnar
was exonerated when tests showed
that the seized pills were not, in fact,
steroids. While a Louisville detective
told TSG that the material was some
kind of growth hormone, Lesnar's
defense attorney, Scott Cox,
characterized the confiscated pills as a
'vitamin type of thing.' According to
Cox, officers seemed 'very apologetic'
when lab results cleared Lesnar. It is
unclear how investigators concluded
that the parcel sent to Lesnar may
have contained illicit substances
THE ANSWER
NBA superstar Allen Iverson
surrendered to Philadelphia police
in July 2002 to face gun and assault
raps, charges that were all
subsequently dismissed by a
Municipal Court judge.
NBA star Jason Kidd was arrested
by Paradise Valley, Arizona police
in January 2001 and charged with
domestic abuse. Kidd pleaded
guilty and was ordered to attend
anger management classes.
Martin Luther King Jr. was
photographed by Alabama cops
following his February 1956 arrest
during the Montgomery bus
boycotts. The historic mug shot,
taken when King was 27, was
discovered in July 2004 by a deputy
cleaning out a Montgomery County
Sheriff's Department storage room.
It is unclear when the notations
"DEAD" and "4-4-68" were written
on the picture.
NBA superstar Kobe Bryant is
pictured in this mug shot taken by
Colorado cops on July 4, 2003
following his arrest for allegedly
sexually assaulting a 19-year-old
hotel employee. Eagle County
prosecutors are currently deciding
whether to formally file charges
against the 24-year-old Los Angeles
Laker.
Oklahoma City bomber Timothy
McVeigh was arrested by the
Oklahoma Highway Patrol in April
1995 for carrying a loaded firearm
after he was stopped for having no
license plates on his car. Days later,
McVeigh, 26, was identified as the
person responsible for the bombing
of the Alfred P. Murrah Federal
Building that killed 168 and injured
more than 850 people. In June 1997
he was found guilty and was
executed by lethal injection in June
2001 at the U.S. Federal
Penitentiary in Terre Haute,
Indiana.
MICHAEL JACKSON
Michael Jackson was photographed
by the Santa Barbara County
Sheriff's office following his
November 2003 arrest for child
molestation. The 45-year-old "King
of Pop" was released after posting
$3 million bail.
MIKE TYSON
IRON MIKE
Former heavyweight champion
Mike Tyson was arrested in
December 2006 on drunk driving
and cocaine possession charges
following a police stop outside an
Arizona nightclub. Tyson, 40, was
pulled over when his BMW nearly
struck a sheriff's cruiser after he left
a Scottsdale bar. When he failed
field sobriety tests, the pugilist was
arrested for driving under the
influence. A subsequent search
turned up two small bags of
cocaine in Tyson's pocket and
another bag in his car. He was
booked into the Maricopa County
Sheriff's lockup, where the above
mug shots were snapped.
JACK BAUER
This Kiefer Sutherland mug shot
was snapped by the Gelndale
Police Department in December
2007 after the actor surrendered to
serve a 48-day jail sentence.
Sutherland, 40, pled no contest in
October to driving while over the
legal limit of .08. It was the second
time in three years that the star of
'24' was busted for DUI.
TERRY Nichols
Terry Nichols was convicted of
being an accomplice to Timothy
McVeigh in the Oklahoma City
bombing of the Alfred P. Murrah
Federal Building in April 1995.
Nichols, 40 at the time of the
bombing, is now serving life at the
federal supermax prison in
Florence, Colorado.
MICK JAGGER
Mick Jagger posed for the above
mug shot in 1967 after being
arrested in England on a narcotics
charge. Jagger, 23, was busted after
police, acting on a tip, raided the
country home of fellow Rolling
Stone Keith Richards, who was also
collared. Jagger, photographed at a
Brixton jail, spent a few nights in
custody before making bail.
Former 'Lost' star Michelle
Rodriguez was booked into a Los
Angeles County jail in December
2007 to begin a six-month sentence
for failing to complete her
community service and alcohol
monitoring that was ordered as
part of her probation from a drunk
driving arrest. Rodriguez, 29,
admitted violating her probation
by failing to provide proof of
community service and by drinking
alcohol while wearing a monitoring
device.
OJ
Former NFL star O.J. Simpson was
arrested by the Los Angeles Police
Department in June 1994 and
charged with murdering his exwife Nicole Brown Simpson and
her friend Ronald Goldman. A jury
found him not guilty in October
1995.
Joran van der Sloot, the Dutch man
suspected in the 2005
disappearance of Alabama teenager
Natalee Holloway, posed for the
above Peruvian mug shot in June
2010. According to police, van der
Sloot, 22, has admitted to
murdering 21-year-old Stephany
Flores in his hotel room after
meeting her in a Lima casino.
The UNIBOMBER
Unabomber Ted Kaczynski was
arrested in April 1996 by the FBI at
his Montana cabin after carrying
out a three-decade-long bombing
campaign that killed three and
wounded 23. In January 1998
Kaczynski avoided the death
penalty by taking a guilty plea and
was sentenced to life in prison
without parole. He is currently
locked up in a federal supermax
prison in Florence, Colorado.
WHAT YOU TALKIN
BOUT WILLIS?
Actor Gary Coleman was arrested
in January 2010 on a warrant
stemming from a prior domestic
assault charge. The 41-year-old
"Diff'rent Strokes" star, collared by
police in Santaquin, Utah, was
booked into the Utah County jail in
lieu of $1725 bail.
OLD BlUE EYES
Frank Sinatra was arrested by the
Bergen County, New Jersey sheriff
in 1938 and charged with carrying
on with a married woman (yes, you
could get popped for that back
then). The charge was later
changed to adultery, and
eventually dismissed.
PEE WEE HERMAN
Paul Reubens (aka Pee-wee
Herman) turned himself in to Los
Angeles police in November 2002
after being charged with
misdemeanor possession of kiddie
porn. It was not the first run-in
with the law for the 50-year-old
actor, who was arrested by Florida
cops in July 1991 and charged with
indecent exposure. Pee-wee, who
was nabbed at an adult movie
house, later pleaded no contest to
the charge. He was fined, had to
pay court costs, and ordered to
produce an anti-drug public service
announcement.
ROUGH NIGHT OUT
NICK?
Actor Nick Nolte was arrested by
the California Highway Patrol on
September 11, 2002 and charged
with driving under the influence.
BRAVEHEART
This mug shot of Mel Gibson was
taken following the Hollywood
star's slur-spewing drunk driving
bust in July 2006. Considering some
of the booking photos previously
snapped by Los Angeles sheriff's
deputies, the 50-year-old actor
looks downright dapper.
BERNIE
Swindler Bernard Madoff was
convicted in March 2009 of
orchestrating the largest Ponzi
scheme in history, a decades-long
scam that bilked investors of more
than $50 billion. In pleading guilty
to 11 felony counts, Madoff claimed
to be "deeply sorry and ashamed."
Madoff is pictured in a United
States Marshals Service mug shot.
SHAM WOW!!!
Vince Shlomi, better known as The
ShamWow Guy, was arrested in
February 2009 after he got into a
bloody hotel room fight with a
Miami hooker. According to the TV
pitchman, he paid Sasha Harris
$1000 for "straight sex," but when
he tried to kiss the working girl,
she bit his tongue and would not
let go. Shlomi responded by
repeatedly punching Harris in the
face in a bid to free his tongue.
While both combatants were
arrested for felony battery,
prosecutors eventually decided not
to pursue charges.