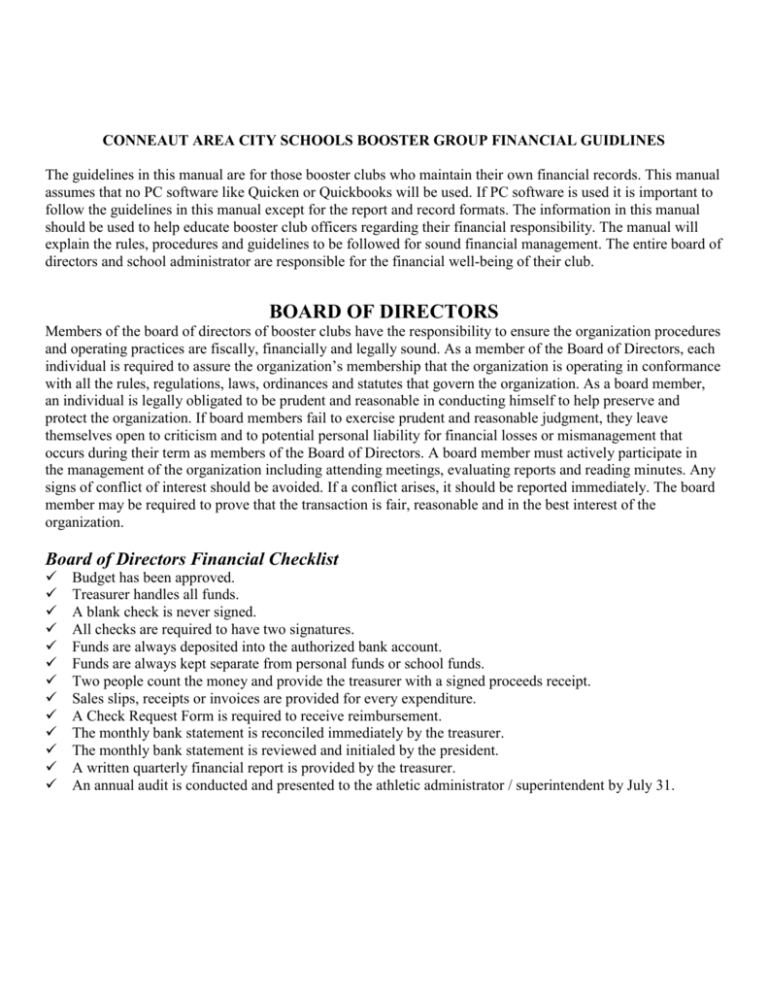 CONNEAUT AREA CITY SCHOOLS BOOSTER GROUP FINANCIAL GUIDLINES
The guidelines in this manual are for those booster clubs who maintain their own financial records. This manual
assumes that no PC software like Quicken or Quickbooks will be used. If PC software is used it is important to
follow the guidelines in this manual except for the report and record formats. The information in this manual
should be used to help educate booster club officers regarding their financial responsibility. The manual will
explain the rules, procedures and guidelines to be followed for sound financial management. The entire board of
directors and school administrator are responsible for the financial well-being of their club.
BOARD OF DIRECTORS
Members of the board of directors of booster clubs have the responsibility to ensure the organization procedures
and operating practices are fiscally, financially and legally sound. As a member of the Board of Directors, each
individual is required to assure the organization's membership that the organization is operating in conformance
with all the rules, regulations, laws, ordinances and statutes that govern the organization. As a board member,
an individual is legally obligated to be prudent and reasonable in conducting himself to help preserve and
protect the organization. If board members fail to exercise prudent and reasonable judgment, they leave
themselves open to criticism and to potential personal liability for financial losses or mismanagement that
occurs during their term as members of the Board of Directors. A board member must actively participate in
the management of the organization including attending meetings, evaluating reports and reading minutes. Any
signs of conflict of interest should be avoided. If a conflict arises, it should be reported immediately. The board
member may be required to prove that the transaction is fair, reasonable and in the best interest of the
organization.
Board of Directors Financial Checklist
Budget has been approved.
Treasurer handles all funds.
A blank check is never signed.
All checks are required to have two signatures.
Funds are always deposited into the authorized bank account.
Funds are always kept separate from personal funds or school funds.
Two people count the money and provide the treasurer with a signed proceeds receipt.
Sales slips, receipts or invoices are provided for every expenditure.
A Check Request Form is required to receive reimbursement.
The monthly bank statement is reconciled immediately by the treasurer.
The monthly bank statement is reviewed and initialed by the president.
A written quarterly financial report is provided by the treasurer.
An annual audit is conducted and presented to the athletic administrator / superintendent by July 31.
DUTIES OF THE TREASURER
The treasurer is the authorized custodian, elected by the members, to have charge of the funds of the Booster
Club unit. Every dollar that comes in to the Booster Club must, at some time, pass through the hands of the
treasurer. The treasurer does more than deposit money and write checks. Being the treasurer requires that you
are diligent and knowledgeable of your Booster Club's financial status and conscientious in ensuring that all
money is received and spent within the rules set by your bylaws and budget. The treasurer is a key member of
the Board of Directors.
The treasurer shall:
 Maintain records of all the money that comes through the Booster Club. The funds, as well as the books
and record keeping materials, belong to the Booster Club and must be available upon request.
 Make a budget (with the aid of the budget committee).
 Receive all funds for the Booster Club.
 Promptly deposit all funds into the Booster Club's bank account.
 Disburse funds, by check only, as authorized by the president in accordance with the approved budget.
 Give regular financial reports (including income and expenditures) to the Board of Directors and the
membership.
 Set up accounting procedures.
 Determine which forms to use to make record keeping easier.
 Co-sign all checks. All checks must have two signatures.
 Present the June 30 annual financial report to the principal and District internal auditor by July 31.
 See that an annual audit is conducted and presented to the athletic administrator / superintendent by July
31.
 Set up and maintain a 3-year file located at the school
 File the permanent financial records at the end of the fiscal year at the school.
 Turn over all financial records to the new treasurer.
AUDIT
WHY IS AN AUDIT NECESSARY?
An audit is an examination of the financial records of the Booster Club. It assures that all income and
expenditures are accounted for and that they are in accordance with the budget and goals for the year. It also
verifies that the bank balance and balance in the ledger are the same. The audit is to protect the Booster Club
officers and the organization.
WHEN IS AN AUDIT CONDUCTED?
An audit should be conducted:
1. At the end of the fiscal year
2. When there is a change in the treasurer
3. When there is a change in any officer who signs Booster Club checks
WHO CONDUCTS THE AUDIT?
An audit may be conducted by an auditor, or an auditing committee comprised of at least two (2) members of
the Booster Club. They shall not be officers who are signers on the checking account. They also shall not be
related to those officers who are signers on the account nor should they be related to each other. The auditor or
auditing committee is appointed by the executive committee before the close of the fiscal year.
WHAT IS NEEDED FOR THE AUDIT?
There are specific things that are needed to conduct an audit. They are:












a copy of the last audit report
current checkbook and canceled checks
copy of the budget and amendments to budget
copy of the treasurer's report for the year
bank statements and deposit receipts
unit's ledger or record of transactions
itemized statements and receipts of bills paid by the Booster Club
check request forms
funds received forms
copies of board/executive committee meeting minutes
current bylaws and standing rules, if any
other information as requested by the auditor or auditing committee
WHAT IS THE AUDIT PROCEDURE?
The audit begins with the records where the last audit was completed. The audit should reconcile the balance on
hand from the last audit to the balance on hand to the current audit. A copy of the format is in the appendix
section. All financial records should be reviewed. In the appendix, as part of the audit report, is a copy of the
guideline and questions that must be answered during the audit. At the conclusion of the audit, the auditors must
sign the report and present it to the Board of Directors. A report must also be submitted by the auditor/audit
committee in the event that there are not adequate records available to conduct a proper audit of the club's
funds. All audit reports must include an assessment of the records that were audited.
BOOSTER CLUB RECORDS
The treasurer has the responsibility to ensure that all funds, generated by booster club activities are accounted
for and that a record of each transaction is kept. All disbursements must be recorded in the Check Register and
all receipts must be recorded on the Receipt Register. All transactions recorded in these registers must be
documented. The documentation may be a "Check Request" with backup or "Event Proceed" form
which has been verified. Other records, which include checkbook, bank statement, meeting minutes and any
other written documents used to record booster club activity, must be saved. These records should be reviewed
and audited periodically to help ensure all booster club activity is recorded properly and financial controls are in
place. Permanent storage and an appropriate filing system must be maintained.
Check Register
All disbursement activity must be recorded on the check register. As checks are written they should be recorded
in the check register. There can be a separate page for each month or multiple months can be recorded on one
page. The treasurer at the end of the month should total the categories for all pages. This information will be
used in the monthly Treasurer's Report.
SAMPLE STATEMENTS
1. SAMPLE INCOME AND EXPENSE
BOOSTER CLUB NAME
Statement of Income and Expenses
for the Fiscal Year (July 1, 20xx to June 30, 20xx)
INCOME
Members' Fees
Fund Raising Income
Trips Income
Events Income
NHLBCC Income
Bank Interest
Donations
Miscellaneous
1998-99
1999-2000
2000-01
2001-02
2002-03
$2,225.03
399.50
-506.00
34.01
836.26
35.92
12.59
$2,261.23
337.38
-680.21
-630.01
49.49
--
$2,208.08
118.00
-653.61
24.93
654.34
29.49
55.37
$2,065.20
277.42
-2,428.88
112.27
382.14
16.05
5.00
$2,305.62
497.09
4,106.80
1,847.28
-771.44
140.81
10.74
4,049.31
3,958.32
3,743.82
5,286.96
9,679.78
$798.15
1,379.11
195.00
15.05
648.55
118.92
216.79
270.11
130.50
505.67
3.00
200.00
---
$696.48
1,158.32
87.00
-798.37
172.60
228.87
109.34
376.37
540.23
54.92
450.00
---
$498.21
823.71
67.00
2.57
1,385.86
145.92
484.42
277.90
400.91
473.47
-820.00
---
$788.27
1,027.31
208.01
1.53
2,163.62
230.26
166.81
241.78
96.55
373.13
-460.00
-5.70
$642.98
1,067.28
292.89
3,960.65
1,889.94
118.14
-358.61
232.90
394.49
7.50
960.00
---
Total Income
EXPENSES
Newsletter Printing
Newsletter Postage
Fund Raising Expense
Trips Expense
Events Expense
Promotional Expense
NHLBCC Expense
Office Supplies Expense
Membership Supplies
Business Expenses
Bank Charges
Charitable Donations
Depreciation Expense
Miscellaneous Expenses
Total Expenses
Surplus (Loss) for the Year
4,480.85
4,672.50
5,379.97
5,762.97
9,925.38
$(431.54)
$(714.18)
$(1,636.15)
$(476.01)
$(245.60)
2. SAMPLE BALANCE SHEET
BOOSTER CLUB NAME
Balance Sheet
for the Fiscal Year (July 1, 20xx to June 30, 20xx)
As at June 30
Current Assets
1998-99 1999-2000 2000-01 2001-02 2002-03
Cash
$6,619.99 $4,358.92 $3,807.09 $3.059.52 $3.530.24
Petty Cash
9.45
97.31
7.06
32.24
79.48
CHS Legacy Fund
14,580.00 14,710.00 14,350.00 14,570.00 14,430.00
Prepaid Expenses
105.64
118.19
---Merchandise Inventory
268.81
411.81
344.81
646.90
355.20
Office Supplies
589.03
798.88
750.91
571.75
726.99
Membership Supplies
1,033.36 1,796.99 1,396.08 1,299.53 1,066.63
Total Current Assets
23,206.28 22,292.10 20,655.95 20,179.94 20,188.54
Fixed Assets
Furniture (Booth sign, Fax)
638.39
638.39
638.39
638.39
638.39
Less: Depreciation
401.28
401.28
401.28
401.28
401.28
Total Fixed Assets
237.11
237.11
237.11
237.11
237.11
$23,443.39 $22,529.21 $20,893.06 $20,417.05 $20,425.65
Total Assets
LIABILITIES AND NET WORTH
Current Liabilities
Bills Payable
Total Liabilities
Net worth, July 1
Surplus (Loss)
Net worth, June 30
Total liabilities and net
worth
$200.00
---- $254.20
$200.00
$0.00
$0.00
$0.00
$254.20
23,674.93 23,243.39 22,529.21 20,893.06 20,417.05
(431.54) (714.18) (1,636.15) (476.01) (245.60)
23,243.39 22,529.21 20,893.06 20,417.05 20,171.45
$23,443.39 $22,529.21 $20,893.06 $20,417.05 $20,425.65
3. SAMPLE AUDIT REPORT
Name of Club
Books:
Date
Balance on Hand (date of last audit)............................................................................
$
Receipts (from last audit to date of audit)....................................................................
$
Disbursements (from last audit to date of audit) .........................................................
$
Balance on Hand (date of audit)...................................................................................
$
Bank Statements:
Checks Outstanding:
Check Number
Payee
Amount
Total Checks Outstanding............................................................................................
$
Balance in Checking Account......................................................................................
$
Adjusted Bank Balance as of (date) ............................................................................
$
Date of Audit:
We have examined the books of the treasurer of the
and find them to be (please choose one of the following to complete the sentence)
 correct
 incomplete
 substantially correct with the following adjustments:
_____________________________________________________________________
_____________________________________________________________________
_____________________________________________________________________

incorrect
Date Audit Completed:
_____________________________________
Auditor's Signatures
_____________________________________
_____________________________________
_____________________________________
*See attached questionnaire
GUIDELINES & QUESTIONS ON CONDUCTING AN AUDIT
Cash Receipts
1. Are records maintained of all receipt books and other numbered forms
used in acknowledging the receipt of cash?
2. Are all copies of voided receipts retained?
3. Are issuances of receipt books, listing sheets, and temporary books to
individuals and activities properly recorded & controlled?
4. Is cash turned in by individuals and activities identified with the receipts
acknowledging initial receipt of the moneys?
5. Are all cash receipts recorded promptly when received?
6. Are details as to the number of items receipted and the unit price per
item included in the receipt?
7. Are cash deposits made promptly, and are they intact?
8. Are cash receipts from fund-raising activities turned in promptly?
Cash Disbursements
1. Are cash balances reconciled with bank balances monthly, and are
detailed items listed on bank statements recorded on the books?
2. Are voided checks retained?
3. Are expenditures properly approved
4. Are cash expenditures supported by a vendor's invoice, a notation
indicating receipt of materials or services, and authenticated purchase
orders if required?
5. Are disbursements by check properly signed?
6. Are authorized expenditures for which no disbursement has been made
reviewed for current status?
7. Does the booster club use unauthorized petty cash funds?
8. Is the distribution of cash expenditures being correctly charged?
Yes
No
Sales and Activities
1. Are revenue-producing activities in accordance with those approved by
the school district?
2. Are all activities properly approved by the school administrator or a
designated representative?
3. Are all records of sales such as receipt books and register tapes
reconciled to the cashier's receipt for moneys received?
4. Are complete minutes of club meetings prepared on a timely basis?
5. Do the minutes properly reflect approval of sales and revenue producing
activities?
Purchases
1. Are items of purchase in accordance with the intentions of the club, and
are they reflected in the minutes?
2. Are club moneys spent to further the purposes of the club?
3. Are approved purchase orders, whether voided or not, maintained
numerically in a file?
4. Are contractual obligations properly authorized?
5. Is the purchase of equipment properly recorded?
6. Are proper controls exercised to prevent expenditures in excess of funds?
7. Are timely payments made on all purchases on account?
Financial Statements
1. Are monthly reports of financial transactions of club accounts prepared
and submitted to the club president and other appropriate officers?
2. Are periodic financial statements of budgeted and actual revenues &
expenditures prepared and submitted to appropriate officers?
3. Is an annual budget adopted by the executive board?
4. Is a formal balance sheet prepared at least at the end of the year?
Reconciliations
1. Are bank accounts reconciled monthly?
2. Are bank account reconciliations reviewed and approved by the
President of the club?
RULES FOR SOUND FINANCIAL MANAGEMENT
Always remember these simple DO's and DON'Ts for sound financial management.
DO's
Save records for three years. (Minutes, financial statements, budgets, bank statements, check request
forms, receipt register, check register, returned checks, original receipts) Keep these in a safe
place at the school.
Always pay with a check.
Always have a receipt and a check request form to reimburse.
Have the bank statement addressed to the president and mailed to the school. The president should
look over the statement, initial it and give it to the treasurer.
Meet with the outgoing treasurer to go over the books.
Raise money for a purpose and spend it for that purpose.
Prepare a financial statement for each executive, board and general meeting.
Have book audited at close of fiscal year by an auditor or an audit committee.
Use funds wisely. Remember that all persons signing on a booster club bank account are liable for the
use or misuse of those funds.
DON'Ts
Never give a blank check with signatures.
Never have petty cash. This does not include change in a cash box needed for a fund raising event.
Don't compete with businesses in your area on fund raising projects.
Don't' accept financial records without having them audited.
Don't deposit Club funds in a personal account.
Don't take Booster Club funds home overnight.
Don't co-mingle funds.
Never have an ATM card for the Booster Club checking account.
Never have a Booster Club credit card.