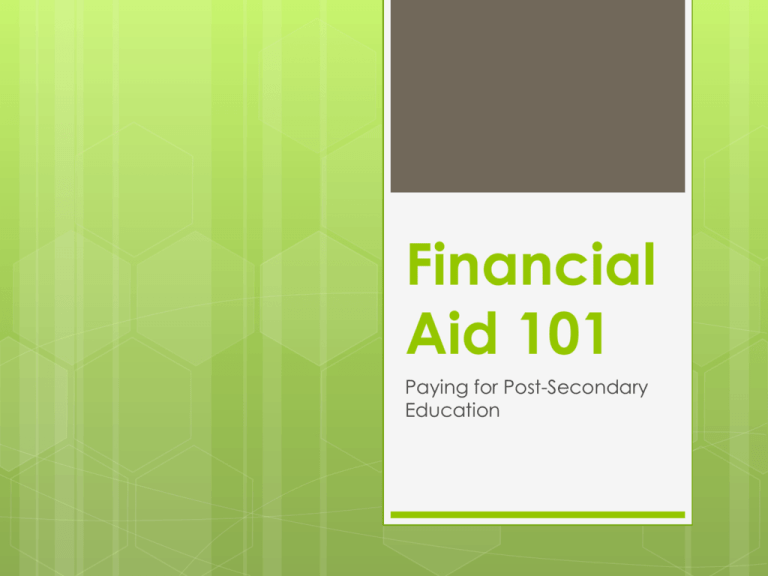 Financial
Aid 101
Paying for Post-Secondary
Education
132
More days until graduation…
How much will college cost?
Money to pay for college:
Cash
and Savings
Grants and Scholarships
Loans
Where is the Financial Aid?
Government:
Grants
Work Study
Loans
College, private companies,
foundations:
Scholarships
FAFSA:
Free Application Federal Student Aid
 Who


is eligible?
U.S. citizen or eligible noncitizen
have a valid Social Security Number.
 What

do you need?
Federal Income Tax and W2 (see handout)
 CEC's
FAFSA Night: We will help you!!!
 Tuesday
February 13th- 5-7:30pm
Why is the FAFSA important?
Students who:
Result:
Completed
FAFSA
90% of students enrolled in postsecondary education within 12
months of graduating
No FAFSA
45% of students enrolled in postsecondary education within 12
months of graduating
How it works:
Example: EFC of $1050

Community Collegetotal cost $12,050
Financial Aid Award
Pell Grant
State Grant
Work Study
FREE $$
$ 4,500
$ 2,000
$ 1,000
$ 7,500
Student Loan $ 2,500 ?
Parent Loan
?
EFC
$ 1,050
TOTAL
$11,050

Instate University- total
cost $22,950
Financial Aid Award
Pell Grant
$ 4,500
State Grant $ 2,000
Scholarship $10,000
Work Study $ 1,000
FREE $$
$17,500
Student Loan $ 3,350 ?
Parent Loan
?
EFC
$ 1,050
TOTAL
$21,900
How do you get that money?








Do your taxes – student and
parents
Get a state-issued I.D.
Complete the FAFSA
Read your emails and learn how to
navigate your college student
portal
Discuss your financial aid award
with Ms. Abbott.
Keep in touch with an advisor in the
financial aid office at your college.
Send documents that they need!
Discuss $$ options with your parents.
SCHOLARSHIPS- three types
1) Merit-based: TALENT
2) Need-based: FINANCIAL NEED
3) Lottery- everyone has an equal chance
"pull name out of hat"

Where to start?

Start on the website of every college
where you applied
Go to www.denverscholarship.org
Find the Scholarship Directory

Paying for College – DSF Scholarship
www.denverscholarship.org

DSF Scholarship: for DPS graduates who





are enrolled in a DPS high school all 4 years of high school
have a 2.0 cumulative G.P.A
have financial need
complete three additional scholarships
enroll in Colorado colleges

Awards are based on financial eligibility (FAFSA),
school choice, and enrollment (full-time or part-time)

Scholars could receive an award up to $3,400 annually,
for as many as 5 years
Due: April 1
SCHOLARSHIPS
 Senior
Support requirement
All Seniors must RESEARCH at
least 3 scholarship this semester
and RECORD those in Naviance
Keep track of the scholarships
you have researched and
applied to (handout)
Enter into Naviance by May 9th
ASCENT
Accelerating Students through Concurrent Enrollment
Concurrent Enrollment program that allows for students to
continue on full-time at a community college or technical
college for a 5th year. DPS will pay for tuition. Students are
responsible for books and fees at post secondary institutions.
Requirements:
 Students must have met all graduation requirements.
 Students must have successfully passed ('C' or better) 12
college credit hours prior to end of senior year. These
courses must be 100 level or higher. It is the student's
responsibility to provide college transcripts upon request.
 Students must have a 2.0 GPA or higher.
 Students must be college ready through ACT scores or
Accuplacer assessment.
 Personal Education Plan (PEP) completed.
COLLEGE CLASSES START
 Book
rental charges will go on
your CEC fees next week
Look
at your Study Skills grades to
find out how much you will owe
Once you get your syllabus go
straight to see Mr. Todd at CCD to
get your books. DO NOT DELAY. All
books to be handed out by the
end of the week.
 Study
Skills will start the week of
January 27th
Play opportunity- Thurs Jan
30th. Mid day

Black Odyssey is a contemporary adaptation of
the classic Greek epic poem The Odyssey by
Homer -- a mythic tale of Ulysses's thirteen year
journey to make his way home from the Trojan
war. In Gardley's adaptation, Ulysses is a soldier
trying to get home to Harlem after a tour of duty in
Afghanistan. Before he can return home, he must
go on an odyssey through critical moments and
events in African American history in order to
understand himself and his past. It also includes
original music which draws on African-American
musical traditions from field hollers to the blues to
gospel and R&B.