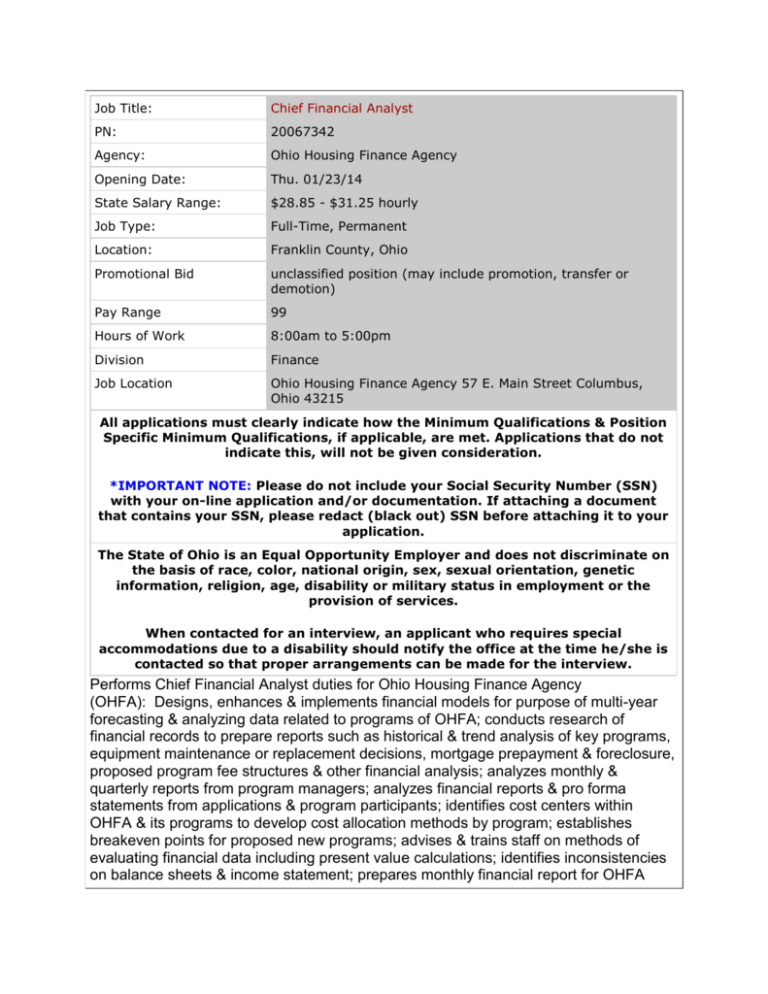 Job Title:
Chief Financial Analyst
PN:
20067342
Agency:
Ohio Housing Finance Agency
Opening Date:
Thu. 01/23/14
State Salary Range:
$28.85 - $31.25 hourly
Job Type:
Full-Time, Permanent
Location:
Franklin County, Ohio
Promotional Bid
unclassified position (may include promotion, transfer or
demotion)
Pay Range
99
Hours of Work
8:00am to 5:00pm
Division
Finance
Job Location
Ohio Housing Finance Agency 57 E. Main Street Columbus,
Ohio 43215
All applications must clearly indicate how the Minimum Qualifications & Position
Specific Minimum Qualifications, if applicable, are met. Applications that do not
indicate this, will not be given consideration.
*IMPORTANT NOTE: Please do not include your Social Security Number (SSN)
with your on-line application and/or documentation. If attaching a document
that contains your SSN, please redact (black out) SSN before attaching it to your
application.
The State of Ohio is an Equal Opportunity Employer and does not discriminate on
the basis of race, color, national origin, sex, sexual orientation, genetic
information, religion, age, disability or military status in employment or the
provision of services.
When contacted for an interview, an applicant who requires special
accommodations due to a disability should notify the office at the time he/she is
contacted so that proper arrangements can be made for the interview.
Performs Chief Financial Analyst duties for Ohio Housing Finance Agency
(OHFA): Designs, enhances & implements financial models for purpose of multi-year
forecasting & analyzing data related to programs of OHFA; conducts research of
financial records to prepare reports such as historical & trend analysis of key programs,
equipment maintenance or replacement decisions, mortgage prepayment & foreclosure,
proposed program fee structures & other financial analysis; analyzes monthly &
quarterly reports from program managers; analyzes financial reports & pro forma
statements from applications & program participants; identifies cost centers within
OHFA & its programs to develop cost allocation methods by program; establishes
breakeven points for proposed new programs; advises & trains staff on methods of
evaluating financial data including present value calculations; identifies inconsistencies
on balance sheets & income statement; prepares monthly financial report for OHFA
Board; assists in reviewing financial statements & the preparation of footnotes &
analyses for annual audit.
Prepares financial write-ups for recommending or rejecting programs, projects or
improvement plans; consults with senior management in development of agency
strategic plan & performance measures; evaluates emergency housing programs
sponsored by other government entities & private organizations; represents agency at
meetings, seminars & conferences.
Analyze agency's cash position to determine cash needs & investment strategies;
reviews investment policies & analyzes results of their implementation; prepares &
presents Agency's quarterly investment performance to OHFA Board; reviews new
bond series' cash flow projections & related documents, & proposed agency
advances to calculate payback periods; recommends improvements for collecting &
distributing funds efficiently.
Customer Service Standards:
Adheres to Customer Service Standards set forth in the OHFA Team Handbook when
interacting with those who use our services and programs and our co-workers. Makes
internal and external customers and their needs a primary focus of actions. Develops
and sustains productive customer relationships.
Unclassified per ORC 124.11 (A) (30)
Administrative Staff per ORC 175.05 (A) (2) 07/2005
Minimum Qualifications:
-Master's degree in Business Administration
-Bachelor's degree in finance, accounting or economics
-2 years' of experience in analyzing financial statements including researching
accounting and financial records
-2 years' of experience in budget monitoring and reporting
-2 years' of experience in financial modeling
Major Worker Characteristics:
Knowledge of: (1) Budgeting, (2) Accounting, (3) Agency Policies & Procedures (e.g.,
OHFA standard operating procedures)*, (4) Government Structure & Process*;
Skill in: (6) Word Processing (MS Word, MS Excel), (7) equipment operation (calculator,
fax, PC, copier);
Ability to: (8) define problems, collect data, establish facts & draw valid conclusions, (9)
calculate fractions, decimals & percentages, (10) prepare &/or edit technical fiscal reports,
records, reports &/or correspondence, (11) gather, collate & classify information about data,
people or things, (12) handle routine & sensitive inquiries from & contacts with vendors,
employees, public &/or government officials.
(*)Developed after employment.
Supplemental Information:
Electronic Payroll Direct Deposit is Required.
A test may be given to determine qualifications.
Selected candidates will be subject to a pre-employment drug test and
background check.