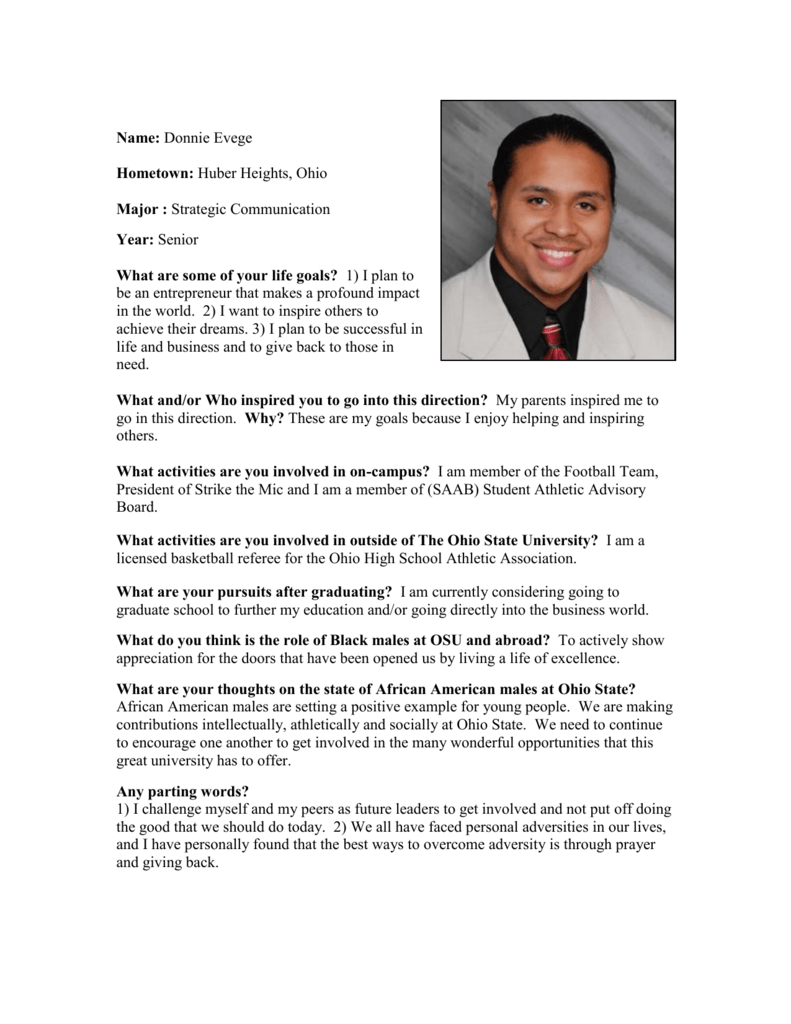 Name: Donnie Evege
Hometown: Huber Heights, Ohio
Major : Strategic Communication
Year: Senior
What are some of your life goals? 1) I plan to
be an entrepreneur that makes a profound impact
in the world. 2) I want to inspire others to
achieve their dreams. 3) I plan to be successful in
life and business and to give back to those in
need.
What and/or Who inspired you to go into this direction? My parents inspired me to
go in this direction. Why? These are my goals because I enjoy helping and inspiring
others.
What activities are you involved in on-campus? I am member of the Football Team,
President of Strike the Mic and I am a member of (SAAB) Student Athletic Advisory
Board.
What activities are you involved in outside of The Ohio State University? I am a
licensed basketball referee for the Ohio High School Athletic Association.
What are your pursuits after graduating? I am currently considering going to
graduate school to further my education and/or going directly into the business world.
What do you think is the role of Black males at OSU and abroad? To actively show
appreciation for the doors that have been opened us by living a life of excellence.
What are your thoughts on the state of African American males at Ohio State?
African American males are setting a positive example for young people. We are making
contributions intellectually, athletically and socially at Ohio State. We need to continue
to encourage one another to get involved in the many wonderful opportunities that this
great university has to offer.
Any parting words?
1) I challenge myself and my peers as future leaders to get involved and not put off doing
the good that we should do today. 2) We all have faced personal adversities in our lives,
and I have personally found that the best ways to overcome adversity is through prayer
and giving back.