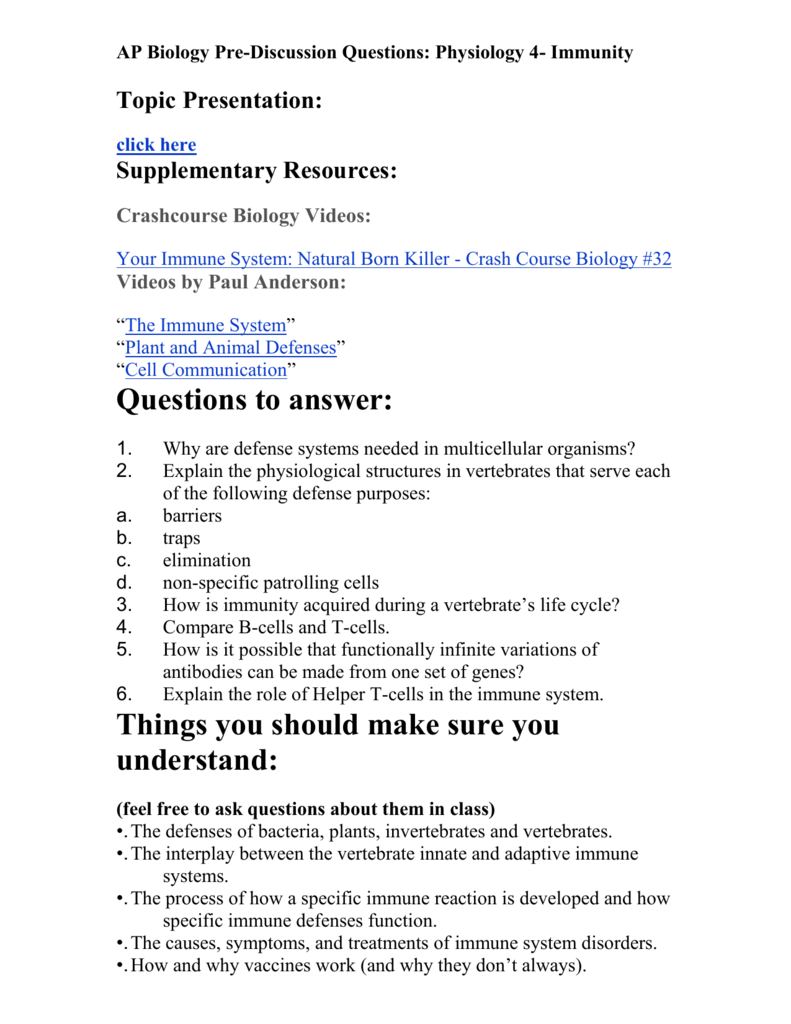 AP Biology Pre-Discussion Questions: Physiology 4- Immunity
Topic Presentation:
click here
Supplementary Resources:
Crashcourse Biology Videos:
Your Immune System: Natural Born Killer - Crash Course Biology #32
Videos by Paul Anderson:
"The Immune System"
"Plant and Animal Defenses"
"Cell Communication"
Questions to answer:
1.
2.
a.
b.
c.
d.
3.
4.
5.
6.
Why are defense systems needed in multicellular organisms?
Explain the physiological structures in vertebrates that serve each
of the following defense purposes:
barriers
traps
elimination
non-specific patrolling cells
How is immunity acquired during a vertebrate's life cycle?
Compare B-cells and T-cells.
How is it possible that functionally infinite variations of
antibodies can be made from one set of genes?
Explain the role of Helper T-cells in the immune system.
Things you should make sure you
understand:
(feel free to ask questions about them in class)
•. The defenses of bacteria, plants, invertebrates and vertebrates.
•. The interplay between the vertebrate innate and adaptive immune
systems.
•. The process of how a specific immune reaction is developed and how
specific immune defenses function.
•. The causes, symptoms, and treatments of immune system disorders.
•. How and why vaccines work (and why they don't always).