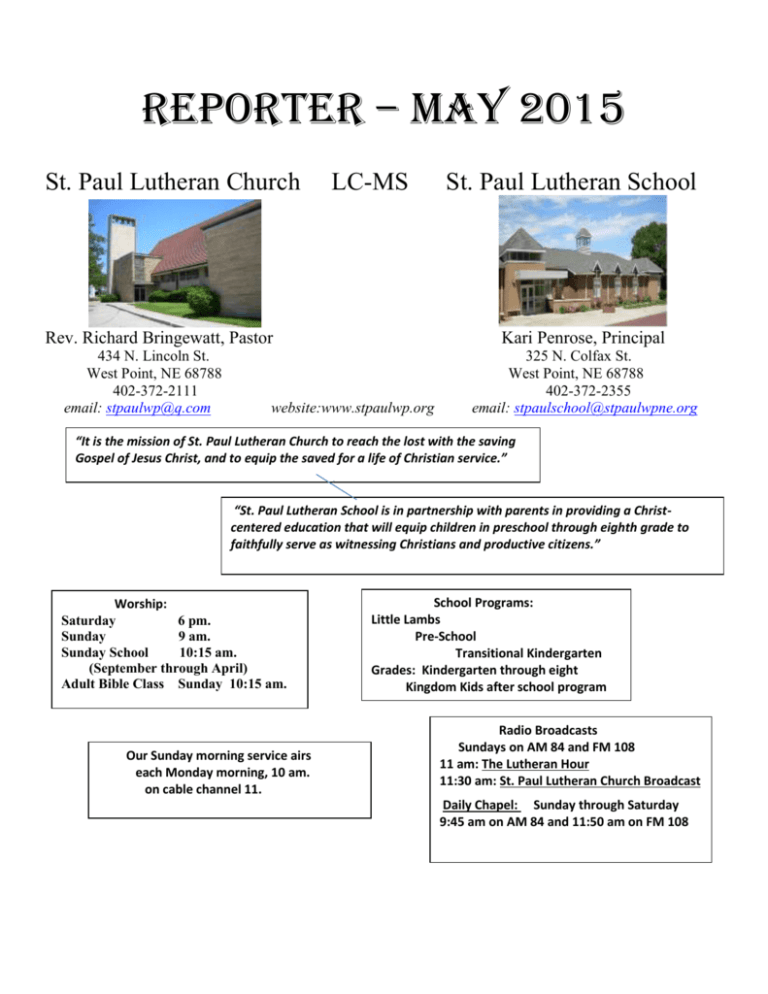 REPORTER – MAY 2015
St. Paul Lutheran Church
LC-MS
Rev. Richard Bringewatt, Pastor
434 N. Lincoln St.
West Point, NE 68788
402-372-2111
email: stpaulwp@q.com
St. Paul Lutheran School
Kari Penrose, Principal
website:www.stpaulwp.org
325 N. Colfax St.
West Point, NE 68788
402-372-2355
email: stpaulschool@stpaulwpne.org
"It is the mission of St. Paul Lutheran Church to reach the lost with the saving
Gospel of Jesus Christ, and to equip the saved for a life of Christian service."
"St. Paul Lutheran School is in partnership with parents in providing a Christcentered education that will equip children in preschool through eighth grade to
faithfully serve as witnessing Christians and productive citizens."
Worship:
Saturday
6 pm.
Sunday
9 am.
Sunday School
10:15 am.
(September through April)
Adult Bible Class Sunday 10:15 am.
Our Sunday morning service airs
each Monday morning, 10 am.
on cable channel 11.
School Programs:
Little Lambs
Pre-School
Transitional Kindergarten
Grades: Kindergarten through eight
Kingdom Kids after school program
Radio Broadcasts
Sundays on AM 84 and FM 108
11 am: The Lutheran Hour
11:30 am: St. Paul Lutheran Church Broadcast
Daily Chapel: Sunday through Saturday
9:45 am on AM 84 and 11:50 am on FM 108
In a recent sermon, here at St. Paul, I spoke about how we are adopted children of the Heavenly Father, and that
as His children we seek to reflect his character in our lives. That reminds me of a story.
It's about a little girl who, on the way home from church, turned to her mother and said, "Mommy, the pastor
said something in his sermon that confuses me."
The mother said, "Oh, what was that?
The girl replied, "Well, he said that God is bigger than we are. Is that true?"
"Yes, that's true," the mother replied.
"He also said that God lives within us. Is that true too?"
"Yes," her mother replied, "The Spirit of God dwells within the hearts of believers."
"Well," said the girl. "If God is bigger than us and He lives in us, wouldn't He show through?"
Let's think about that. On Pentecost Sunday we celebrate the fact that God kept His promise to bless His
people with the indwelling of the Holy Spirit, in a New Covenant. Within the heart of believers, God works to
bring out the best response to the Gospel of God's love and forgiveness. The Spirit works to produce "the fruit
of the Spirit" in our lives. Those are listed in Galatians 5:22-23 as: "love, joy, peace, patience, kindness,
goodness, faithfulness, gentleness and self-control."
God's children (believers in Christ) learn to do those things which please our Heavenly Father. I like this little
illustration of spontaneous giving, and of God's love showing through.
One cold afternoon, a little boy was standing out in front of a store window. The little child had no shoes on and
his clothes were mere rags. A young woman passing by saw the little boy and could read the longing in his pale
blue eyes. She took the child by the hand and led him into the store. There she bought him new shoes and a
complete suit of warm clothing.
They came back outside into the street and the woman said to the child, "Now, if anyone asks you where you
got these, just say they were a gift from someone who cares."
The little boy looked up at her and asked, "are you God, Ma'am?"
She smiled down at him and replied, "No… I'm just one of His children."
God is "bigger than us," and that is a comfort, not a source of terror, to believers. His will and His ways are
sometimes mysterious, but they are always best. May God "show through" all of us as we enter the summer
months and the season of Pentecost.
Pastor Bringewatt
Confirmed at St. Paul on Palm Sunday, March 29, were:
Brooke Haase, daughter of Mike and Kari Haase;
Kade Hughes, son of Adam and Shyla Hughes;
Bryce Jamison, son of Dustin Jamison and Heather Woeppel;
Tyson Snodgrass, son of Alan and Holly Snodgrass;
Landon Stalp, son of Ron and JoDene Stalp;
Dylan Uhing, son of Greg and Jill Kreikemeier;
Gage Vance, son of Brett and Bridget Vance;
Ben VanderGriend, son of Harlyn and Terri VanderGriend;
Darian Repschlaeger, daughter of Todd and Jackie Repschlaeger (member of Zion Bancroft).
Michael Bracht, son of Joel and Trisha Bracht and a student at St. Paul School was confirmed March 29 at St.
John's Lutheran Church, Lyons.
From The Principal
It's hard to believe that the 2014-2015 school year
is wrapping up! It has been a year full of many
blessings for us at St. Paul School. God has truly
blessed us with supportive parents, an excellent
teaching staff and amazing students as we ended our
school year with an enrollment high of 132
students.
As we wrap things up for this year, we also begin
planning for the 2015-2016 school year. We are
excited to have Ms. Morgan Riley join our staff as
the first and second grade teacher. Language Arts
and Math will be taught in the morning by Ms.
Riley, (first grade) and Mrs. Lynn Koehlmoos
(second grade). First and second grades will be
combined in the afternoon with Ms. Riley teaching
the other subjects. This exciting change will be
very beneficial for our growing class size in the first
and second grade classroom.
Mrs. Koehlmoos will work with resource and gifted
students each afternoon. She will work with all
grade levels to individually meet each student's
needs.
Along with change comes needed prayers for the
smooth transition of our faculty and staff as well as
the transition of students that move forward
academically.
As we bid our eighth grade students farewell it
seems only appropriate to focus on our chosen
theme for the next school year. "A.S.A.P. – Always
Say a Prayer!"
We ask that you keep our school families, students
and staff in your prayers over the summer months.
We look forward to the return of our students back
to school in August, and to welcoming new students
and their families.
Mrs. Kari Penrose
+++++++++++++++++++++++++++++++++++++
Lutheran Schools Week
Mark 10:14 Club (Resource Room)
Lutheran Schools Week, March 8-13, kicked-off
with our Pre-Eighth grade Spring Musical, "In the
Big Inning", held at the West Point Community
Theatre. The musical was very well attended and
Ms. Deutschman did an amazing job of directing
and choreographing each scene in the musical. The
students sang their hearts out and shared a special
message about Jesus' love for each of us.
The week of celebrating not only our precious
Lutheran School but Lutheran Schools around the
world was jam packed with activities, ranging from
Author Day to an all school Dodge Ball
Tournament. The week concluded with
Grandparent's Day, Thursday, March 12. Pastor
Russell Sommerfeld, President of Nebraska LCMS
District, was our guest speaker at chapel. It is safe
to say that fun was had by everyone throughout the
week! A huge thank-you to PTL for helping to plan
and organize the week.
The Mark 10:14 Club at St. Paul Lutheran School is
a resource room where students receive one on one
instruction from Mrs. Tracie Reeson. This resource
is provided for several students. Mrs. Reeson will
read tests or assignments, and provide a quiet place
for students to complete a test or assignment. She
also provides adaptations that maximize the
students learning ability. Mrs. Reeson works very
closely with the classroom teachers to ensure the
students are reaching their full learning potential.
She continues to write and review the individual
education plans (IEPS) and also quarterly progress
reports that are sent home to parents. Progress
reports help in monitoring a student's progress
toward the annual goals and to evaluate the
effectiveness of the student's special education
services.
Next year Mrs. Koehlmoos and Mrs. Reeson will
offer independent study opportunities for students
who need a challenge. The students will choose
from a variety of subjects and work at their own
pace.
Last day of school
at St. Paul Lutheran School is Friday, May 15.
Everyone is invited for Closing Chapel, 10 am
at St. Paul Lutheran Church. Dismissal is at 11 am.
New teacher
Meet our new teacher
Hi, my name is Morgan Riley and I am thrilled to be the first grade teacher at St. Paul Lutheran School for the
2015-2016 school year.
I was born in Central City, NE. My father's job in banking resulted in our family moving around a lot and I
was fortunate to meet many people that influenced my decision to become a teacher.
Our family moved to Wisner in 1995 and to Holdrege in 1998. We lived in Holdrege for six years where we
were close to family and spent summers at Johnson Lake. We then moved to Windsor, CO. where I attended
middle school. My family and I relished being in the outdoors and spent most of our free time snow skiing and
in the winter and camping in the summer. We moved then to Cozad, where I attended four years at Cozad High
school. I continued my love for dance, volleyball, running track and singing in the choir.
Following high school, I attended the University of NE-Lincoln and received my degree in Elementary
Education with an endorsement in Coaching.
The past two years, I taught fifth grade at Meadowlark Elementary in Kearney. I enjoyed living near my
parents, who are still in Cozad, as well as my extended family in the Shelton area.
Now I am traveling back to cattle country to do what I love: teaching children on weekdays, and preparing for
bull sales on weekends. And little did I know, a boy I met in Wisner years ago would become a part of my life
again.
I am so excited to take this step from public to private school and embrace the positive differences between the
two. I am impressed with this school and the expectations it has for its students. West Point has proven to be a
supportive community and St. Paul Lutheran Church and School have been equally welcoming. I am anxious to
meet you all and I am looking forward to what the future holds for me in northeast Nebraska.
Another great year for St. Paul athletes!
The volleyball team started out with a tremendous
tournament championship at the All-Lutheran
Volleyball Tournament, held at Lincoln Lutheran.
Captain Brooke Haase is an outstanding leader both
on and off the court. Sixth graders Rachel Groth,
Sidney Swanson and Reece Snodgrass became
service aces, at one point or another, each serving
consecutive points of 10 or more. Seventh grader
Hannah Lutz found her niche as an outsider hitter.
The team finished the year strong with a win over
Madison and an 8-5 record. The future is definitely
bright for St. Paul in volleyball.
The girl's basketball team, coached by Mike
Haase, had to earn every win they got. With not
many out for basketball this year, the girls got some
help from congregation member Brooklyn Weddle,
a sixth grader. Starting four sixth grade girls and
one eighth grader the Lady Eagles earned a 9-6
record with a fifth place finish at the All-Lutheran
Girls Roundball Tournament, held in Kearney, and
a first place finish at Seward in Concordia's annual
C-Club Tournament. This is a 3-peat championship
for the girls at C-Club and adds to Coach Haase's
tremendous resume as coach at St. Paul.
The boy's basketball team enjoyed their best
season under head coach Mike Shively. Led by four
eighth graders, three of them returning starters, the
boy's determination to do great things never
wavered. Ben Vander Griend and Landon Stalp
made up the team's one-two punch, which proved
to be difficult for opposing teams to stop. Fellow
eighth grader Gage Vance stepped up defensively
whenever asked to do so. Whether his job was to
guard a big man down low or shut down a driving
point guard, Vance proved why players love playing
with him and coaches love coaching him. Tyson
Snodgrass's defensive quickness was uncanny and
his crucial 3-point shot helped force overtime in the
Eagles final game of the year at Seward's C-Club.
Seventh grader Chandler Koenig's game high 16
points in the championship helped give St. Paul a
second C-Club Championship in three years and the
first ever in the B-Division.
The boys finished the year 15-1, their only loss
coming in the All-Lutheran Boys Roundball
Tournament Championship game, held in West
Point. Due to injuries, Landon Stalp and Chandler
Koenig were out for this tournament.
Preschool
Spring is in the air and the school year is coming to an end for our 27 preschoolers. We have been busy
learning to write our name, learning our ABCs, numbers, colors, and shapes. We watched caterpillars form a
cocoon and turn into butterflies. Our Earth Day activities included painting a paper mache Earth which we will
display in our room and then take to the Cuming County Fair.
Little Lambs Club
Thank You to St. Paul congregation
This is a free program for children 2 or 3 years old,
not currently enrolled in preschool. Children
and their parents or caregiver attend together
for a gentle introduction to learning and classroom
activities, including stories, songs, games, and art projects.
for your continued support. May God
continue to bless you and your family
throughout the year.
Mrs. Tracie Reeson
Congratulations and God's blessings to all our graduates.
Graduation was held Sunday, May 3, during our 9 am worship service
for Kindergarten and Eighth Grade graduates of St. Paul Lutheran School.
Kindergarten graduates and their parents are: Hollie Cole - Ross Cole & Lisa Wegner; Chase Conant Joe Conant & Dustin & Jessica Wiechmann; Dylyn Gentrup - Kyle Gentrup & Sara Schnepf; Eli Harrington Lee Harrington & Karlie Wagner; Kate Heimann - Jake Heimann & Alicia Heimann; Ava Mahnke - Tony &
Amanda Mahnke; Sylvia Meiergerd - Jason & Dana Meiergerd; Miriam Montenegro - Ignacio & Miriam
Montenegro; Marysa Moseman - Tony & Casey Moseman; Gabriel Rehbein - Graham Martin & Kaley
Rehbein; Lexi Washington - Tim & Stevie Bruesewitz: Adara Weborg - Tyler & Becca Weborg; Charli Wesche
- Scott & Nicole Wesche
Eighth grade graduates and their parents are: Michael Bracht - Joel & Tricia Bracht; Brooke Haase - Mike
& Kari Haase; Tyson Snodgrass - Alan & Holly Snodgrass; Landon Stalp - Ron & JoDene Stalp; Gage Vance Brett & Bridget Vance; Ben Vander Griend - Harlyn & Terri Vander Griend.
Senior Graduates
Sunday, May 10, we honor our senior graduates during our 9 am worship service.
Graduating May 17 from West Point-Beemer High School are:
Ty Haase, son of Mike and Kari Haase, will attend Doane College, going into business and playing baseball;
Bayleigh Hoffman, daughter of Jessica Wiechman;
Rianna Kramer, daughter of Tammy Kramer;
Ronald Kramer, son of Jim and Julie Kramer, will attend UNL;
Morgan Peatrowsky, son of Jim and Jenny Peatrowsky, will attend UNO, major in Elementary Education;
Jeffrey Rogers, son of John and Tammy Fehrer, will attend NECC, Norfolk, major in Agronomy;
Heath Schroeder, son of Lee and Tammy Schroeder, will attend NECC for Mechanized Systems;
Hunter Schroeder, son of Lee and Tammy Schroeder, will attend UNL, major in Animal Nutrition.
Graduating May 14 from Chesapeake High School in Chesapeake, Ohio is Chelsea Huismann, daughter of
Michelle Clark,. She plans to attend college to study agriculture.
College Graduates:
Liz Rogers, daughter of John and Tammy Fehrer, graduates May 9 from Wayne State with a Bachelor's Degree
in Music Education. She will teach at West Holt High School, Atkinson, NE
Membership Changes
Baptisms: Lucas Watson, son of Tessa Watson
Sophia, Bruesewitz, daughter of Tim and Stevie Bruesewitz
Confirmations: Brooke Haase, Kade Hughes, Bryce Jamison, Tyson Snodgrass,
Landon Stalp, Dylan Uhing, Gage Vance, Ben VanderGriend.
Courtesy Confirmation: Darian Repschlaeger, member of Zion, Bancroft.
Deaths: Neal Luebbe, Beata Brockmann, Vera Benne
Non-member Memorial Service: Erven Riehart
Transfers Out: Daniel Miller to St. Paul Lutheran, Skokie, IL.
Released: Nadine Peatrowsky to St. Mary's Catholic, West Point.
MANY THANKS!!
Thank you to everyone who donated an Easter lily for our Easter celebration.
Easter lilies were given:
in memory of loved ones, by Paul & Maren Reppert;
in memory of Alvin Sievers, Jim Sievers and Evelyn Gardner;
in memory of Vera Benne, by her family;
in memory of Jim Schroeder, by Lee, Tammy, Heath & Hunter;
in memory of Allan Wittrig, by Beulah, Ann and family;
in memory of Vernon & Ruth Meyer, Albert & Frieda Meyer, and Harly Rozendal, by Larry Wegner;
in loving memory of Bill and Alice Reeson by Marlin, Sheryl, Revel and Daun;
in memory of loved ones by Ron & Linda Kreikemeier;
in memory of our parents by Gary & Connee Reimers;
in memory of loved ones by Wayne & Marcia Beck;
in loving memory of my beloved parents, Annie & Fred Wegner and my dear sister Vera by Vernelle Wegner.
in memory of Dora, LaVerna and Virgil Bettenhausen, by Bryan & Sheri Bettenhausen & family.
Thank you to everyone who supported St. Paul's pancake breakfast. To everyone who donated food and
supplies, to those who helped, and to those who came and enjoyed pancakes and sausage your support is greatly
appreciated. Thanks to Thrivent Financial for supplemental funds supporting our radio ministry. Proceeds also
go toward third grade Bibles, offering envelopes and scholarships for synodical students.
Thank you to CenturyLink for their donation of $500 to St. Paul Lutheran School, in recognition of Don
Brockmann's volunteer service over the past year.
Thank you to Gwen Lindberg and family for the donation of $25,000 from Dick's estate, to be used for the
repair of the church organ.
Thank you to those who made special donations to help with the expense of replacing the parsonage furnace,
and replacing the faucets in the church kitchen.
Thank you to those who supported the "Stars of Hope" Lenten meals and our annual plant sale.
Thank you to those who supported Youth for Christ as they served Lenten meals, Easter breakfast, and also
those who made donations to Open Door Mission.
Save the Date for VBS
St. Paul Vacation Bible School will be one day only this year instead of five evenings. Mark your
calendars for Monday, June 8. Hours for Kindergarten and older children are 9 am- 3 pm, with check in
beginning at 8:30 am. Two sessions will be held for preschoolers. Morning session is 9-11 am (8:30 am
check-in) and afternoon session 1-3 pm (12:30 pm check-in). Lunch will be served for Kindergarten and
older students and an ice cream social is from 3-3:30 pm for all VBS attenders. Registration forms will be
available in the back of church, or call the church office.
Camp Luther will lead VBS activities and volunteers from St. Paul will be needed to help. At least one
volunteer is needed for each 10 students with additional helpers to serve lunch and ice cream. Monetary
donations are being accepted to help with costs, and donations of food, cookies and bars will be needed.
Please prayerfully consider how you can help.
Youth for Christ
Our youth group has been very busy this time of year. We served several Lenten meals, served Easter
breakfast, and have been collecting items for Open Door Mission. We will deliver these items May 3. We will
honor our senior graduates on May 10, during the 9 am worship service and celebrate with a brunch following
the service. We are making plans now for the 2016 National Convention in New Orleans.
LWML
Thanks to the members of Naomi/Priscilla Circle for doing the April altar duties.
National LWML convention is June 25-28 in Des Moines.
LWML assembly is June 7, 2 pm. All women of the congregation are welcome to join us as we hear our
speaker, Sherri Panagiotis, daughter of Delores Doht, speak on her trip to Haiti. Please mark your calendars for
this date.
Ladies Aid
Our meetings begin with devotions led by Pastor
Bringewatt. In November we discussed the two
types of blessings. December's topic was the events
prior to Jesus' birth and February's topic was
Pentecost and the arrival of the Holy Spirit. Pastor
also explained the altar area and the meaning of
altar items. He showed us the cloth that covered the
Communion ware after ash fell on it from the
candle lighting stick. The Ladies Aid will be
replacing the cloth. March and April topics were on
Jesus' Gethsemane experience and His being
abandoned on the cross. All topics have been very
informative.
The Ladies were busy throughout the Holidays and
since, baking and cooking for several projects.
Twenty-two Cheer boxes were prepared and
delivered to our shut-ins in December. March
Fellowship coffees were sponsored by Ladies Aid.
Proceeds and donations gathered were used for the
purchase and installation of two new kitchen sink
faucets, and for oven repairs.
A donation of $500 was sent to Orphan Grain Train
to participate in their dollar match program. The
birthday funds collected the past year were used to
sponsor two Sundays of The Lutheran Hour
broadcast.
Many women of the congregation helped prepare
and serve seven memorial service luncheons with
approximately 900 people served. We appreciate
very much all the help serving and supplying food.
We are thankful too for the congregation members
who helped bake cookies for the Bloodmobile.
Election of officers was held, with Linda Meyer,
Vice President, Eunice Kurz, Treasurer and Bernice
Miller and Maren Reppert on the Visiting
Committee. Officers in mid-term are Lois
Wiechman, President and LaVonne Woodka,
Secretary.
Again, a reminder of the card supply in the social
room showcase. All occasion plus graduation cards
are available. At year end, we noted 700 plus cards
had been sold during the past year. We thank you
for remembering this resource.
CALENDAR NOTE!
Saturday, July 4,
No 6 pm worship service.
St. Paul Fair Stand
It's time again to prepare for our St. Paul Fair Stand
at the Cuming County Fair. This year's fair is
August 13-16. Several committee members have
stepped down and new members are needed.
Preparation includes helping with inventory,
purchasing needed supplies, frying hamburger for
chili and sloppy joes, lining up grillers for during
the fair, securing workers to work in the stand
during the fair, baking and cutting pies, etc.
If you can help in any way, please contact the
church office. A big thank you to everyone that
gives of their time to help make our fair stand a
success.
Thank You to those who support
our school with those little things.
St. Paul Lutheran School received:
$ 486.13 from box tops;
$ 110.00 from Pizza Ranch wagon wheels;
$ 426.10 from Target rewards.
Grocery receipts from Graybeal's and Lincoln
Street Market are used to purchase merchandise.
Please continue saving those box tops and wagon
wheels.
Grocery receipt collection will begin again in the
fall.
St. Paul Lutheran Church and St. Paul Lutheran
School are both designated recipients of Thrivent
Choice Dollars. Thank you to the Thrivent
members who designate their dollars to St. Paul
Church and School.
****************************************
Camp Luther
Summer Camp Registration: Our theme for
summer camp this year is "Go and Proclaim!" based
off Mark 16:15 "Go into all the world and proclaim
the Gospel to the whole creation.'" The full
brochure and registration forms are available to
download at www.campluther.org. Online
registration is also available.
Future Leaders: Do you know a high school
student who's looking for a great opportunity to
serve this summer? Camp Luther's Future Leaders
program may be just the ticket. Students can apply
to serve at camp for 102 weeks this summer and
enjoy learning about sharing their faith and growing
as a servant leader. Students will organize
activities, lead music and help manage the daily
tasks of running a camp. Applications are online at
www.campluther.org.
His Kids Camp: Your help is needed to provide an
amazing experience for our campers with special
needs this summer. We offer several events that
give these campers a chance to enjoy God's
amazing creation at their own pace and ability.
Each volunteer is "buddied" with a camper,
ensuring a one-on-one partnership that will grow
throughout the week. Camp Luther provides
training for all willing volunteers, and the cost of
room and board is simply a suggested donation.
Without volunteers, this ministry would not be
possible, so please prayerfully consider this
opportunity.
Please email Cassandra Splittgerber at:
csplittgerber@campluther.org or call the office at
402-352-5655 to find out which dates need to the
filled. Visit www.campluther.org for questions
regarding His Kids ministry or for volunteer
applications.