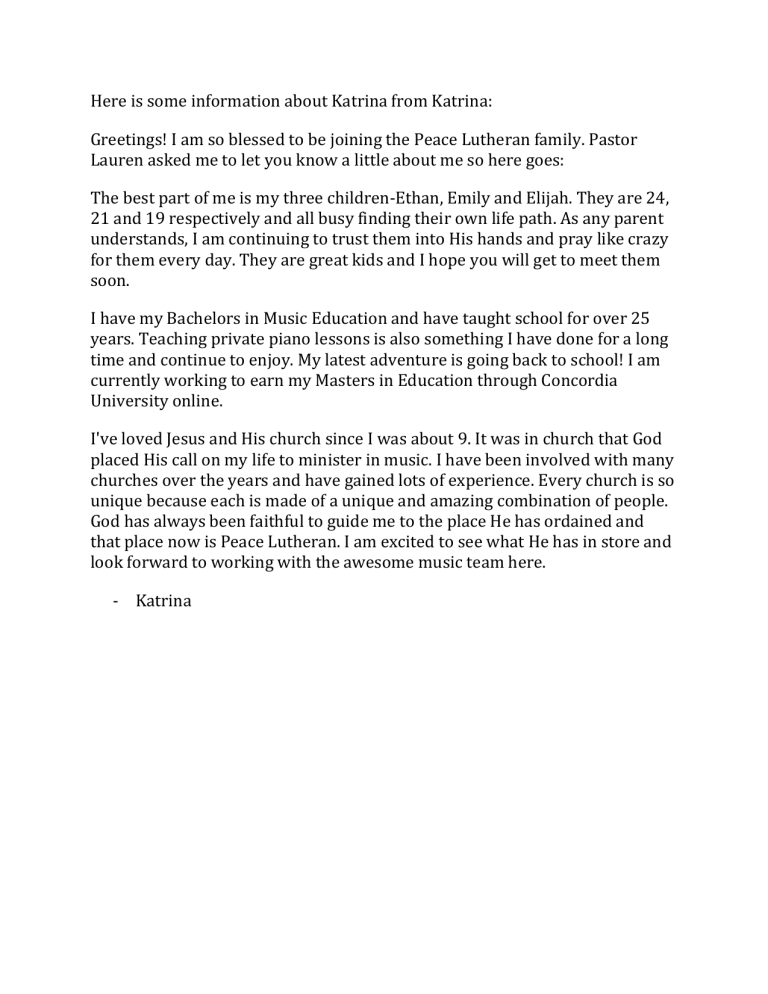 Here is some information about Katrina from Katrina:
Greetings! I am so blessed to be joining the Peace Lutheran family. Pastor
Lauren asked me to let you know a little about me so here goes:
The best part of me is my three children-Ethan, Emily and Elijah. They are 24,
21 and 19 respectively and all busy finding their own life path. As any parent understands, I am continuing to trust them into His hands and pray like crazy for them every day. They are great kids and I hope you will get to meet them soon.
I have my Bachelors in Music Education and have taught school for over 25 years. Teaching private piano lessons is also something I have done for a long time and continue to enjoy. My latest adventure is going back to school! I am currently working to earn my Masters in Education through Concordia
University online.
I've loved Jesus and His church since I was about 9. It was in church that God placed His call on my life to minister in music. I have been involved with many churches over the years and have gained lots of experience. Every church is so unique because each is made of a unique and amazing combination of people.
God has always been faithful to guide me to the place He has ordained and that place now is Peace Lutheran. I am excited to see what He has in store and look forward to working with the awesome music team here.
Katrina