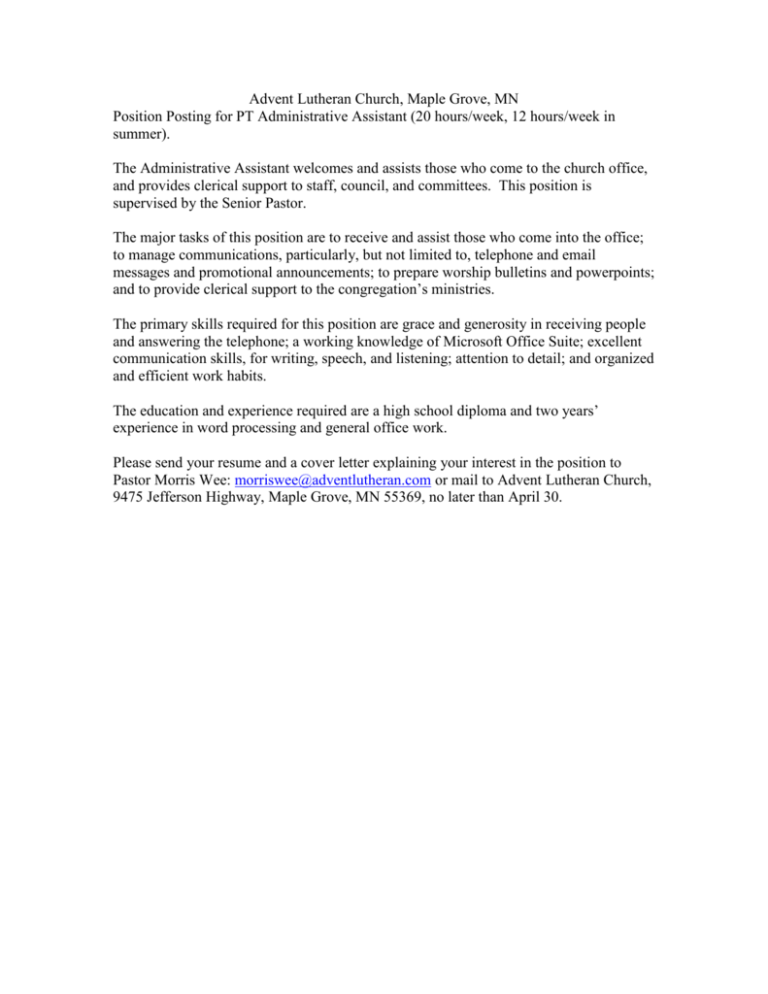 Advent Lutheran Church, Maple Grove, MN
Position Posting for PT Administrative Assistant (20 hours/week, 12 hours/week in
summer).
The Administrative Assistant welcomes and assists those who come to the church office,
and provides clerical support to staff, council, and committees. This position is
supervised by the Senior Pastor.
The major tasks of this position are to receive and assist those who come into the office;
to manage communications, particularly, but not limited to, telephone and email
messages and promotional announcements; to prepare worship bulletins and powerpoints;
and to provide clerical support to the congregation's ministries.
The primary skills required for this position are grace and generosity in receiving people
and answering the telephone; a working knowledge of Microsoft Office Suite; excellent
communication skills, for writing, speech, and listening; attention to detail; and organized
and efficient work habits.
The education and experience required are a high school diploma and two years'
experience in word processing and general office work.
Please send your resume and a cover letter explaining your interest in the position to
Pastor Morris Wee: morriswee@adventlutheran.com or mail to Advent Lutheran Church,
9475 Jefferson Highway, Maple Grove, MN 55369, no later than April 30.