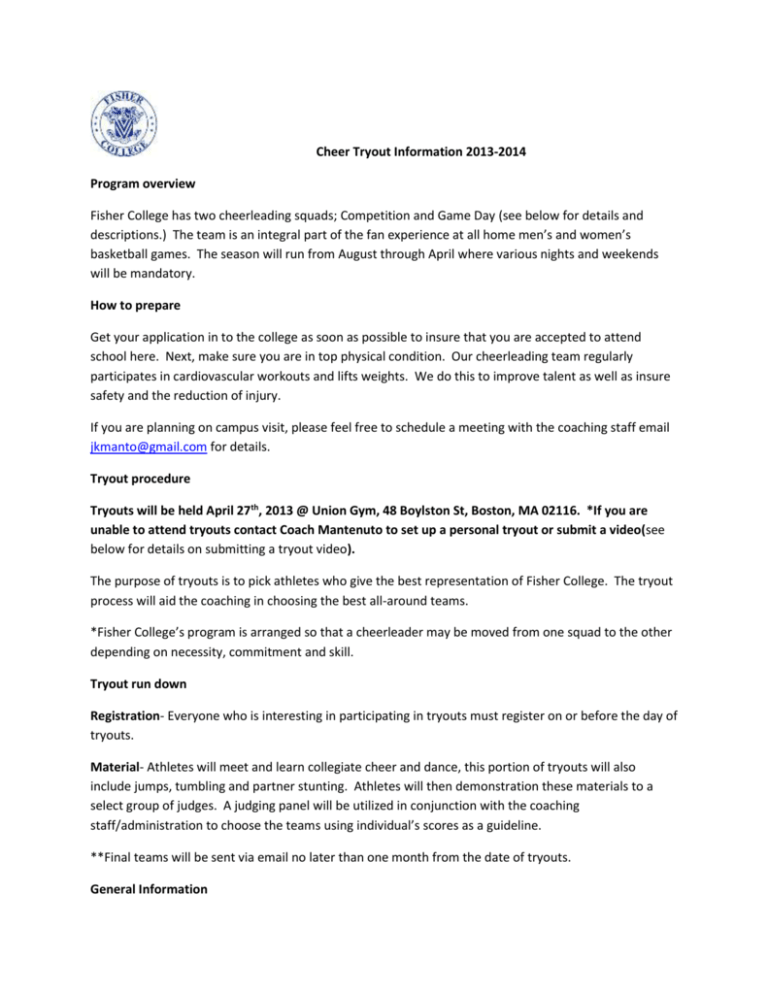 Cheer Tryout Information 2013-2014
Program overview
Fisher College has two cheerleading squads; Competition and Game Day (see below for details and
descriptions.) The team is an integral part of the fan experience at all home men's and women's
basketball games. The season will run from August through April where various nights and weekends
will be mandatory.
How to prepare
Get your application in to the college as soon as possible to insure that you are accepted to attend
school here. Next, make sure you are in top physical condition. Our cheerleading team regularly
participates in cardiovascular workouts and lifts weights. We do this to improve talent as well as insure
safety and the reduction of injury.
If you are planning on campus visit, please feel free to schedule a meeting with the coaching staff email
[email protected] for details.
Tryout procedure
Tryouts will be held April 27th, 2013 @ Union Gym, 48 Boylston St, Boston, MA 02116. *If you are
unable to attend tryouts contact Coach Mantenuto to set up a personal tryout or submit a video(see
below for details on submitting a tryout video).
The purpose of tryouts is to pick athletes who give the best representation of Fisher College. The tryout
process will aid the coaching in choosing the best all-around teams.
*Fisher College's program is arranged so that a cheerleader may be moved from one squad to the other
depending on necessity, commitment and skill.
Tryout run down
Registration- Everyone who is interesting in participating in tryouts must register on or before the day of
tryouts.
Material- Athletes will meet and learn collegiate cheer and dance, this portion of tryouts will also
include jumps, tumbling and partner stunting. Athletes will then demonstration these materials to a
select group of judges. A judging panel will be utilized in conjunction with the coaching
staff/administration to choose the teams using individual's scores as a guideline.
**Final teams will be sent via email no later than one month from the date of tryouts.
General Information
What to wear
Females: Black shorts, white sports bra/tank or t-shirt, game day makeup and cheer sneakers
Males: Black shorts, white shirt and cheer sneakers (or any sneaker with good support)
Tryout Requirements (suggested)






2.0 GPA
Collegiate Appearance
Standing back handspring
Tumbling serious of at least a round off back handspring
Flexibility and stamina in jumps
Full twist cradle from stunts (flyer)
***Although we strongly recommend that athletes can meet these requirements, we also look for
potential that we can develop; previous cheer or gymnastics experience is not required.
If you cannot attend Tryouts you may submit a video: Please contact Coach Mantenuto @
[email protected] for more details
Competition Squad- Member of the Competition Squad will attend all home men's and women's
basketball games, NAIA tournaments (if invited), National and local competitions and
community/campus activities as necessary.
Game Squad- Members of the Game Squad will attend all home men's and women's basketball games,
NAIA tournaments (if invited) and community/campus activities as necessary.