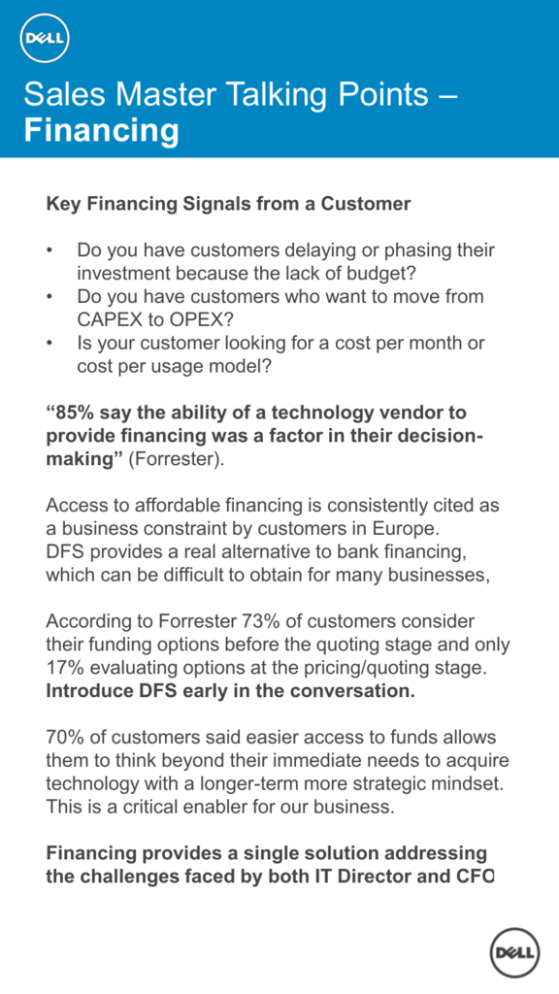 Sales Master Talking Points –
Financing
Key Financing Signals from a Customer
•
•
•
Do you have customers delaying or phasing their
investment because the lack of budget?
Do you have customers who want to move from
CAPEX to OPEX?
Is your customer looking for a cost per month or
cost per usage model?
"85% say the ability of a technology vendor to
provide financing was a factor in their decisionmaking" (Forrester).
Access to affordable financing is consistently cited as
a business constraint by customers in Europe.
DFS provides a real alternative to bank financing,
which can be difficult to obtain for many businesses,
According to Forrester 73% of customers consider
their funding options before the quoting stage and only
17% evaluating options at the pricing/quoting stage.
Introduce DFS early in the conversation.
70% of customers said easier access to funds allows
them to think beyond their immediate needs to acquire
technology with a longer-term more strategic mindset.
This is a critical enabler for our business.
Financing provides a single solution addressing
the challenges faced by both IT Director and CFO.
Sales Master Talking Points –
Financing
Talking Points
Three main challenges for most customers:
1) Budget
Financing can help you to spread the cost over several
budget cycles and move the cost from CAPEX to
OPEX. Financing delivers predictable expenditure
over a defined time period.
2) Future Ready/Up to date technology
Financing allows for technology refresh at optimum
times, avoiding continued use of expensive obsolete
systems. Financing enables infrastructure
modernisation, avoiding escalating maintenance costs
and building efficiency.
3) Flexibility
Customer can return (and renew), extend or
sometimes buy the equipment at end of lease (EOL)
depending on the need at that point of time.
Payments can be aligned with revenue cycles.
Provides budget flexibility in upgrade decisions.
Sales Master Talking Points –
Financing
Questions to Ask to position DFS
•
•
•
•
•
How are you going to pay for your equipment?
Has the budget for this project been approved?
Are there any projects are you seeing delayed as a
result of budget uncertainty?
How often do you refresh your equipment?
Would it be helpful to move this investment from
CAPEX to OPEX?
Tips:
1. Get the customer to talk and collect as much
information as possible. Keep in mind that you
might get different answers dependent on if you
talk to IT, finance or procurement.
2. Consult with DFS after the meeting to discuss
next step. DFS is here to help enable the deal so
leverage on the expertise.
Sales Master Talking Points –
Financing
Close the customers yellow lights
We pay cash
We have had bad leasing experience
Also sounds like:
• We're cash rich.
• We have a low bank rate, we'll go
through our bank.
• Its not worth it to lease, our IT spend is
less than 1% of our budget
• Company policy, we don't lease.
Also sounds like:
• We're not willing to go down that road
again.
• Our CFO has a bad experience
leasing, so we no longer lease.
• We had a bad experience
Acknowledge
I understand, that's a common way of
looking at funding.
Articulate
Financing has many other benefits, for
example saving you money, and driving
a technology refresh strategy.
Ask
You know your company better than I
do. Who can our DFS rep meet with to
discuss this in more detail?
Acknowledge
I'm sorry to hear that.
Articulate
In the past few years, DFS has made
great strides in becoming the IT lender
of choice.
Ask
I'd like to bring in my DFS rep to discuss
with you how leasing can benefit your
company today.
We run our equipment until it dies
We want to own our equipment
Also sounds like:
• We get 7-8 years out of our pcs.
• We like to keep equipment for more than
4 years, and depreciate it.
• When we refresh our laptops, we recycle
them for the back office.
Also sounds like:
Acknowledge
Understand. Many of our customers
believe its better to keep technology for
a long period time. As a matter of facts,
research shows that regular refresh
provides the best TCO.
Articulate
It certainly makes sense to get the full
value of your investment.
Ask
I'd like to bring in my DFS rep, so that
we can determine if you're getting the
optimum value for your equipment.
• Our financials are healty so we can
have IT assets on the balance sheet.
Acknowledge
I understand. Many of our customers
want to own the equipment, depreciate
it and use it for a long time.
Articulate
It certainly makes sense own assets
that you keep for a long time and don't
need to refresh regularly.
Ask
Can I bring in my DFS rep to discuss if
owning your IT's is the optimal solution
for you?