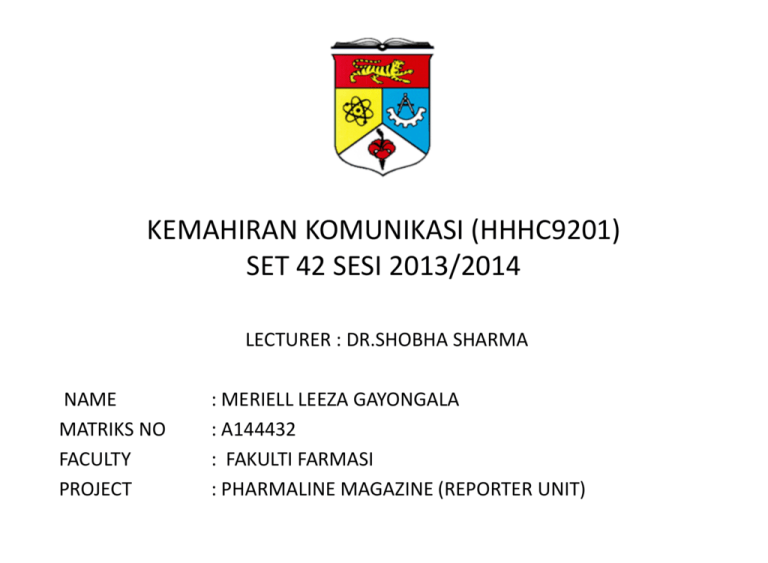 KEMAHIRAN KOMUNIKASI (HHHC9201)
SET 42 SESI 2013/2014
LECTURER : DR.SHOBHA SHARMA
NAME
MATRIKS NO
FACULTY
PROJECT
: MERIELL LEEZA GAYONGALA
: A144432
: FAKULTI FARMASI
: PHARMALINE MAGAZINE (REPORTER UNIT)
COMMUNICATION
• Origin: commūnicāre (Latin), meaning "to
share"
• Definition:
Activity of conveying information through the
exchange of thoughts, messages, or
information, as by speech, visuals, signals,
writing, or behaviour.
Written
Communication
TYPES
Non Verbal
Communication
Verbal (oral)
communication
ORAL COMMUNICATION
• Involves language or words
• Includes face-to-face
conversations, speech,
conversation over the telephone
and voice over internet.
• Influence by pitch, volume,
speed, intonation and clarity of
speaking.
VIDEO 1
Emcee of Pharmaline Journalism Workshop
Link http://youtu.be/621aADMpyRM
VIDEO 2
Question to Mr. Teh Eng Hock, The Star
Journalist on how to conduct a proper
interview.
Link http://youtu.be/wwW6KrpoWMY
http://www.youtube.com/watch?v=wwW6KrpoWMY
NON VERBAL COMMUNICATION
1. facial
expression
2. Eye contact
3. Touch
4. Body posture
5. Body language
6. Voice
7. Appearance
Only a small
percent of
communication is
verbal, the most
effective
communication is
through non-verbal
actions.
• Body language and movements to enhance our
messages, whether consciously or
unconsciously.
• These subtle inflections are picked up by
those around us
VIDEO 3
Interview with RX Quiz participant
Link
http://www.youtube.com/watch?v=ZMHHb
gj-Ty4
WRITTEN COMMUNICATION
• Transmitted through email,
report, memo, etc.
• Greatly influenced by vocabulary
and grammar used, writing style,
precision and clarity of the
language used.
• Advantage: can be kept for
future reference
REFLECTION
•
•
•
•
Vital skills needed
Avoid miscommunication
Positive attitude
Respect, humble, and empathy
when interacting
• Key to effective communication
is applying all the elements of
verbal and non verbal
communication.