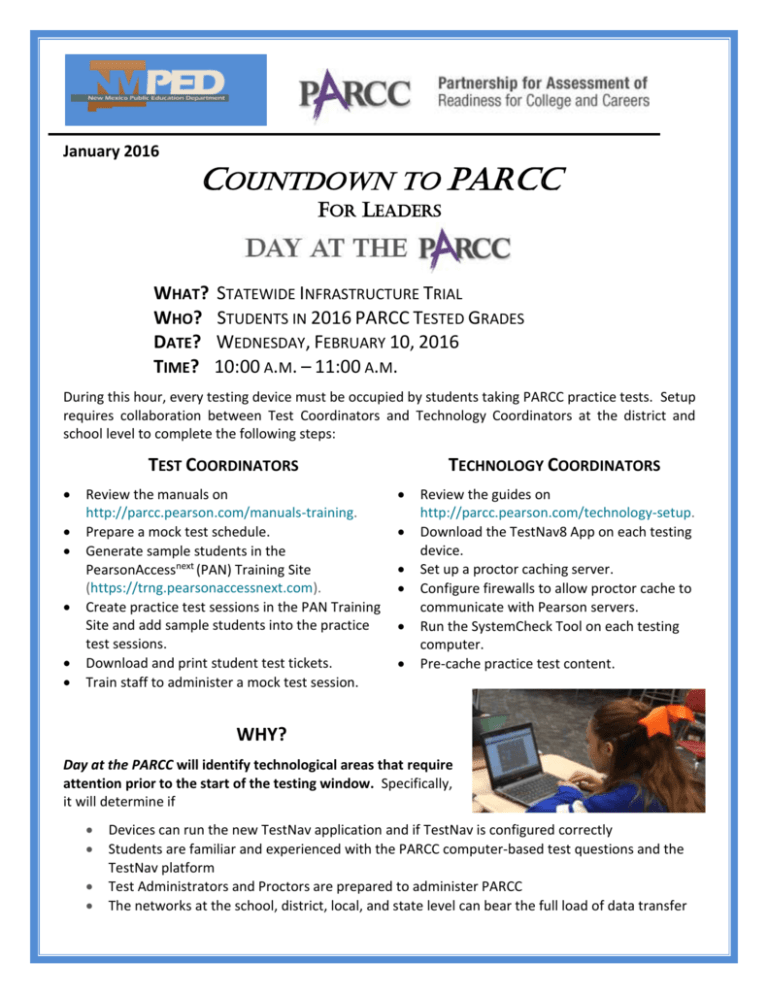 January 2016
COUNTDOWN TO PARCC
FOR LEADERS
WHAT? STATEWIDE INFRASTRUCTURE TRIAL
WHO? STUDENTS IN 2016 PARCC TESTED GRADES
DATE? WEDNESDAY, FEBRUARY 10, 2016
TIME? 10:00 A.M. – 11:00 A.M.
During this hour, every testing device must be occupied by students taking PARCC practice tests. Setup
requires collaboration between Test Coordinators and Technology Coordinators at the district and
school level to complete the following steps:
TEST COORDINATORS






Review the manuals on
http://parcc.pearson.com/manuals-training.
Prepare a mock test schedule.
Generate sample students in the
PearsonAccessnext (PAN) Training Site
(https://trng.pearsonaccessnext.com).
Create practice test sessions in the PAN Training
Site and add sample students into the practice
test sessions.
Download and print student test tickets.
Train staff to administer a mock test session.
TECHNOLOGY COORDINATORS






Review the guides on
http://parcc.pearson.com/technology-setup.
Download the TestNav8 App on each testing
device.
Set up a proctor caching server.
Configure firewalls to allow proctor cache to
communicate with Pearson servers.
Run the SystemCheck Tool on each testing
computer.
Pre-cache practice test content.
WHY?
Day at the PARCC will identify technological areas that require
attention prior to the start of the testing window. Specifically,
it will determine if




Devices can run the new TestNav application and if TestNav is configured correctly
Students are familiar and experienced with the PARCC computer-based test questions and the
TestNav platform
Test Administrators and Proctors are prepared to administer PARCC
The networks at the school, district, local, and state level can bear the full load of data transfer
INFRASTRUCTURE TRIAL GUIDE
In mid-January, Pearson will release an updated spring 2016 version of their comprehensive guide to
infrastructure trials that provides current technology set-up information. Test Administrator protocols
will change with respect to online test session management procedures in PearsonAccessnext, and these
changes will be reflected in the updated guide.
The spring 2016 infrastructure trial guide will include the
following updates:



Unlocking test units by TAs in PAN at the start of testing
Elimination of seal codes
TestNav functionality updates to promote ease of student
use
In New Mexico, we will ONLY use the TestNav App. Due to difficulties with Java updates,
we are not allowing schools to administer PARCC using browser-based TestNav.
UPCOMING PARCC TECHNOLOGY AND ADMINISTRATION DATES
DATE
COMPONENT
1/11/16
PearsonAccessnext 3.1 available in training PAN site
1/12–1/14/16
PED Winter Test Coordinator trainings (Las Cruces, Roswell & Albuquerque)
1/15/16
Final day to register students for spring 2016 paper testing
Mid-January
TestNav 8.5 and PearsonAccessnext 3.1 available in live PAN site
Mid-January
Updated Spring 2016 PARCC Infrastructure Trial Guide available on Avocet site
1/26–1/28/16
PED Winter Test Coordinator trainings, cont. (Las Vegas, Los Lunas & Albuquerque)
Please remember that all District Test Coordinators (DTCs) and charter and BIE School Test
Coordinators (STCs) must attend one day of mandatory PED trainings in January. Districts may send
one additional attendee.
Register online now at http://bit.ly/Winter2016DTCTrainingsRegistration.