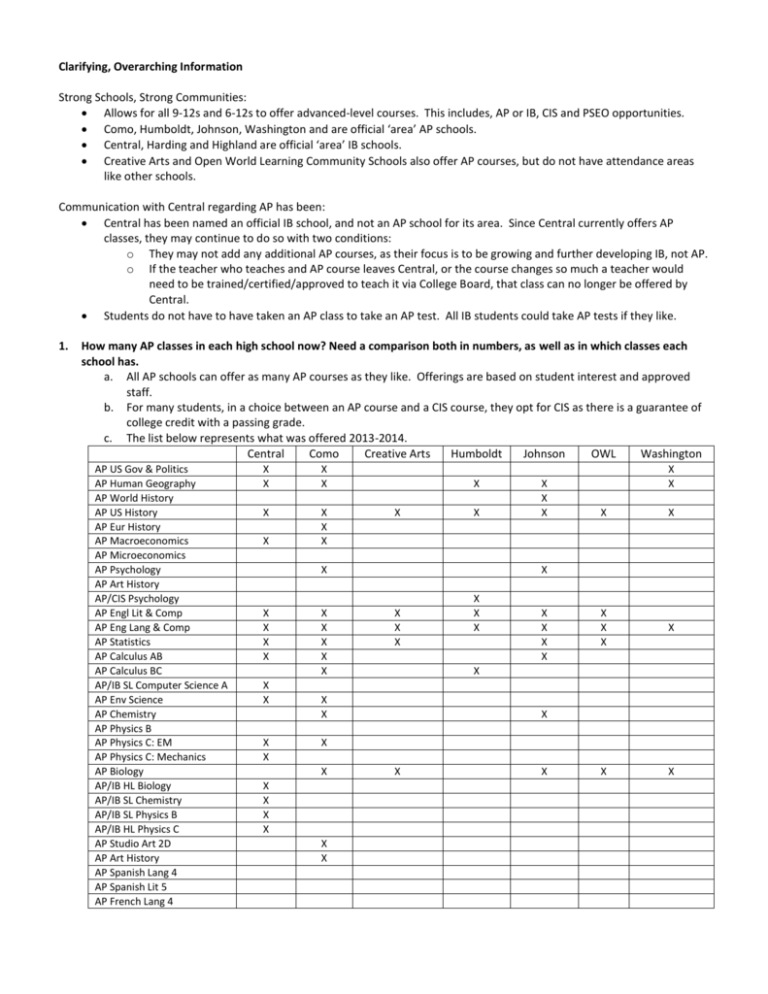 Clarifying, Overarching Information
Strong Schools, Strong Communities:
 Allows for all 9-12s and 6-12s to offer advanced-level courses. This includes, AP or IB, CIS and PSEO opportunities.
 Como, Humboldt, Johnson, Washington and are official 'area' AP schools.
 Central, Harding and Highland are official 'area' IB schools.
 Creative Arts and Open World Learning Community Schools also offer AP courses, but do not have attendance areas
like other schools.
Communication with Central regarding AP has been:
 Central has been named an official IB school, and not an AP school for its area. Since Central currently offers AP
classes, they may continue to do so with two conditions:
o They may not add any additional AP courses, as their focus is to be growing and further developing IB, not AP.
o If the teacher who teaches and AP course leaves Central, or the course changes so much a teacher would
need to be trained/certified/approved to teach it via College Board, that class can no longer be offered by
Central.
 Students do not have to have taken an AP class to take an AP test. All IB students could take AP tests if they like.
1.
How many AP classes in each high school now? Need a comparison both in numbers, as well as in which classes each
school has.
a. All AP schools can offer as many AP courses as they like. Offerings are based on student interest and approved
staff.
b. For many students, in a choice between an AP course and a CIS course, they opt for CIS as there is a guarantee of
college credit with a passing grade.
c. The list below represents what was offered 2013-2014.
Central
Como
Creative Arts
Humboldt
Johnson
OWL
Washington
AP US Gov & Politics
AP Human Geography
AP World History
AP US History
AP Eur History
AP Macroeconomics
AP Microeconomics
AP Psychology
AP Art History
AP/CIS Psychology
AP Engl Lit & Comp
AP Eng Lang & Comp
AP Statistics
AP Calculus AB
AP Calculus BC
AP/IB SL Computer Science A
AP Env Science
AP Chemistry
AP Physics B
AP Physics C: EM
AP Physics C: Mechanics
AP Biology
AP/IB HL Biology
AP/IB SL Chemistry
AP/IB SL Physics B
AP/IB HL Physics C
AP Studio Art 2D
AP Art History
AP Spanish Lang 4
AP Spanish Lit 5
AP French Lang 4
X
X
X
X
X
X
X
X
X
X
X
X
X
X
X
X
X
X
X
X
X
X
X
X
X
X
X
X
X
X
X
X
X
X
X
X
X
X
X
X
X
X
X
X
X
X
X
X
X
X
X
X
X
X
X
X
X
X
X
X
X
X
X
X
2.
What is the benefit to district to remove from Central? Why not instead have all schools offer a variety of classes like
Central does.
a. SSSC has named Central as an area IB school with the intent that Central focus on and further develop their IB
offerings and support and encouragement for more students to take IB courses.
b. The phasing out of AP (which could take many years based on the guidelines) is to foster more efforts on IB.
3.
District has bad reputation of only giving one year's worth of info. What's the long-term plan? We know it will change –
so how? Most have kids coming for 4-7 years. This is our home school and now we have to go to Como? That's
ridiculous.
a. SSSC has named Central as an IB school for its area and a French Immersion articulation for the district. Families
who want to attend Central can do so under the IB or FI articulation.
4.
Why has this moratorium been set about no new AP courses? And how long will this moratorium be in place? There will
be changes in education, so how can parents be assured their children will meet new and emerging standards?
a. This 'moratorium' on AP courses revolves around the fact that Central has been named an IB school and the
intent is for Central to focus on and further develop their IB offerings and support and encouragement for more
students to take IB courses.
5.
What does "curriculum consistent across the district" mean?
a. Under SSSC, schools have designated foci and articulations as well as a responsibility to offer a core complement
of courses consistent across the district. This guarantees that no matter where a student lives, there will be
similar course offerings and access to rigorous coursework.
6.
Mom with a French Immersion kindergartner wants to know where her child should go if she wants BOTH French
Immersion AND AP classes. Como doesn't have French Immersion.
a. Como offers French through level 6 and a College in the Schools level French course for both high school and
college credit.
7.
If Quest appeals to students of color, why isn't it expanded to other schools?
a. Quest is considered an honors alternative to IB at Central.
8.
Please use and relay lots of data and research about our decision and the parents will support the district.
a. I am unsure as to what decision this refers, as the IB designation was made 4 years ago with SSSC.
9.
Is district just doing this to save money?
a. If 'this' is referring to having Central focus on IB, the answer is no. There are no significant cost savings.
10. Is there a deadline in terms of voting on AP?
a. SSSC outlined Central as an IB school in 2011.