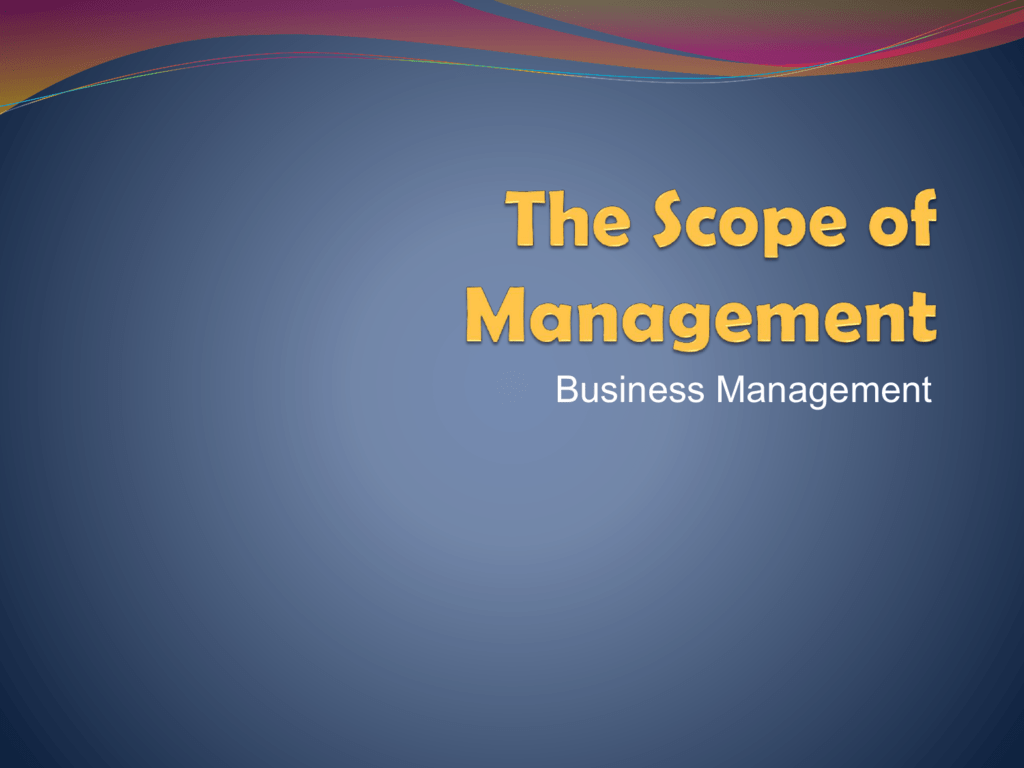 Business Management
Today's Lesson
OBJECTIVE
 We will describe
ESSENTIAL QUESTIONS
 What is
management roles,
management?
functions, skills and
 What do managers
values as we begin
do - specific tasks?
studying the Scope
of Management.
 What should
managers do responsibilities?
What is Management?
 What are words that comes to mind when you hear
the word "management"?
The Scope of Management
 What is management?
 What are the specific tasks and
responsibilities of management?
What is Management?
DEFINITION
TASKS /
RESPONSIBILITIES
 Ensuring that the
business works
 Quality
 Making sure people
want your products
 Customer's needs
 Pricing
 Making sure business is  Imports / exports
 Marketing
running well – prices,
profit, customer service  Need for product
 Process – multiple steps
& keeps going
Four Functions of Management
Planning
Organizing
Implementing
Controlling
Planning
Analyzing
information and
making
decisions about
what needs to
be done
Organizing
 Determining how
plans can be
accomplished most
effectively
 Arranging
resources to
complete work
 Includes staffing
Implementing
 Carrying out the
plans
 Helping employees
to work effectively
 More day-to-day
management
activities
Controlling
 Evaluating
results to
determine if the
company's
objectives have
been
accomplished as
planned
Management Skills
 What are the skills used to efficiently
channel resources and resolve
conflict?
 What types of skills do you think
managers should have?
Skills Managers Need
 Communication Skills
 Human Relations
Skills
 Teamwork Skills
 Problem-Solving Skills
 Organizational Skills
Closing Task
Describe the difference between
managerial tasks and managerial
responsibilities.
Include at least one example of
each (task & responsibility).
 It is the responsibility of the business owner
& managers to give the company direction.
 This includes summarizing what the
company does (purpose), what the
company hopes to achieve (goals), and
even its core values.
 Consider the vision & mission statements of
some of today's biggest companies.
Managers Set Direction & Goals
MISSION STATEMENT
VISION STATEMENT
Short, specific
Broader statement
statement that
that describes the
defines the purpose
direction of the
of the company.
business
Should answer the Should answer the
question "what do
question "what will
we do?"
we accomplish in
the future?"
NIKE
MISSION STATEMENT
VISION STATEMENT
To bring inspiration
To be number one
and innovation to
every athlete in the
world
athletic company in
the world
WAL-MART
MISSION STATEMENT
VISION STATEMENT
To help people
To become the
save money so
they can live better
worldwide leader in
retailing
Worksheet On Your Own
Identify 4 companies that interest you.
List the current mission statement and
vision statement of each company – you
may have to do some additional searching.
Referring to your definitions, analyze each
statement to identify at least one strength
and one area for improvement.