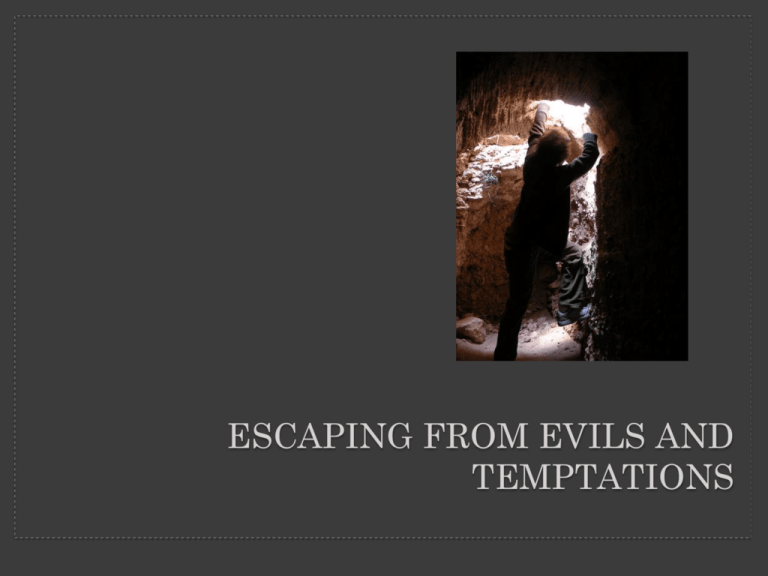 ESCAPING FROM EVILS AND
TEMPTATIONS
"Escape for your life! Do not look behind you nor stay
anywhere in the plain. Escape to the mountains, lest you be
destroyed."
(Genesis 19:17)
• Many evils and temptations in this world . . .
• Is running away or escaping considered a sign of
weakness???
Who is stronger?
Who is stronger?
• When Jesus was born, St. Joseph was told by the angel to
escape from Herod the king. Jesus was a baby at that
time.
• Jesus could have defeated Herod even when He was a
baby, BUT… He preferred to escape to Egypt. WHY???
JESUS GAVE US EXAMPLES
• He escaped to Egypt as a baby
• When Jews wanted to stone Him, Jesus hid Himself
and went out of the temple.
(John 52:59)
• When disciples asked Jesus if He wishes them to
command fire to come down from heaven and consume
Samaritans, He rebuked them and said, "You do not
know what manner of spirit you are of. For the Son of
Man did not come to destroy men's lives but to save
them." And they went to another village.
(Luke 9:54-56)
ESCAPING – HOW CAN WE PREPARE?
1) IDENTIFY what you are facing…
ESCAPING – HOW CAN WE PREPARE?
2) PRAY (Ask God to provide you with the
strength)
ESCAPING – HOW CAN WE PREPARE?
3) AVOID
Five Steps to AVOID evil and
temptations:
1) Recognize your tendency toward sin
Five Steps to AVOID evils
and temptations:
2) Run away
Therefore let him who thinks he stands take heed lest he
fall. 13 No temptation has overtaken you except such as is
common to man; but God is faithful, who will not allow you to
be tempted beyond what you are able, but with the
temptation will also make the way of escape, that you may be
able to bear it.
(1 Corinthians 10:12-13)
12
But you, O man of God, flee these things and pursue
righteousness, godliness, faith, love, patience, gentleness.
(1 Timothy 6:11)
11
Five Steps to AVOID evils
and temptations:
2) Run away
14
Therefore, my beloved, flee from idolatry.
(1 Corinthians 10:14)
Flee also youthful lusts; but pursue righteousness, faith,
love, peace with those who call on the Lord out of a pure
heart.
(2 Timothy 2:22)
22
• When you are face to face with temptation, look for the
way out that God has promised and then run as fast as
you can.
Five Steps to AVOID evils and
temptations:
3) Resist with …
"the Word of Truth"
• Did you know you can carry a weapon that will
make your thoughts obey Jesus Christ?
• It is the Word of God!
• Do you read it everyday?
Five Steps to AVOID evils and
temptations:
4) Refocus with praise
• Praising God takes your focus off of yourself and
puts it on God. You may not be strong enough, but
as you focus on God, He will inhabit your praise. He
will give you the strength to resist and walk away
from the temptation.
Five Steps to AVOID evils and
temptations:
5) Repent quickly (if or when you fall into temptation)
• We all fail from time to time. We all fail to flee.
• It is not the end of the world when you fail, but it is
very dangerous to persist in your sin
James 1: 15 explains:
15 Then, when desire has conceived, it gives birth to sin;
and sin, when it is full-grown, brings forth death.
ESCAPING – HOW CAN WE PREPARE?
4) Give yourself ALTERNATIVES
Remember - 1: Corinthians 10:13 ?
• God can show you how to escape
from your temptation.
• Allow yourself to see that escape
Examples:
If you are tempted to lie to protect another person's
feelings, try to considering other ways to word the
truth, so it doesn't sound so harsh.
If people around you are getting into bad habits
(tobaccos, drugs, etc.), try making new friends.
Alternatives aren't always easy, but they can be the
path. God creates for you to alternatives.