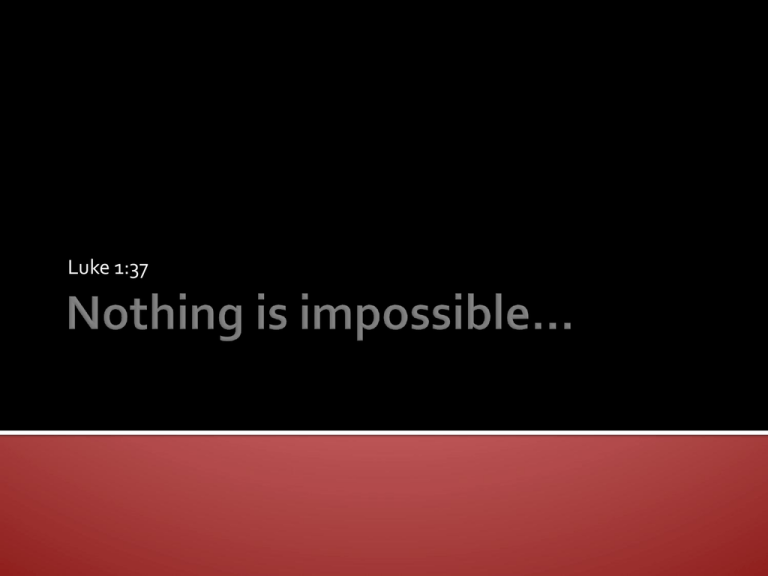 Luke 1:37
"I have been at it since the end of August,
and without a rest, we out here are
wondering if ever they will relieve us, and
wonder "Will they ever come?" It takes us
all our time to keep together."
Reg Knight
"Nothing is impossible with God"



Even for Mary, a time would come when she,
with Jesus' brothers, would doubt her son's
mission (Mark 3:21)
We speculate that Jesus had a relatively
normal 30 years prior to his ministry
beginning
When that changed it was a shock to the
system for his family, believing the things he
said to be impossible




Our own experiences can be like Mary's
Yet we can also approach it from the opposite
end, believing in God for great things and
being disappointed if we don't see it
We all have examples of someone who didn't
get healed, prayers that may not have been
answered, temptations that we didn't
overcome
Our faith can become jaded, things seem
impossible, even with God
We acknowledge the receipt of your recent communication.
Your proposal is both interesting and challenging. However, due to a shortage
of personnel, as well as personal financial considerations, we do not feel that
we can give proper emphasis to your challenge at this time.
A committee has been appointed to study the feasibility of your plan. We
should have a report to bring to our congregation sometime in the future. You
may rest assured that our board will give this careful consideration and will
pray for you and your efforts to find additional disciples.
We do appreciate your offer to serve as a resource person, and should we
decide to undertake this project in the future we will get to back to you.
Cordially
The Christians
1.
2.
3.
4.
Is our plan God's plan?
Have we turned to our own resources as
much as possible as the answer to our
prayer?
Are we being patient for the outcome?
Did we think this would be easy?