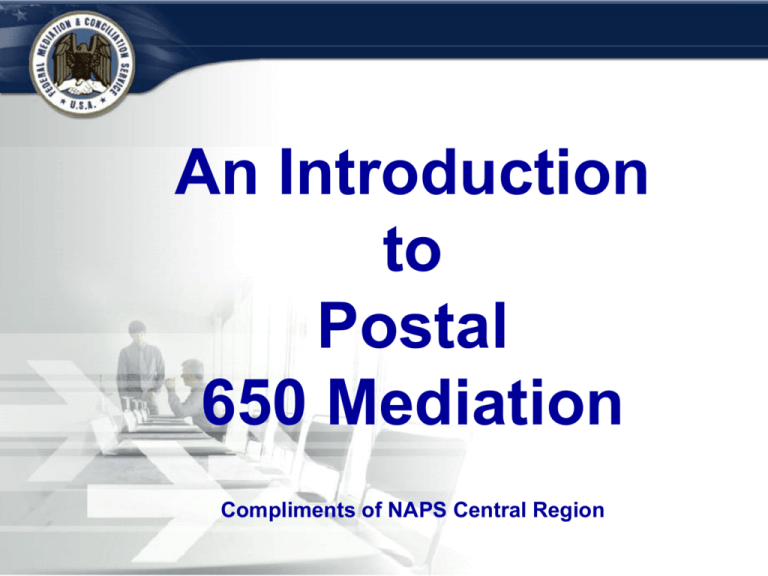 An Introduction
to
Postal
650 Mediation
PAGE TITLE GOES HERE
Compliments of NAPS Central Region
Postal 650
Employee and Labor Relations Manual 650
Non-Bargaining Unit Cases:
 Proposed letters of warning
in lieu of time-off
 Proposed Adverse Action
"What is 650?"
• Part 650 of the Employee and Labor Relations
Manual (ELM) includes mediation for letters of
warning in lieu of time-off, suspensions and
adverse actions.
• Mediation can only be selected by the employee.
• Supervisors and managers who issue or propose
disciplinary action against a non-bargaining unit
employee are required to participate in mediation.
Types of Cases
• Notice of discharge for improper conduct:
AWOL, harassment, fighting, credit card
abuse, internet abuse, etc.
• Letters of discipline may arise from
conduct or from failure to carry out postal
responsibilities (e.g. leaving mail on the
dock, not arriving on time).
Once a mediation is scheduled
• Postal coordinator provides information packet to
mediator.
• Packet includes letter on mediation, copy of
discipline, mediator checklist & all necessary forms.
• Mediator may contact parties if he/she so
determines in advance or at the meeting.
• The parties determine who, if anyone, will
accompany them to the mediation.
At the Mediation Session
• Both parties must sign "Agreement to Mediate" at start of
session.
• If resolved, agreement completed and signed by parties.
• If no resolution mediator signs and dates "no agreement"
letter.
• If no agreement appellant has 10 days to file response to
USPS – mediator must give this form to appellant at end of
session.
• There is an evaluation form to be filled out by parties and
sent back to the coordinator by the mediator.
At the conclusion of the Mediation
• Mediators must submit Agreement to Mediate, disposition
form, and invoice to USPS coordinator.
• Copies of invoice retained by mediator and submitted to
Regional or National Office (NOTE: $475 per mediation,
$250 for cancellation less than 72 hours).
• Mediators - relate to their FMCS Directors of Mediation
Services any observations to root causes of problems or
abuses of mediation process or failure to participate in good
faith for possible additional actions.
• All other mediator notes and records destroyed by mediator.
FMCS Expectations
• Strong effort by mediators to resolve cases.
• Make best effort to accommodate scheduling.
(try to schedule mediation within 14 days, and no
later than 21 days if at all possible).
• Keep Directors of Mediation Services at FMCS
informed.
• In many ways, these cases are like grievance
mediation, with the same expectations.
Common Problems Observed
• Late cancellations or no shows by USPS and/or
complainant.
• Authority to settle not always in evidence.
• Understanding of process by participants may not always
sufficient.
• No flexibility in time frame; USPS expects mediation session
to be completed in one meeting.
• Preconceived "settlements" set in stone.
• USPS coordinator may not be available if problems occur.
PEOPLE
• Acknowledge Emotions without Blaming.
• Distinguish Perceptions from "Truth".
• Look at how they see it – Put yourself in
their shoes.
• Speak for yourself; Use " I", AVOID "YOU"
• Listen Actively.
FIVE BARRIERS TO COOPERATION
• Your Reaction.
• Their Emotion.
• Their Position.
• Their Dissatisfaction.
• Their Power.
FOCUS– DON'T REACT
• Step back, collect your wits, and see the
situation objectively.
• Don't try to control the other person's
behavior, control your own.
• Don't get mad, Don't get even, Get what
you need.
STEP TO THEIR SIDE
DON'T ARGUE
• Listen Actively.
• Acknowledge Their Point.
• Acknowledge Their Feelings.
• Acknowledge Their Authority & Competence.
• Acknowledge Your Differences with Optimism.
REFRAME
DON'T REJECT
• Ask problem solving questions.
• Ask Why? Ask Why Not?
• Ask for their Advise.
• Change the game from Positional
Bargaining to Joint Problem solving.
BUILD A GOLDEN BRIDGE
DON'T PUSH
• Actively involve them in devising the
solution.
• Help them save face.
• Help them write their victory speech.
USE POWER TO EDUCATE
• Let them know the consequences.
• Keep implementation in mind.
• Aim for mutual satisfaction, not
victory.
ALTERNATIVES
• Know your alternatives.
• Improve your alternatives.
• Consider the other side's alternatives.
• Educate the other side of your
alternatives.
CLOSURE
• Begins before you sit down at
the table.
• Don't commit until the end.
• Create emotional commitment.
TOP 10 TIPS FOR WORKING
WITH A MEDIATOR
10. Work with the mediator, don't compromise
the mediators credibility or acceptability.
9. Don't renege on agreements.
8. Come willing to reach an
agreement.
TOP 10 TIPS FOR WORKING
WITH A MEDIATOR
7. Be open to persuasion
or correction by facts
or principles.
6. Don't withhold critical
information from the
mediator.
TOP 10 TIPS FOR WORKING
WITH A MEDIATOR
5. Don't misuse mediation as a means to
get something else, e.g. hidden
agendas, delay, information gathering.
4. Negotiate in good faith.
TOP 10 TIPS FOR WORKING
WITH A MEDIATOR
3. Come to a mediation with
authority to settle the issues.
2. Have the right players at the
table who can provide
information.
1. Come to mediation prepared;
do your homework.
Thank You!
Questions?