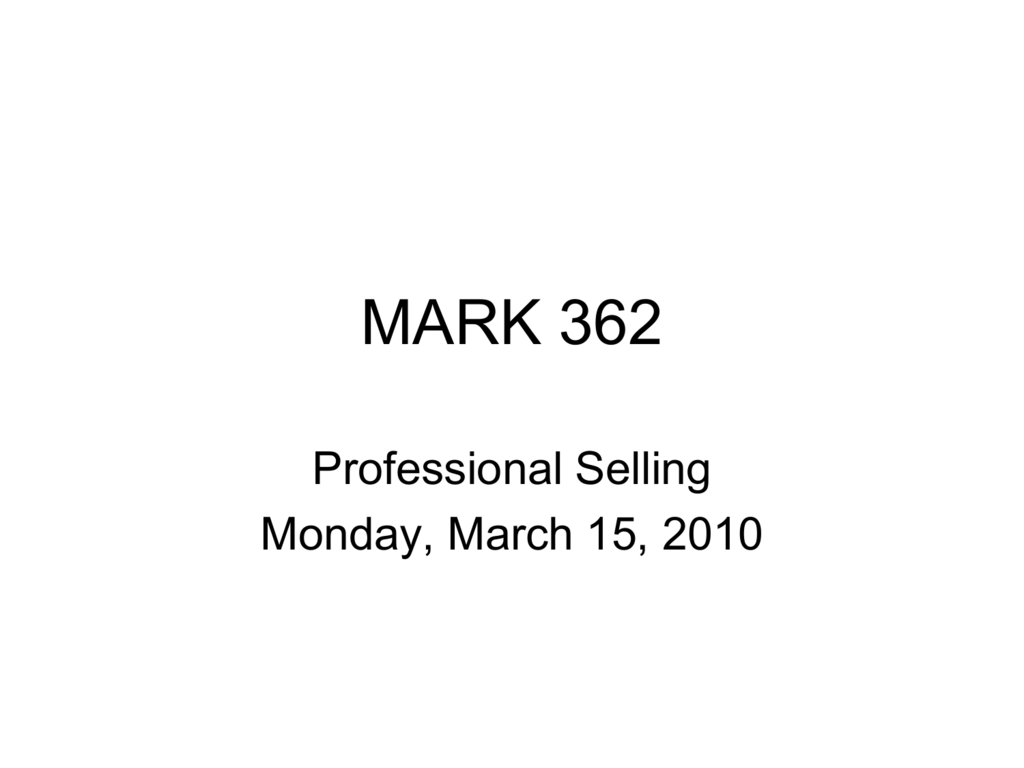 MARK 362
Professional Selling
Monday, March 15, 2010
Outline
• Please pick up your graded Individual
Sales Project
• Chapters included on Term Test 2 and any
review questions?
• You should be preparing your VITO letters
today…you may ask me to review your
benefit statement.
Chapters on Term Test 2
• Selling to VITO:
– 3, 4, 5, 6, 7, 8, 9, 10
• Value Added Selling
– 5, 6, 7, 8, 9, 10, 11, 12, 14, 15, 23
• Also pay attention to:
the panel discussion and seminar
assignments since term test 2 (VITO letter,
sales skills, video sales practice, and Sales Competition)
Any Review Questions?
REMEMBER
• Individual Sales Videos:
– Submit DVD in format playable on both a DVD
player and in Windows Media player
– Submit Release Form with one for each
person in the video (signed and/or struck out)
– Submit Grading Matrix
– ALL THE ABOVE MUST BE INCLUDED to be
considered received on time. We will make
the due date time 3:15 instead of 2:30.
THANKS
• See you Monday, March 22nd for Test Two
and to hand in VITO letter then
• See you on Wednesday March 31st by
3:15PM to hand in your DVD project.
• If you have any questions while working
on your projects…please email me or
make an appointment.