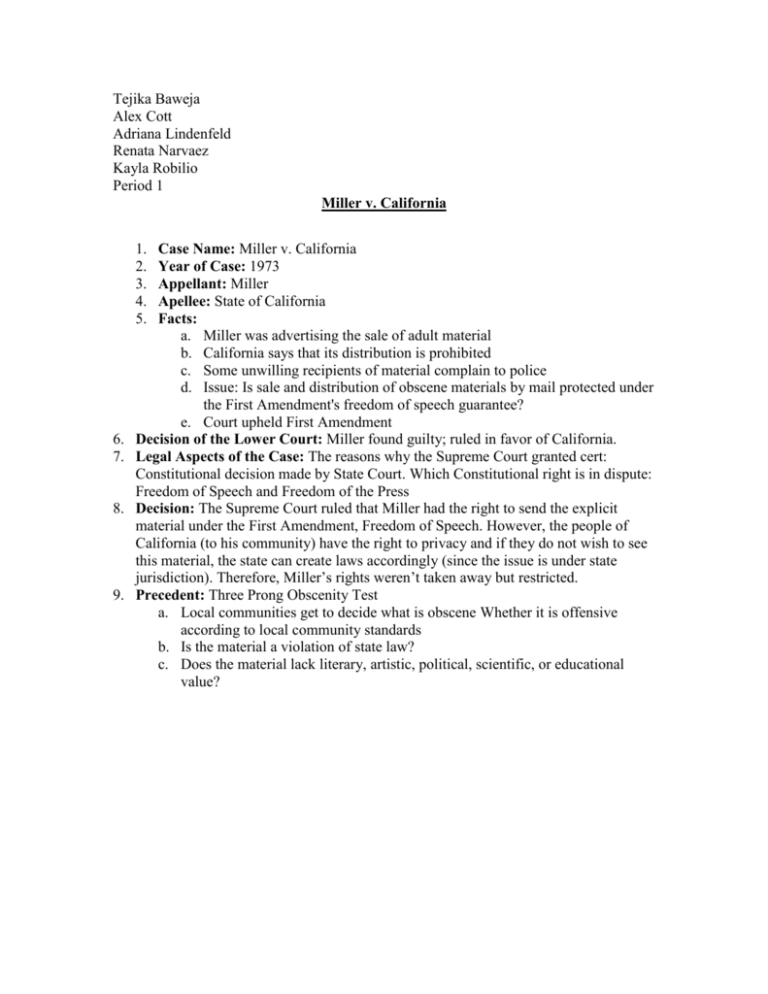 Tejika Baweja
Alex Cott
Adriana Lindenfeld
Renata Narvaez
Kayla Robilio
Period 1
Miller v. California
1.
2.
3.
4.
5.
6.
7.
8.
9.
Case Name: Miller v. California
Year of Case: 1973
Appellant: Miller
Apellee: State of California
Facts:
a. Miller was advertising the sale of adult material
b. California says that its distribution is prohibited
c. Some unwilling recipients of material complain to police
d. Issue: Is sale and distribution of obscene materials by mail protected under
the First Amendment's freedom of speech guarantee?
e. Court upheld First Amendment
Decision of the Lower Court: Miller found guilty; ruled in favor of California.
Legal Aspects of the Case: The reasons why the Supreme Court granted cert:
Constitutional decision made by State Court. Which Constitutional right is in dispute:
Freedom of Speech and Freedom of the Press
Decision: The Supreme Court ruled that Miller had the right to send the explicit
material under the First Amendment, Freedom of Speech. However, the people of
California (to his community) have the right to privacy and if they do not wish to see
this material, the state can create laws accordingly (since the issue is under state
jurisdiction). Therefore, Miller's rights weren't taken away but restricted.
Precedent: Three Prong Obscenity Test
a. Local communities get to decide what is obscene Whether it is offensive
according to local community standards
b. Is the material a violation of state law?
c. Does the material lack literary, artistic, political, scientific, or educational
value?