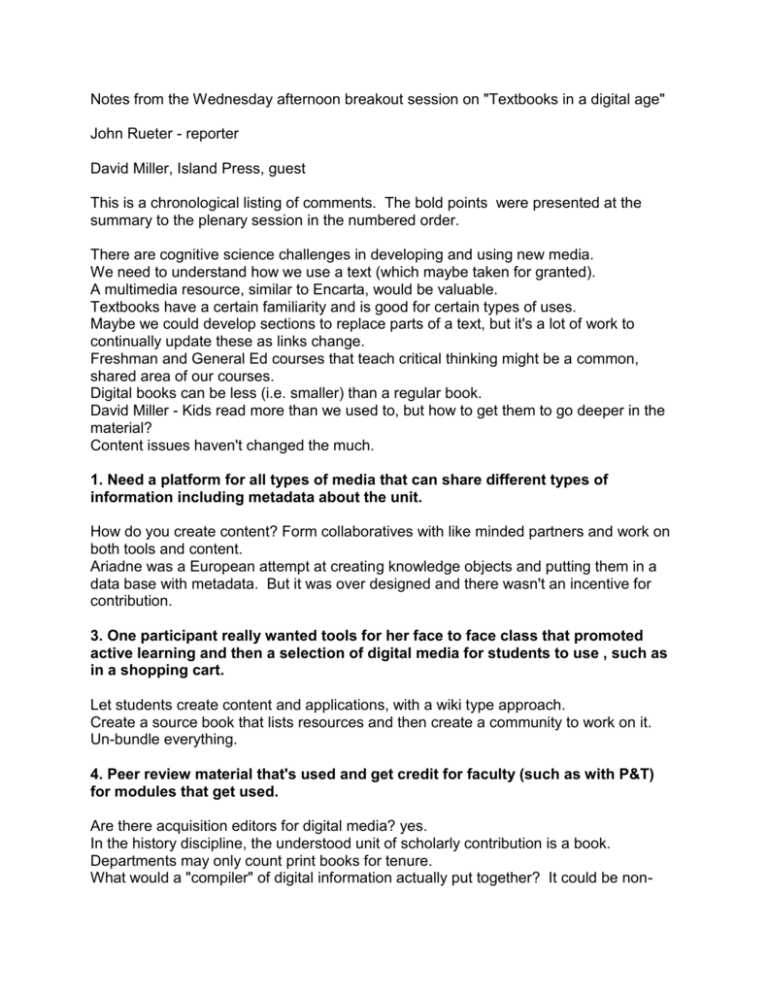 Notes from the Wednesday afternoon breakout session on "Textbooks in a digital age"
John Rueter - reporter
David Miller, Island Press, guest
This is a chronological listing of comments. The bold points were presented at the
summary to the plenary session in the numbered order.
There are cognitive science challenges in developing and using new media.
We need to understand how we use a text (which maybe taken for granted).
A multimedia resource, similar to Encarta, would be valuable.
Textbooks have a certain familiarity and is good for certain types of uses.
Maybe we could develop sections to replace parts of a text, but it's a lot of work to
continually update these as links change.
Freshman and General Ed courses that teach critical thinking might be a common,
shared area of our courses.
Digital books can be less (i.e. smaller) than a regular book.
David Miller - Kids read more than we used to, but how to get them to go deeper in the
material?
Content issues haven't changed the much.
1. Need a platform for all types of media that can share different types of
information including metadata about the unit.
How do you create content? Form collaboratives with like minded partners and work on
both tools and content.
Ariadne was a European attempt at creating knowledge objects and putting them in a
data base with metadata. But it was over designed and there wasn't an incentive for
contribution.
3. One participant really wanted tools for her face to face class that promoted
active learning and then a selection of digital media for students to use , such as
in a shopping cart.
Let students create content and applications, with a wiki type approach.
Create a source book that lists resources and then create a community to work on it.
Un-bundle everything.
4. Peer review material that's used and get credit for faculty (such as with P&T)
for modules that get used.
Are there acquisition editors for digital media? yes.
In the history discipline, the understood unit of scholarly contribution is a book.
Departments may only count print books for tenure.
What would a "compiler" of digital information actually put together? It could be non-
linear or have many pathways. Could combine different ways of looking at material.
Open sources doesn't have incentives.
Instructor-instructor visibility of what they use.
It would be good to compare courses, so that the course modules and their use can
converge toward higher effectiveness and quality.
8. Island Press is interested in working on an extension of CAMEL. This would fit
with their mission to advance environmental education. They would benefit by
building relationships that might have commercial benefit to them.
"Drop Box" is an example of a good application.
Could you generate a general pattern for use of the material?
Who would use this? Maybe the publisher could update the links in the site.
5. It would be nice for the site to have the feature of referring you to other sites,
like Amazon or Netflix, "people who viewed this module also liked this bit of text,
video, etc."
Island Press is meeting the needs of policy makers. They bring together thought leaders
in several cities for 48 hours of multiple events. David Miller says that the policy impact
is at the ground level. Bring science into the discussion by inviting authors and
presenters.
2. The digital book market could be driven by students who want multi-media or
faculty who want modularity. David Miller thinks that the faculty side will
dominate.
Text book publishers have become entrenched.
If we collaborated how many users wold depend on how navigable can we choose
some pieces of "durable" content.
7. The open source approach or alternative will be described at the AESS meeting
by Eban Goodstein. He will use the example of the National Climate Seminar that
he put on. this had benefits for users and the free-rider problem was decreased
because those users increased the visibility of his project.