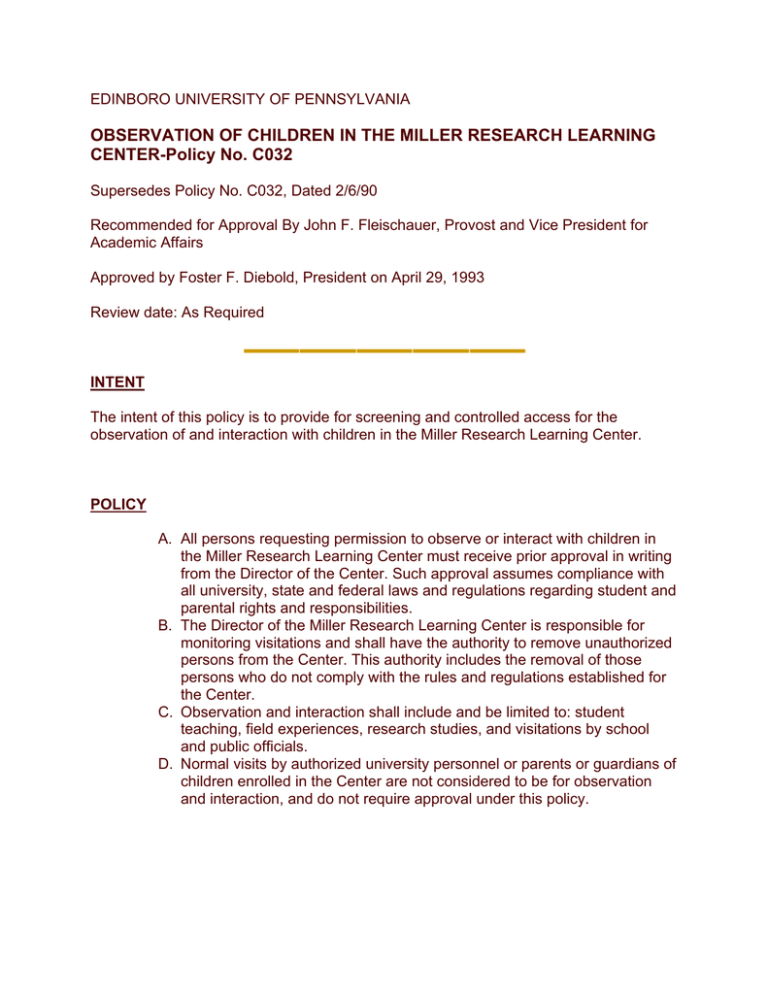 EDINBORO UNIVERSITY OF PENNSYLVANIA
OBSERVATION OF CHILDREN IN THE MILLER RESEARCH LEARNING
CENTER-Policy No. C032
Supersedes Policy No. C032, Dated 2/6/90
Recommended for Approval By John F. Fleischauer, Provost and Vice President for
Academic Affairs
Approved by Foster F. Diebold, President on April 29, 1993
Review date: As Required
INTENT
The intent of this policy is to provide for screening and controlled access for the
observation of and interaction with children in the Miller Research Learning Center.
POLICY
A. All persons requesting permission to observe or interact with children in
the Miller Research Learning Center must receive prior approval in writing
from the Director of the Center. Such approval assumes compliance with
all university, state and federal laws and regulations regarding student and
parental rights and responsibilities.
B. The Director of the Miller Research Learning Center is responsible for
monitoring visitations and shall have the authority to remove unauthorized
persons from the Center. This authority includes the removal of those
persons who do not comply with the rules and regulations established for
the Center.
C. Observation and interaction shall include and be limited to: student
teaching, field experiences, research studies, and visitations by school
and public officials.
D. Normal visits by authorized university personnel or parents or guardians of
children enrolled in the Center are not considered to be for observation
and interaction, and do not require approval under this policy.
PROCEDURE
A.Requests must be submitted to the Director of the Miller Research Learning Center in
writing and include the following:
1. Purpose of each observation and/or interaction.
2. Dates and times during which observation and/or interaction will
occur.
3. Signature of person(s) making the request.
B. Each visitor to the Center must report to the Office of the Director and sign in on the
occasion of each visit.