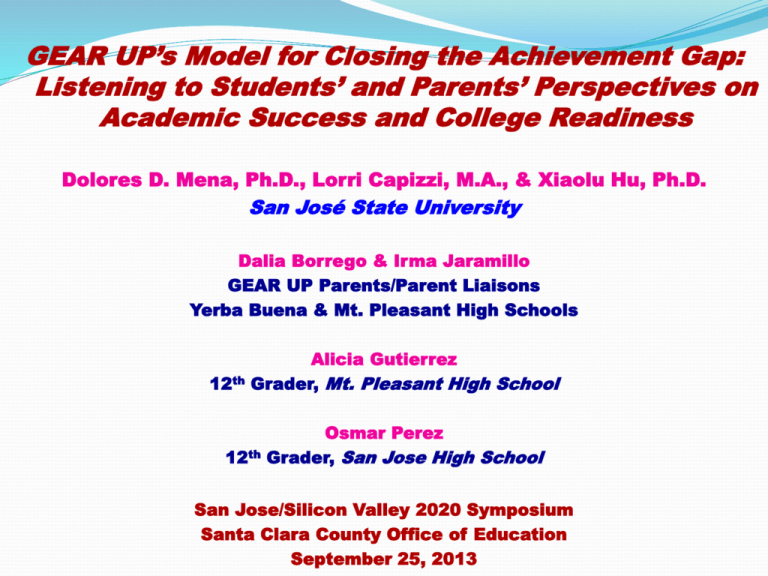 GEAR UP's Model for Closing the Achievement Gap:
Listening to Students' and Parents' Perspectives on
Academic Success and College Readiness
Dolores D. Mena, Ph.D., Lorri Capizzi, M.A., & Xiaolu Hu, Ph.D.
San José State University
Dalia Borrego & Irma Jaramillo
GEAR UP Parents/Parent Liaisons
Yerba Buena & Mt. Pleasant High Schools
12th
Alicia Gutierrez
Grader, Mt. Pleasant High School
12th
Osmar Perez
Grader, San Jose High School
San Jose/Silicon Valley 2020 Symposium
Santa Clara County Office of Education
September 25, 2013
What is GEAR UP?
Gaining Early Awareness and Readiness for Undergraduate
Programs (GEAR UP):
 6-yr program funded through the U.S. Department of
Education
 Purpose is to increase the number of low-income students who
are prepared to enter and succeed in postsecondary education.
 Provides services at high-poverty middle and high schools (at
least 50% eligible free & reduced lunch)
 Serves an entire cohort of students from 7th – 12th grades.
 SJSU Counselor Education Department GEAR UP grants:
1999-2005, 2000-2005, 2008-2014
Providing Coherent Pathways
to Impact the Global Economy
GEAR UP - Closing the achievement gap by:
 Increase GEAR UP students' academic performance and preparation for
post-secondary education (e.g., Provide support through personal, academic,
and career counseling, after school tutoring, college fieldtrips, training in SAT
and CAHSEE)
 Increase students' high school graduation rate and post-secondary enrollment
(e.g., Provide Saturday academy and summer school)
Building social capital for students' success by:
 Increase students' and families' knowledge of post-secondary education
options, preparation, & financing (e.g., Provide workshops and parent
network)
 Provide academic, career, and social support (e.g., Provide mentoring, college
fieldtrips, individual meetings, and student case management)
Providing Pathways for Students
Regardless of Background and SES
 Cohort approach – serve all students within a grade level
 Follow cohort students from 7th – 12th grades
 Build college-going culture among the cohort students
 Intentionally hire counselors/coaches who are 1st generation
and bilingual/bi-cultural to relate to and connect with
students and parents
Providing Students with In-depth
Math and Science Content Knowledge
 Provide summer school and credit recovery classes to
ensure students achieve aligned math and science
requirements
 Provide engaging and experiential learning opportunities
(Short video – Chemistry water pollution documentary,
Summer 2012)
 Provide students learning experiences related to science
and technology (Short video - Geography project
documentary, Summer 2011)
Providing Weekend, Evening, and Summer
Support to Decrease the Learning Gap
 Provide summer school, credit recovery, Cyber High,
Saturday Academy, and CAHSEE prep classes
 Provide teacher training for SAT Prep
 Monitor student performance and use data to recruit
students to after school, summer, and Saturday programs
Implications for the Community,
School System, and Way of Life
 Work with community partners (e.g., AVID, Cal-SOAP,
California Youth Outreach, Catholic Charities, San
Jose/Evergreen Community College District) to expand the
program's impact
 Work with SJSU teacher, counselor, and administrative
credential candidates to become change agents to close the
student achievement gap in Silicon Valley
 Work with school and district leaders to build college-going
culture
Should the U.S. incorporate values and nonacademic skills back into the curriculum to build
character and morally conscious citizens?
 YES!
 SJSU GEAR UP:

Addresses students' academic, career, and social/personal
development

Focuses on developing students' critical thinking skills related to
issues that impact their local communities and the larger society
(e.g., Geography documentary project)

Guides and supports students in become contributing members
of society
Questions?