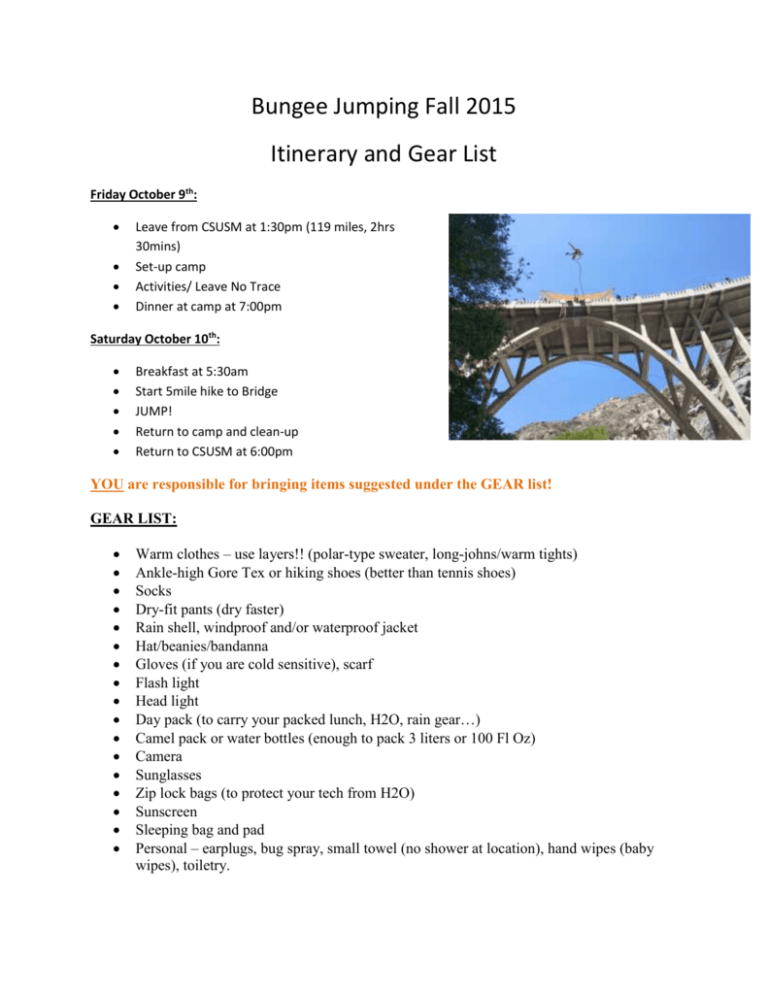 Bungee Jumping Fall 2015
Itinerary and Gear List
Friday October 9th:




Leave from CSUSM at 1:30pm (119 miles, 2hrs
30mins)
Set-up camp
Activities/ Leave No Trace
Dinner at camp at 7:00pm
Saturday October 10th:





Breakfast at 5:30am
Start 5mile hike to Bridge
JUMP!
Return to camp and clean-up
Return to CSUSM at 6:00pm
YOU are responsible for bringing items suggested under the GEAR list!
GEAR LIST:

















Warm clothes – use layers!! (polar-type sweater, long-johns/warm tights)
Ankle-high Gore Tex or hiking shoes (better than tennis shoes)
Socks
Dry-fit pants (dry faster)
Rain shell, windproof and/or waterproof jacket
Hat/beanies/bandanna
Gloves (if you are cold sensitive), scarf
Flash light
Head light
Day pack (to carry your packed lunch, H2O, rain gear…)
Camel pack or water bottles (enough to pack 3 liters or 100 Fl Oz)
Camera
Sunglasses
Zip lock bags (to protect your tech from H2O)
Sunscreen
Sleeping bag and pad
Personal – earplugs, bug spray, small towel (no shower at location), hand wipes (baby
wipes), toiletry.