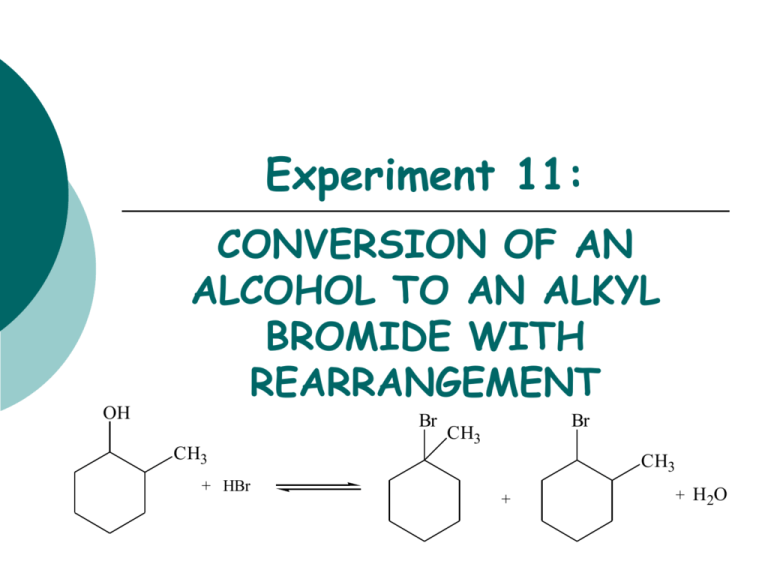 Experiment 11:
OH
CONVERSION OF AN
ALCOHOL TO AN ALKYL
BROMIDE WITH
REARRANGEMENT
Br
CH3
+ HBr
Br
CH3
CH3
+
+ H2O
Objectives



To synthesize isomeric alkyl halides from
an alcohol using an SN1 dehydration
reaction.
To determine product substitution based on
reaction rate with AgNO3.
To characterize reactants and products
using IR spectroscopy.
SN1 MECHANISM
1. hydroxyl oxygen
attacks and
removes a proton
from hydrobromic
acid.
H
2. Forms new O-H
bond, oxygen
bears a positive
charge (oxonium
ion).
OH
CH3
H
H
3. Water is
eliminated-forms 2o
carbocation.
H
O
Br
H
H
H
CH3
CH3
H
H + H2O + Br
secondary carbocation
H
H
H
H
CH3
H
H
H
H
a
a Br-
5. Reaction of the
carbocation with the
bromide ion yields
the alkyl halide.
CH3
Hydride Shift
4. Products may form
from the 2o
carbocation, but it is
more likely that the
2o C+ will rearrange to
a 3o C+.
b
b Br-
Br
Br
CH3
CH3
5. Reaction of the
carbocation with the
bromide ion yields
the alkyl halide.
EXPERIMENTAL PROCEDURE
(Synthesis)
• Add 2-methylcyclohexanol,
48% HBr and 3 boiling chips to
flask.
water out
• Clamp flask to ring stand.
• Attach clear hoses to
condenser and place condenser
on top of flask.
water in
heating mantle
to voltage regulator
iron ring
• Begin water flow through
condenser and apply heat.
• Reflux the solution for 30
minutes.
• Cool flask in beaker of tap
water.
EXPERIMENTAL PROCEDURE
(Purification)
• Transfer solution to separatory
funnel.
• Add concentrated sulfuric acid.
• Stir solution gently with glass rod.
Do NOT agitate.
• Draw off bottom acidic layer into
an Erlenmeyer flask.
• Transfer the top layer to a
preweighed beaker using a glass
Pasteur pipet.
• Reweigh beaker to obtain final
mass.
• Perform silver nitrate test.
Table 11.1
Must determine which reactant is
your limiting reagent first, 48% HBr or
2-methylcyclohexanol.
 Calculate the amount of product that
can be formed based on the limiting
reagent.

Theoretical Yield (g)
This mass will be obtained by
weighing an empty small beaker, then
reweighing after the product has been
added. The difference in mass is the
actual product yield.

Actual Yield (g)

% Yield

Product Appearance
Actual yield (g)
Theoretical yield (g)
X 100
Physical state and color of product.
EXPERIMENTAL PROCEDURE
(Silver Nitrate Test)


When an alkyl halide is treated with a
solution of alcoholic silver nitrate, a
precipitate of silver halide forms.
The rate limiting step is the formation of
the carbocation.
Br
+
AgNO3
ethanol
+
C
+ NO3- + AgBr(s)
Rate of reaction: 3o > 2o > 1o Alkyl Bromides
Table 11.2
Test Solution
1-bromobutane
2-bromobutane
2-bromo-2-methylpropane
Product sample
Reaction Rate (min/sec)
You only need 3 drops of each of
these! Get ONLY what you need!

IR SPECTROSCOPY
OH
CH3
Br
CH3
Table 11.3
Functional Group
Base Values
(cm-1)
OH stretch
3200-3600
C-O stretch
1000-1200
sp3 CH stretch
2850-3000
C-Br stretch
500-700
2-methylcyclohexanol
Alkyl halide
product
Frequency (cm-1)
Frequency (cm-1)
SAFETY CONCERNS



Sulfuric acid is very corrosive and
must be used with EXTREME caution!
Silver nitrate will stain the skin! Use
gloves at all times!
Alkyl bromides are lachrymators! Keep
covered at all times to avoid inhalation!
WASTE MANAGEMENT



Place the acidic solution from extraction in
bottle labeled "AQUEOUS ACIDIC
WASTE".
Place alkyl bromide product in the bottle
labeled "ALKYL BROMIDE WASTE".
Pour the contents of the test tubes used
in the silver nitrate test in the container
labeled "SILVER NITRATE WASTE".
For Next Lab…

Experiment 12 Pre-lab notebook
entry will be due at the beginning of
lab!