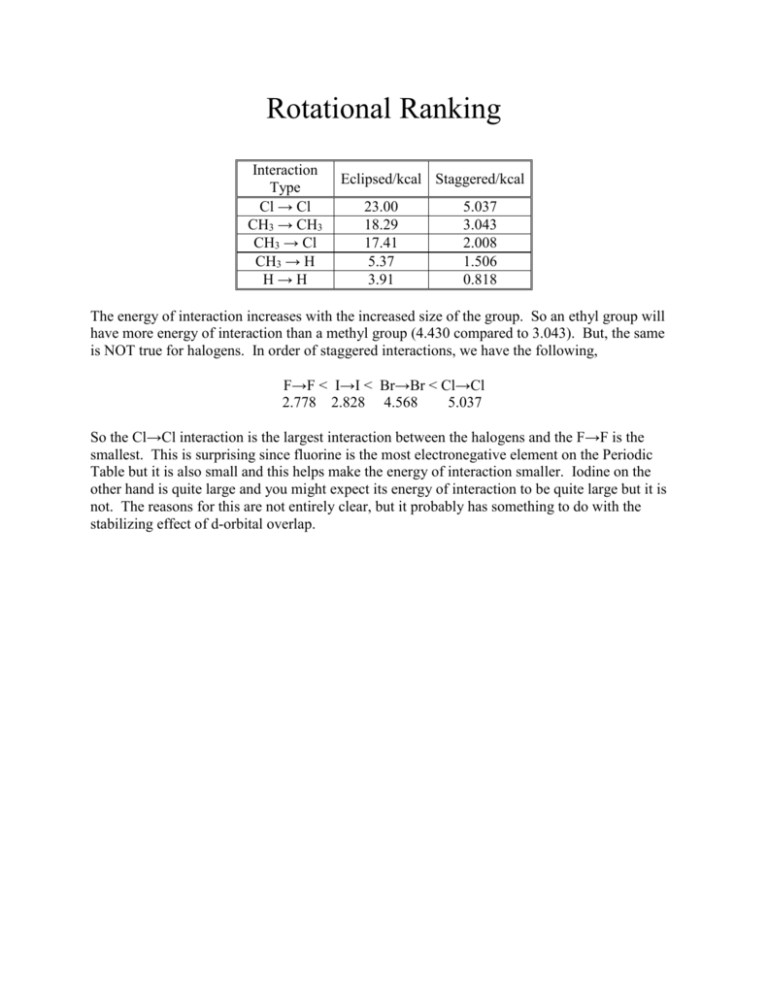 Rotational Ranking
Interaction
Type
Cl → Cl
CH3 → CH3
CH3 → Cl
CH3 → H
H→H
Eclipsed/kcal Staggered/kcal
23.00
18.29
17.41
5.37
3.91
5.037
3.043
2.008
1.506
0.818
The energy of interaction increases with the increased size of the group. So an ethyl group will
have more energy of interaction than a methyl group (4.430 compared to 3.043). But, the same
is NOT true for halogens. In order of staggered interactions, we have the following,
F→F < I→I < Br→Br < Cl→Cl
2.778 2.828 4.568
5.037
So the Cl→Cl interaction is the largest interaction between the halogens and the F→F is the
smallest. This is surprising since fluorine is the most electronegative element on the Periodic
Table but it is also small and this helps make the energy of interaction smaller. Iodine on the
other hand is quite large and you might expect its energy of interaction to be quite large but it is
not. The reasons for this are not entirely clear, but it probably has something to do with the
stabilizing effect of d-orbital overlap.