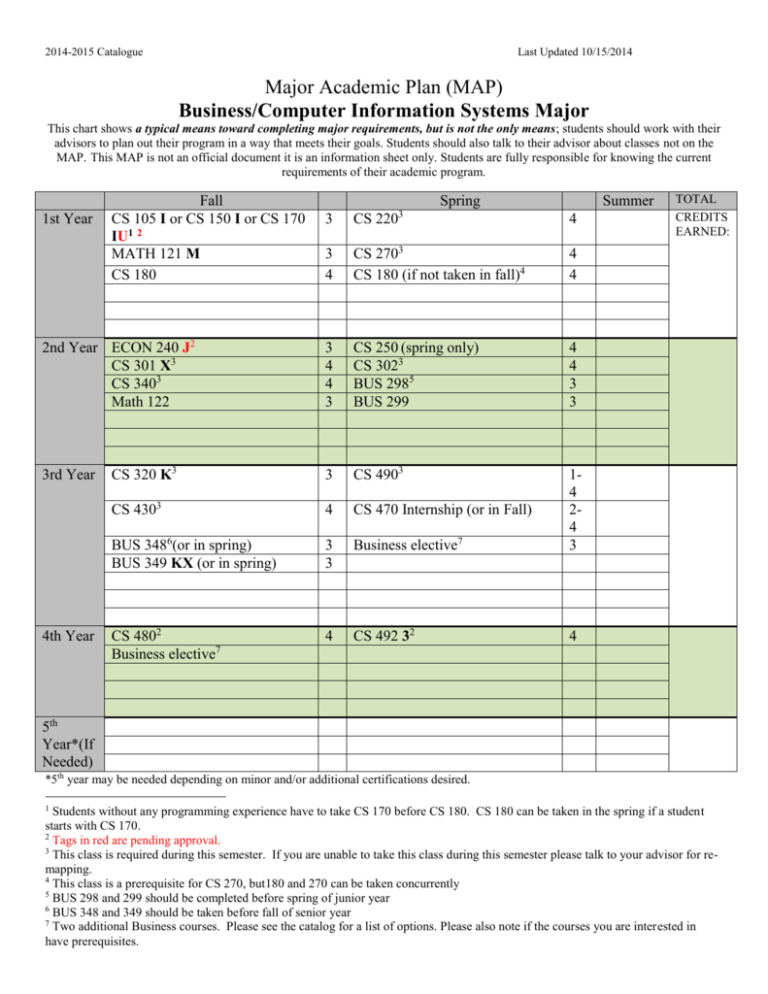 2014-2015 Catalogue
Last Updated 10/15/2014
Major Academic Plan (MAP)
Business/Computer Information Systems Major
This chart shows a typical means toward completing major requirements, but is not the only means; students should work with their
advisors to plan out their program in a way that meets their goals. Students should also talk to their advisor about classes not on the
MAP. This MAP is not an official document it is an information sheet only. Students are fully responsible for knowing the current
requirements of their academic program.
1st Year
Fall
CS 105 I or CS 150 I or CS 170
IU1 2
MATH 121 M
CS 180
4th Year
Summer
3
CS 220
4
3
4
CS 2703
CS 180 (if not taken in fall)4
4
4
3
4
4
3
CS 250 (spring only)
CS 3023
BUS 2985
BUS 299
4
4
3
3
CS 320 K3
3
CS 4903
CS 4303
4
CS 470 Internship (or in Fall)
BUS 3486(or in spring)
BUS 349 KX (or in spring)
3
3
Business elective7
14
24
3
CS 4802
Business elective7
4
CS 492 32
4
2nd Year ECON 240 J2
CS 301 X3
CS 3403
Math 122
3rd Year
Spring
3
TOTAL
CREDITS
EARNED:
5th
Year*(If
Needed)
*5th year may be needed depending on minor and/or additional certifications desired.
1
Students without any programming experience have to take CS 170 before CS 180. CS 180 can be taken in the spring if a student
starts with CS 170.
2
Tags in red are pending approval.
3
This class is required during this semester. If you are unable to take this class during this semester please talk to your advisor for remapping.
4
This class is a prerequisite for CS 270, but180 and 270 can be taken concurrently
5
BUS 298 and 299 should be completed before spring of junior year
6
BUS 348 and 349 should be taken before fall of senior year
7
Two additional Business courses. Please see the catalog for a list of options. Please also note if the courses you are interested in
have prerequisites.