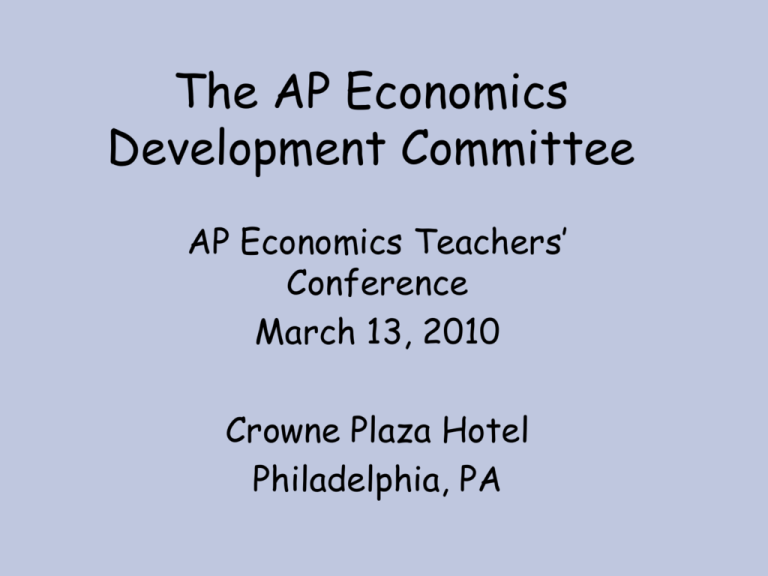 The AP Economics
Development Committee
AP Economics Teachers'
Conference
March 13, 2010
Crowne Plaza Hotel
Philadelphia, PA
I. Committee Composition
• Seven Members – three from universities and
four from secondary schools
• Terms are renewable for up to four years
• All members have extensive teaching
experience and have participated at readings
• Ex-officio members include the Chief Reader
and ETS representatives
A. The Committee
• Pamela Schmitt - Chair
U.S. Naval Academy – Annapolis, MD
• Luis Fernandez,
Oberlin College – Oberlin, OH
• Theresa Fisher
Ridgefield High School – Ridgefield, CT
• Lori Leachman
Duke University – Durham, NC
• Sally Meek
Plano West Senior High - Plano,TX
• Richard Rankin - College Board Liaison
Iolani School - Honolulu, HI
• Steven Reff
Pueblo High School - Tucson, AZ
B. Meeting with the Committee
• David Anderson – Chief Reader
Centre College – Danville, KY
• Fekru Debebe – Educational Testing Service
• Huanwei Zhao – Educational Testing Service
II. Course Development
• TD committee is involved in writing/updating
each AP course description.
• AP courses have undergone a course Audit.
• Syllabi are submitted to and evaluated by
college faculty and AP consultants.
• Consistency among all courses labeled AP.
II. Course Development
• At each AP Reading, college and high school teachers
gather to grade and note changes in the emphasis of
material.
• At Test Development meetings, members disseminate
information on material students perform poorly on.
• Additional problems/focus materials are written to
assist high school teachers in teaching difficult
material.
• Workshops taught by college and high school
teachers to assist new AP teachers.
III. Exam Development
• Test Development committee consists of
college, and high school teachers; chaired by
college professor and attended by chief
reader.
• Multiple Choice and Free Response questions
are written by AP teachers and college
teachers.
• Multiple Choice questions are pre-tested at
select colleges.
III. Exam Development
• Each meeting: questions answered by
committee members,
rewritten/reworded.
• Multiple Choice questions released
every 5 years
• Free Response questions released yearly
(with grading rubric and examples)
III. Exam Development:
• Determine the appropriate scope and
difficulty level of questions
• Revise the course content specification
• Critically review results of past year's tests
and grading
• Maintain contact and consult with the College
Board and ETS personnel who work with us
III. Exam Development
• Maintain standards similar to previous
year.
Use of common multiple choice
questions "equaters"
Link multiple choice scores to freeresponse scores
• Comparability study every 5 years.