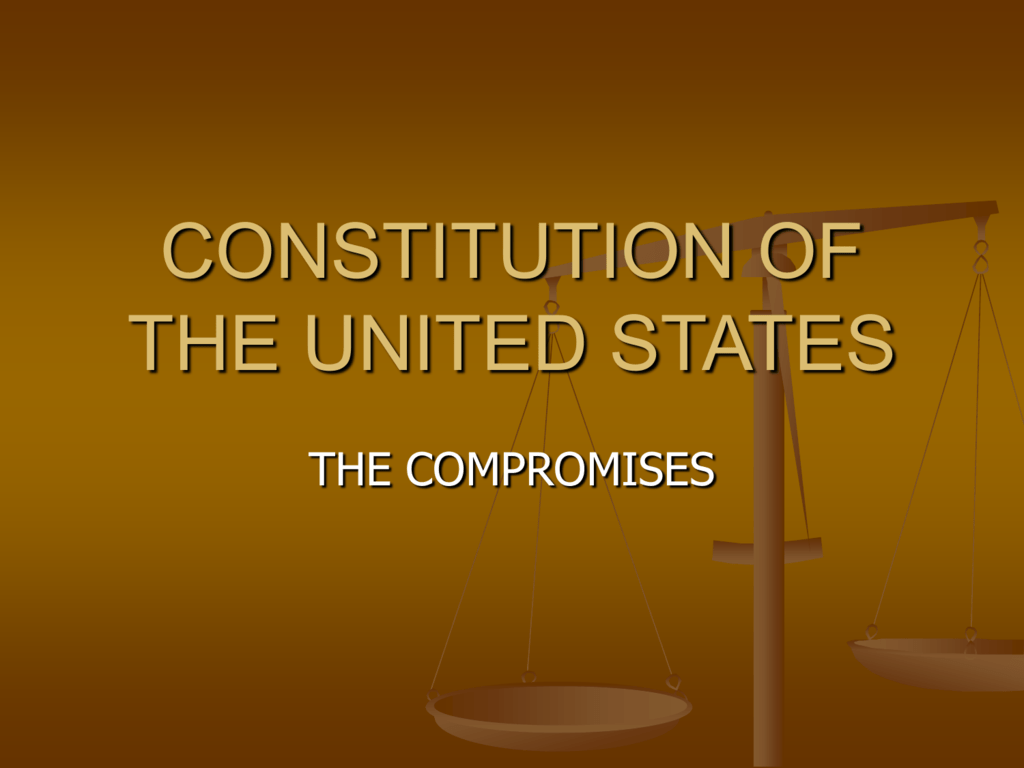 CONSTITUTION OF
THE UNITED STATES
THE COMPROMISES
THE VIRGINIA PLAN
(The Big State Plan)





Authored by James
Madison
3 Branches – Executive,
Judicial, and Legislative
Bicameral legislature
(2 houses)
Representation based on
population
Executive and Judicial
chosen by Congress
THE NEW JERSEY PLAN
(The Small State Plan)





Authored by William
Paterson
3 Branches
Unicameral legislature
(1 house)
Representation: Each
state would get one vote
Executive and Judicial
chosen by the Congress
THE CONNECTICUT
COMPROMISE
(The Great Compromise)




Suggested by Roger
Sherman
Congress to be bicameral
with Senate and House of
Representatives
Senate – states
represented equally
House – representation
based on population
THE THREE-FIFTHS
COMPROMISE
(Could slaves be counted?)




All "free persons" would be counted
Three-fifths of "all other persons"
Would be the basis for representation
Would also be the basis for any direct tax
1790 CENSUS

Total U.S. population
African-American
population




New York City
Philadelphia
Virginia
3,929,625
697,624 slaves
59,557 free
33,000
42,000
820,000
THE COMMERCE AND SLAVE
TRADE COMPROMISE

Southerners feared Northerners would tax
agricultural trade with England


Congress given power to regulate trade
BUT was forbidden to tax exports
Southerners feared Northerners would
stop the slave trade

Congress forbidden to interfere at least until
1808
OTHER COMPROMISES

How to elect the President





How long should the President serve?




election by the people?
by Congress?
by state legislatures?
Answer: The Electoral College System
Answer: 4 years
How should judges be selected?
How should new states be admitted?
How should the Constitution be amended?