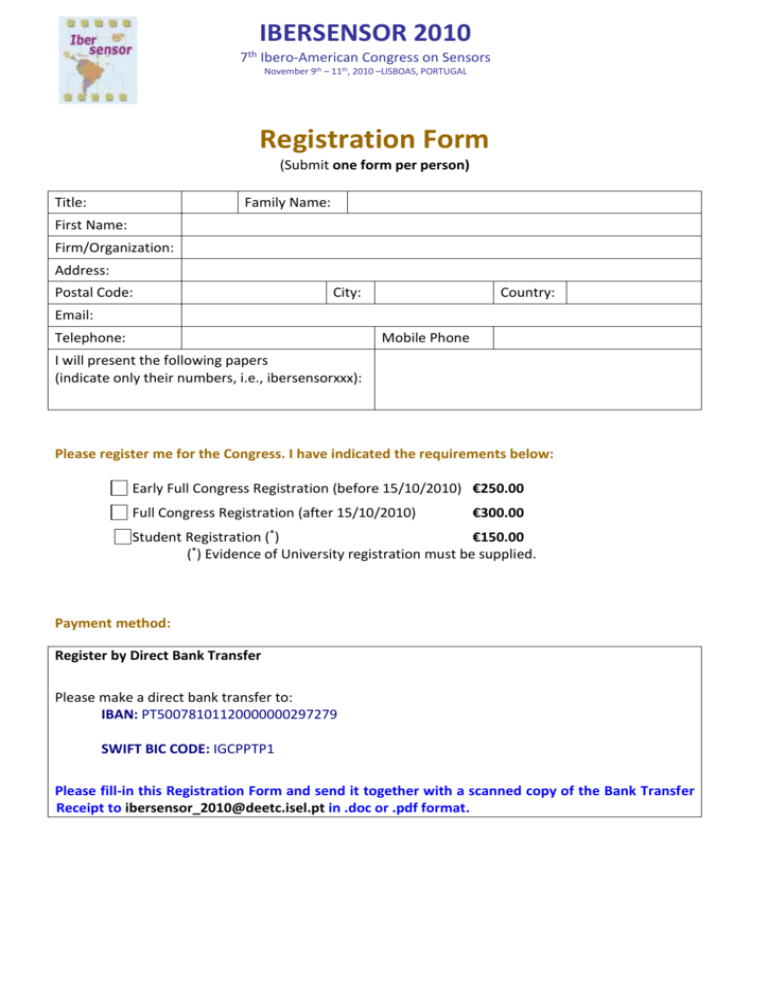 IBERSENSOR 2010
7th Ibero-American Congress on Sensors
November 9th – 11th, 2010 –LISBOAS, PORTUGAL
170216015800
Registration Form
(Submit one form per person)
Title:
Family Name:
First Name:
Firm/Organization:
Address:
Postal Code:
City:
Country:
Email:
Telephone:
Mobile Phone
I will present the following papers
(indicate only their numbers, i.e., ibersensorxxx):
Please register me for the Congress. I have indicated the requirements below:
Early Full Congress Registration (before 15/10/2010) €250.00
Full Congress Registration (after 15/10/2010)
€300.00
Student Registration (*)
€150.00
*
( ) Evidence of University registration must be supplied.
Payment method:
Register by Direct Bank Transfer
Please make a direct bank transfer to:
IBAN: PT50078101120000000297279
SWIFT BIC CODE: IGCPPTP1
Please fill-in this Registration Form and send it together with a scanned copy of the Bank Transfer
Receipt to ibersensor_2010@deetc.isel.pt in .doc or .pdf format.