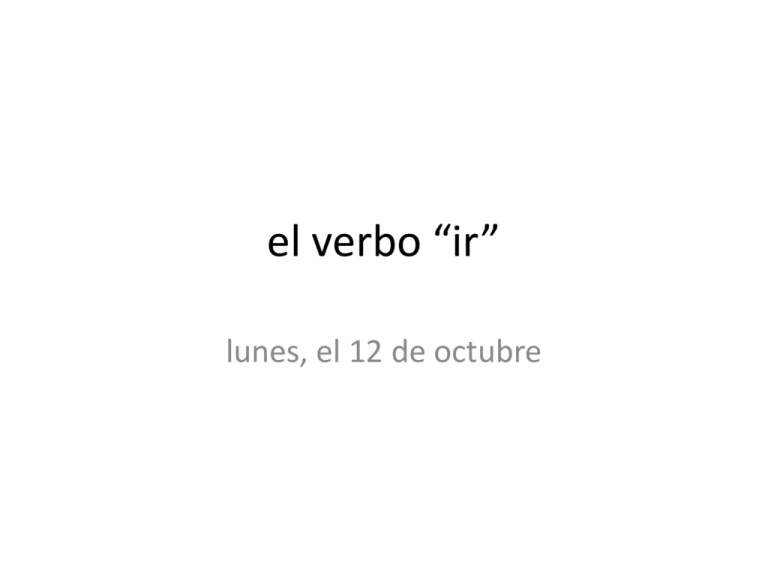 el verbo "ir"
lunes, el 12 de octubre
¿Que vamos a hacer hoy?
1.
2.
3.
4.
Review "go" verbs
Learn the verb "ir" = "to go"
Learn ir + a + infinitive
Preview "to know"  saber vs. conocer
"go verbs"
(NOT to be confused with the verb "to go")
•
•
•
•
•
•
Tener = to have
Hacer = to make, to do
They're called "go"
Poner = to put
verbs becase the "yo"
Traer = to bring
forms end in "go"!
Salir = to leave
Oír = to hear (NOT to listen)
Verbo
yo form
tú form
él / ella /
Usted
nosotros /
nosotras
vosotros /
vosotras
ellos / ellas
/ Ustedes
tener
tengo
tienes
tiene
tenemos
tenéis
tienen
hacer
hago
haces
hace
hacemos
hacéis
hacen
poner
pongo
pones
pone
ponemos
ponéis
Ponen
traer
traigo
traes
trae
traemos
traéis
traen
salir
salgo
sales
sale
salimos
salís
salen
oír
oigo
oyes
oye
oímos
oís
oyen
• *tener and oír are "boot" verbs
Individualmente…
Now, choose an
adjective that
describes you based
on the options you
chose…
Individualmente…
Now, compare your
answers with a
classmate.
Be prepared to share
what you learn with
the class!
El verbo "ir"
• Although "ir" ends in
–IR (more like… it IS
"ir"), we conjugate it
more like an –AR verb
• Therefore, every form
is irregular
voy
vas
va
• I go to the store
• You go to class.
• Voy a la tienda.
• Vas a clase.
ir = to go
vamos
vais
van
Please complete the activity titled
"¿Adónde vas?" on the bottom of
the signature search worksheet
from Friday.
So… what if you want to say you are
going to do something?
Like… in the future?
We can use ir + a + infinitive
to express the
Fuuuuutuuure!
• To express things that are going to happen, we use
a construction similar to the English one.
ir + a + infinitive
• I am going to study
– Yo voy a estudiar
• You are going to play the guitar
– Tú vas a tocar la guitarra.
• She is going to go to the movies.
– Ella va a ir al cine.
*"vamos a" can mean "let's" as in "Let's dance!"
(¡vamos a bailar!)
So, it could mean
or
"Let's dance"
"We're going to dance"
(You use the context of the situation to know which
meaning is intended)
Rápidamente con un compañero…
saber vs. conocer
saber vs. conocer
• Kinda like ser and estar, there exist two verbs
in Spanish that both mean "to know"
• However… the meanings are different!
• They're also (almost) regular er verbs!
– The only irregularities are in the "yo" form
• Let's take a look…
Saber
• Used to express
knowledge of facts
or pieces of
information
• saber + infinitive to
express knowing
how to do
something
saber = to know
sé
sabemos
sabes
sabéis
sabe
saben
• Yo sé que Ustedes son
muy inteligentes 
• Ella sabe cantar.
Conocer
• Used to express
knowing a person
• Used to express
familiarity with things
• Can also mean "to
meet"
• Don't forget the
"personal a" when
referring to people!
conocer = to know
conozco
conocemos
conoces
conocéis
conoce
conocen
• Yo conozco muy bien el
campus de ISU.
• Mi novio va a conocer a
mis padres.