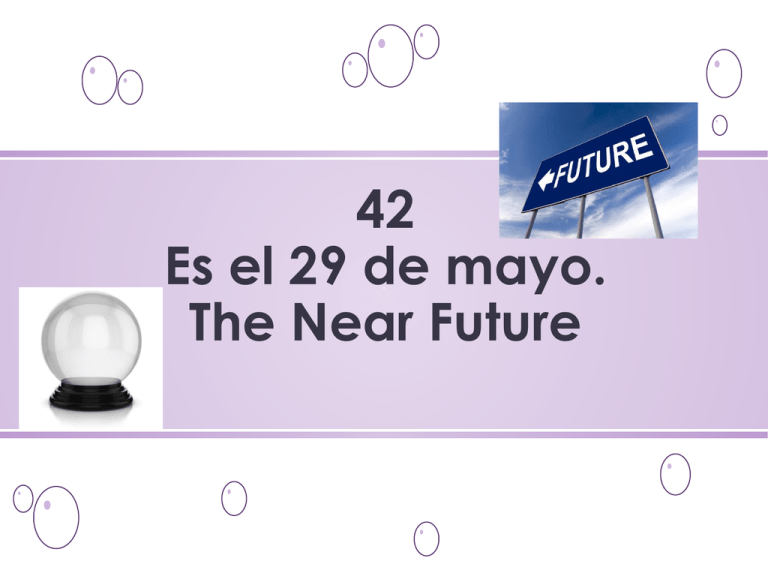 42
Es el 29 de mayo.
The Near Future
¿Qué vas a hacer?
oWhat
are you going
to do?
Ir a + an infinitive
o
Use this expression to tell what someone is
going to do
Conjugate Ir
voy
vas
va
vamos
vais
van
+ write the word
"a"
+ an
infinitive
Verb that
ends in
–ar, -er or –ir
(NOT
conjugated)
Ejemplos
o
I am going to buy fish
and onions.
o
Yo voy a comprar
pescado y cebollas.
o
You (fam.) are going
to speak Spanish
tomorrow.
o
Tú vas a hablar
español mañana.
o
Paco va a usar la
computadora.
o
Carlos y yo vamos a
visitar los abuelos.
o
Mis padres van a
comer la cena en La
Tolteca.
o
Paco is going to use
the computer.
o
Carlos and I are going
to visit the
grandparents.
o
My parents are going
to eat dinner at La
Tolteca.
Going to go somewhere
oI
am going to go
to Mexico.
o Conchita
is going
to go to the
cafeteria during
lunch.
o My
cousins are
going to go to the
movies Saturday.
o Yo
voy a ir a
México.
o Conchita
va a ir
a la cafetería
durante el
lonche.
o Mis
primos van a
ir al cine el
sábado.
Ahora,
vamos a
terminar
la
lección.