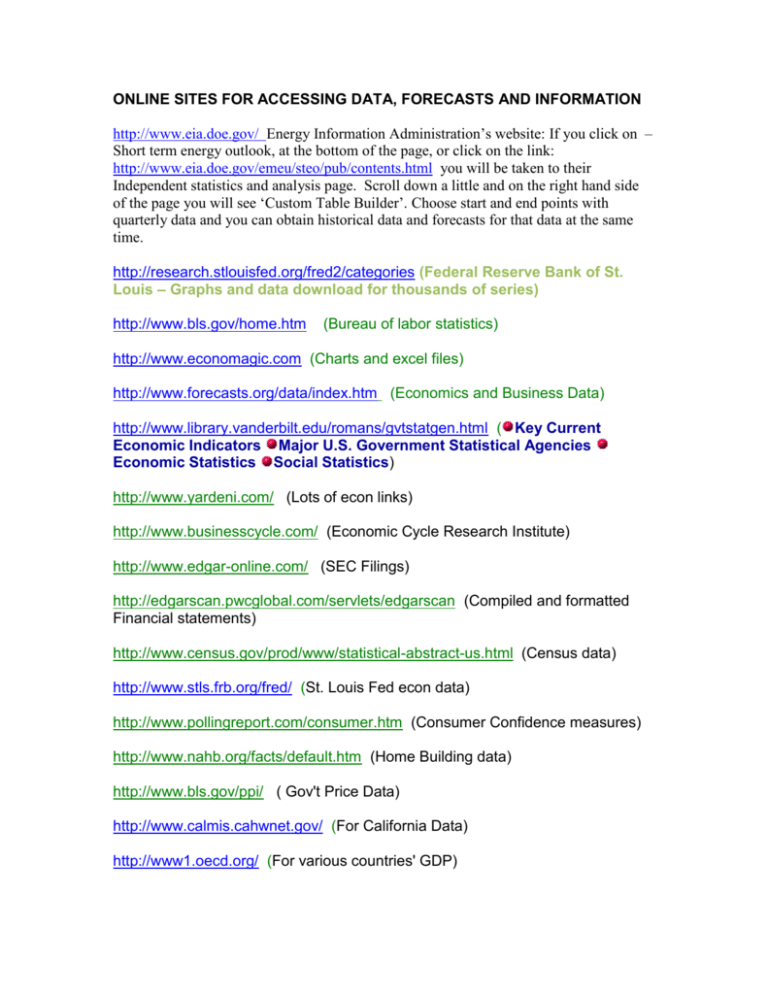 ONLINE SITES FOR ACCESSING DATA, FORECASTS AND INFORMATION
http://www.eia.doe.gov/ Energy Information Administration's website: If you click on –
Short term energy outlook, at the bottom of the page, or click on the link:
http://www.eia.doe.gov/emeu/steo/pub/contents.html you will be taken to their
Independent statistics and analysis page. Scroll down a little and on the right hand side
of the page you will see 'Custom Table Builder'. Choose start and end points with
quarterly data and you can obtain historical data and forecasts for that data at the same
time.
http://research.stlouisfed.org/fred2/categories (Federal Reserve Bank of St.
Louis – Graphs and data download for thousands of series)
http://www.bls.gov/home.htm
(Bureau of labor statistics)
http://www.economagic.com (Charts and excel files)
http://www.forecasts.org/data/index.htm (Economics and Business Data)
http://www.library.vanderbilt.edu/romans/gvtstatgen.html ( Key Current
Economic Indicators Major U.S. Government Statistical Agencies
Economic Statistics Social Statistics)
http://www.yardeni.com/ (Lots of econ links)
http://www.businesscycle.com/ (Economic Cycle Research Institute)
http://www.edgar-online.com/ (SEC Filings)
http://edgarscan.pwcglobal.com/servlets/edgarscan (Compiled and formatted
Financial statements)
http://www.census.gov/prod/www/statistical-abstract-us.html (Census data)
http://www.stls.frb.org/fred/ (St. Louis Fed econ data)
http://www.pollingreport.com/consumer.htm (Consumer Confidence measures)
http://www.nahb.org/facts/default.htm (Home Building data)
http://www.bls.gov/ppi/ ( Gov't Price Data)
http://www.calmis.cahwnet.gov/ (For California Data)
http://www1.oecd.org/ (For various countries' GDP)
http://agecon.lib.umn.edu/ (AgEcon Search collects, indexes, and electronically
distributes full text copies of scholarly research in the broadly defined field of
agricultural economics including sub disciplines such as agribusiness, food
agricultural trade, and economic development.)Supply, natural resource
economics, environmental economics, policy issues,
http://www.bea.doc.gov/ (US Dept of Commerce/ Bureau of Economic Analysis)
http://www.census.gov/
(Bureau of the Census)
http://www.federalreserve.gov/rnd.htm (Federal Reserve Board research and
data)
http://www.stls.frb.org/fred/ ( FRED®, an Economic Time-Series Database)
http://www.isr.umich.edu/ (Institute for Social Research –Consumer behavior
surveys)
http://www.economic-indicators.com/ (Web Sites for Tracking the U.S.
Economy – Includes websites for downloading data and forecasts)
http://www.hawaii.gov/dbedt/qsr0901/index.html (Provides concise statistical
information and analyses on Employment, Income and Prices, Taxes, Tourism,
and Construction, as well as an overview of the State of Hawaii and the four
counties.)
http://www.phil.frb.org/econ/forecast/index.html (Real Time Data Set – Quarterly
and Monthly US macroeconomic data)
http://w3.access.gpo.gov/usbudget/ (Contains data from the appendix of the
Economic Report of the President, including trade-weighted exchange rates)
http://pacific.commerce.ubc.ca/xr/ (This service provides access to current and
historic daily exchange rates through an on-line database retrieval and plotting
system. Also provided is a list of all the currencies of the world with information
on each country's exchange rate regime and ISO-4217 currency code. Analyses
and trend projections of the Canadian Dollar, the U.S. Dollar, and the Euro are
available as well. )
http://bigcharts.marketwatch.com/industry/bigcharts-com/default.asp?bcind_ind=tec
A location where you can get a technology index. Another way of getting there
would be to just go to: www.bigcharts.com, then click on the "industry" tab, then
click on technology.
http://www.ers.usda.gov/Data/ Economic Research Service of the US dept. of
Agriculture. ERS produces a range of data products available in different
formats, including online databases, spreadsheets, and web files. You can
search by topic, by title, or by date. All data products online are available at no
charge.
http://www.nber.org/ The NBER is a private, nonprofit, nonpartisan research
organization dedicated to promoting a greater understanding of how the
economy works. Our research is conducted by more than 600 university
professors around the country, the leading scholars in their fields.
http://eire.census.gov/popest/data/national/tables/intercensal/intercensal
Intercensal Estimates of the United States Population by Age and Sex,
1990-2000: All Months
http://www.census.gov/population/projections/nation/summary/np-t3-b.txt
(NP-T3-B) Projections of the Total Resident Population by 5-Year Age Groups
Source: Population Projections Program, Population Division,
U.S. Census Bureau, Washington, D.C. 20233
Contact: Statistical Information Staff, Population Division,
U.S. Census Bureau, (301)763-2422 by telephone,
POP@CENSUS.GOV by e-mail (please include telephone number).
(Numbers in thousands. Consistent with the 1990 estimates base.)
My thanks to the students in Bus 621 who through their diligence came up with
these sites. If you've got a good site that is not on this list, email the url to Reg
Worthley at worthley@hawaii.edu. Also let me know if something is not available
now.