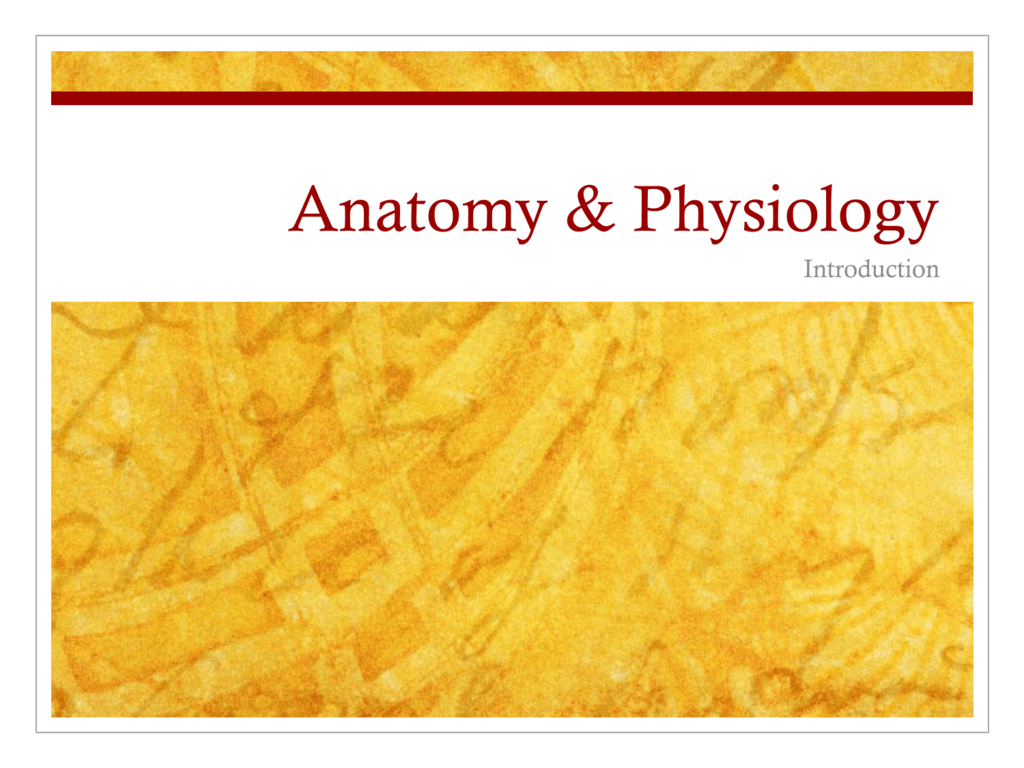 Anatomy & Physiology
Introduction
Anatomy:
The study of the structure of an
organism and the relationship to its
parts
Anatomy is derived from the
Greek word meaning "cutting up"
which is still how we learn today
through dissections.
Physiology:
The study of the functions of living
organisms and their parts
Structural Levels of

1. Atoms/Molecules

2. Cells
Differing levels of organization
progress from the least complex
(chemical level) to the most
complex (organism).

3. Tissues

4. Organs
Organization is one of the most
important characteristics of body
structure.

5. Systems

6. Body
Organization
Cell are considered to be the
smallest "living" units of structure
and function.
C
O
M
P
L
E
X
I
T
Y
Anatomical Position

The body is in a erect or standing
posture with the arms at the sides
and palms turned forward.

The anatomical position is a
reference position that gives
meaning to the directional terms
used to describe the body parts and
regions.
"NOT"
Anatomical Position
SUPINE

Laying face upward
http://www.yogastudy.org/images/Supine-yoga-Postures.gif
PRONE

Laying face downward
ANATOMICAL
DIRECTIONS
Anatomical Directions
Superior
Inferior

"toward the head"

"toward the feet"

Upper or above

Lower or below
Anatomical Directions
Anterior
Posterior

"front" or "in front of "

"back" or "in back of "

Ventral (toward the belly) can also
be used instead of anterior

Dorsal (toward the back) can also
be used instead of poster
Anatomical Directions
Medial

towards the midline of the body
Lateral

Toward the side of the body or
away from midline
Anatomical Directions
Proximal

Toward or nearest the trunk of
the body or nearest the point of
origin of one of it's parts
Distal

Away from or farthest from the
trunk or the point of origin of a
body part
Anatomical Directions
Superficial

Nearer the surface
Deep

Farther away from the body
surface
Planes or Body
Sections
1.
2.
3.
Sagittal
•
Length-wise plane running from front to
back.
•
Divides into left and right halves
Frontal (Coronal)
•
Length-wise plane running from side to
side
•
Divides into anterior and posterior
Transverse
•
Horizontal or crosswise plane
•
Divides into upper and lower portions
Body Cavities
Body Cavities

Ventral Body Cavity


Organ-containing space in the
anterior trunk of the body that
includes the thoracic and
abdominopelvic cavities
Dorsal Body Cavity

Includes the cranial and spinal
cavities
Ventral Body Cavity
Thoracic cavity
Abdominopelvic cavity

Everything above the
diaphragm


Mediastinum –



Trachea, heart, blood
vessels
Pleural cavities –

Lungs

Everything below the
diaphragm
Abdominal cavity  Liver, gallbladder,
stomach, spleen,
pancreas, small intestine,
parts of the large
intestine
Pelvic cavity –
 Lower sigmoid colon,
rectum, urinary bladder,
reproductive organs.
Ventral Body Cavity
Ventral Body
Cavity
The Abdomen can be divided into
9 for abdominal regions.
This makes it easier to locate
organs.

RH- right hypochondriac region

RL- right lumbar region

RI- right iliac (inguinal) region

ER- epigastric region

UR- umbilical region

HR- hypogastric region

LH- left hypochondriac region

LL- left lumbar region

LI- left iliac (inguinal) region
Ventral Body
Cavity
An easier way to divide of the
abdomen is to use the division of
the abdomen into 4 quadrants.
Dorsal Body Cavity
Cranial cavity – Brain
Spinal cavity - Spinal cord
http://www.free-ed.net/sweethaven/Science/Biology/AnatomyPhysiol/Human01_LessonMain.asp?iNum=0106
Body Regions
Subdivisions
Body Regions


Axial

Head

Neck

Torso or trunk
Appendicular –

Upper and lower extremities
The Balance of
Body Functions
Homeostasis
Balance of Body Functions

Homeostasis –


The body maintaining relatively constant conditions within
the body or a relative constancy of the internal environment.
The body must constantly work to maintain or
restore homeostasis.
Balance of Body Functions

Negative Feedback Loop –


Oppose or negate a change in a controlled condition.
They change back toward a normal value – stabilize
conditions.
Ex: Breathing heavier when exercising or producing
more urine when there is more fluid in the body than
usual.
Balance of Body Functions

Positive Feedback Loop –


Instead of opposing a change
in the internal environment
and causing a return to
normal, these PFL's
temporarily amplify the
change that is occurring.
Ex: Rapid increases in uterine
contractions before the birth of a
baby or rapid sticking together
of platelets to form a blood clot.
Maintaining Homeostatis

Our physiological feedback systems have three key
features:

1. A receptor that can evaluate the stimulus (change in
environment) and sends a message to…

2. An integrating center (Brain) that processes the
information and sends a message to…

3. An effector that acts on the stimulus and causes a
response (reaction) in the organism.