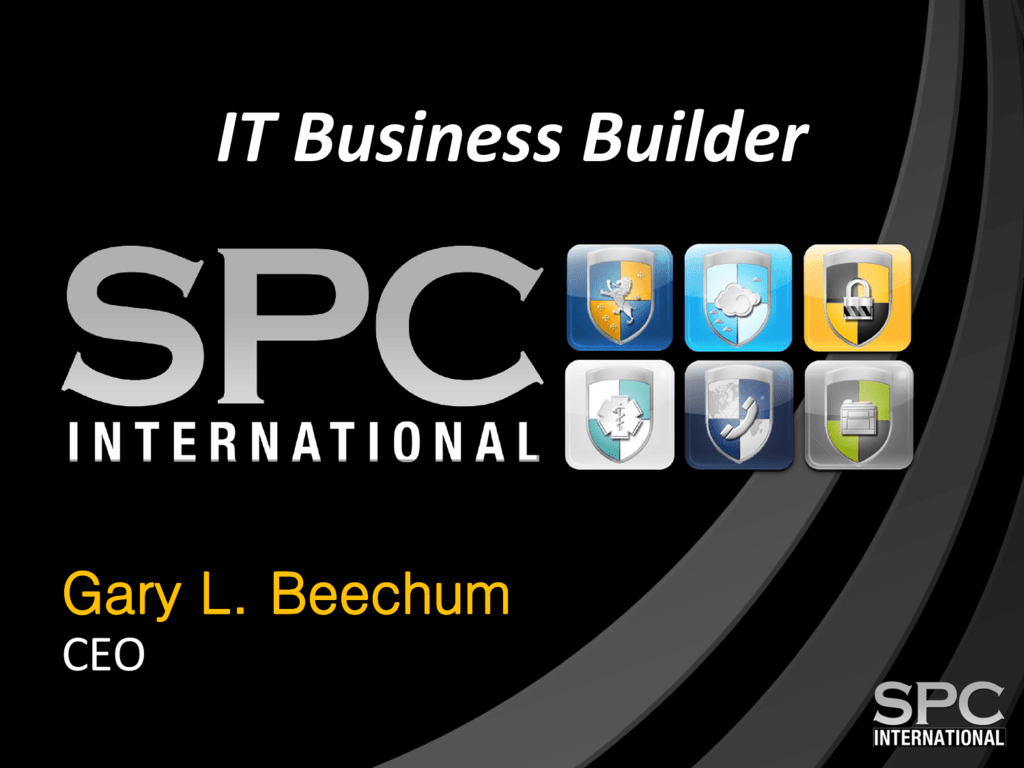 IT Business Builder
Gary L. Beechum
CEO
Who is SPC International?
• The IT Business Builder
• We provide IT Business Operations, Sales &
Marketing and Technical Service Delivery
Improvement Education & Training
Internationally
• Host the largest library of IT and Managed
Services business improvement and
transformation resources in the channel
– IT Business Builder Learning Management System
– Consulting Engagements
– Fulfillment Services
Business Transformation SWOT
• Our Business Transformation Consulting
Engagement is delivered through the following
distinct phases:
– Provisioning
– On-Boarding and Discovery
– Recommendations Document Development
– Strategic Plan Development
– Strategic Guidance Conference Calls
– Onsite Strategic Meeting
PSA Audit and Optimization Service
•
Complete PSA Audit
–
–
–
–
–
–
–
–
–
–
–
–
–
–
–
–
–
–
Business Set Up
Workflow Policies
Accounts and contacts
Sales Process
Onboarding
Quotes, Billing, Accounting integration
Incident management
SLA Management and Alerting
Escalation Workflows and Alerting
Project Management
Problem Management and reporting
Customer Complaint Management
Customer Satisfaction Structure
Time sheet and expense management
Outsource Process and Management
Summary Reports and Measurements
Dashboard setup and use
Ticket creation from email
SEO Word Press Website 3.0
Evolving to Meet Your Needs In 2014
• Increased focus on ONLINE TRAINING
• Massive Expansion of IT Business Builder LMS and
Resource Center
–
–
–
–
–
–
–
–
100 New Video Training Classes available NOW
175 Downloadable Documents and Tools available NOW
Boot Camp Sessions Added (from archive of 500 Videos)
New Training Classes Added Weekly
30 Best Practice Guides
4 Best Selling Books
Audiobooks
Much, much more!
Largest library for IT providers anywhere!
• 872 Videos and Webinars
• 1200 Documents and
Tools
• Marketing Collateral
• Agreements and Forms
• Best Practice Guides
• Business Calculators
• Best-Selling Publications
• Growing and growing!
Business Builder Subscription Partner
Role-Specific Training
Training Progress Tracked
Review and Measure Results
WWW.SPC-INTL.COM/INGRAMCLOUD2014
FREE 30 DAY
MEMBERSHIP
TO SPC INTERNATIONAL'S
IT BUSINESS BUILDER
TRAINING AND
RESOURCE
CENTER AND THIS
SESSION'S
SLIDE DECK AND
HANDOUTS
Why Are You At Boot Camp?
–What Is Your Predominant Business
Model?
–Are You A Technical Leader?
–Are You A Sales Leader?
–What Are Your Expectations?
–Organization Size?
–Start Ups?
What Solutions Are You Selling?
–Managed Services
–Mobility
–Unified Communication
–Cloud (Cloud Success, Top 150 SP 2102)
–Telecomm/ VOIP
–Websites
–Print Management
Define Your Organization
–Technical Organization
–Sales Organization
–Marketing Organization
You Are A
Marketing Organization
Conducting
Sales Operations
THE FOUR DECISIONS
By Verne Harnish "Growth Guy"
Gazelles, Inc
oPEOPLE
oSTRATEGY
o EXECUTION
oCASH
oLEADERSHIP
Passion about being a Solution Provider!
• What Else Would You
be Doing?
• Do You Love What
You're Doing?
• Selling, Retiring?
• Are You A Leader?
What's the Definition of
Leadership?
What is an
Effective Leader?
Leadership: Attitude is Everything





Self-motivated & ambitious
Whatever it takes
Set goals
Passion and vision
Driven to produce long term
results
Focus on One Key Factor
ATTITUDE
Rate Yourself On Leadership
–4: Excellent Leader
–3: Good Leader
–2: Fair Leader
–1: Poor Leader
Leadership Education
If you want life to improve, you must improve yourself.
John C. Maxwell
What's the
ONE
WORD that
Describes YOU?
John C. Maxwell
Effective Leader

Embraces change
 Realizes the "right" people are the most
important assets – Talent Wins, Hire the
Best!
 Empowers – capable of letting others
make decisions or take on responsibility
Leadership and People
Sometimes People
don't leave
companies, they
leave bosses!
Communication Tools of Leaders
• Hold regular team meetings
• Hold individual meetings
• Coach don't boss
• Show respect
• Be accessible
• Balance praise and criticism
Communicating as a Leader
55% Body Language
38% Tone of Voice
7% Words Spoken
Effective Leaders Understand the
Importance of TRAINING
TRAIN
TRAIN
TRAIN
TRAIN
TRAIN
What Are Your Pain Points?
–Leadership?
–Marketing?
–Sales?
–Service
Delivery?
–Operations?
–Talent
Management?
–Training?
–Vendor
Partnering?
–MDF?
CEO, Sales, & Marketing Track
– How to Transition Break- Fix
Business to Cloud
–Marketing Techniques &
Tactics To Sell Cloud Services
Any Questions?
[email protected]
Let's go to
Work
ON THE
BUSINESS!