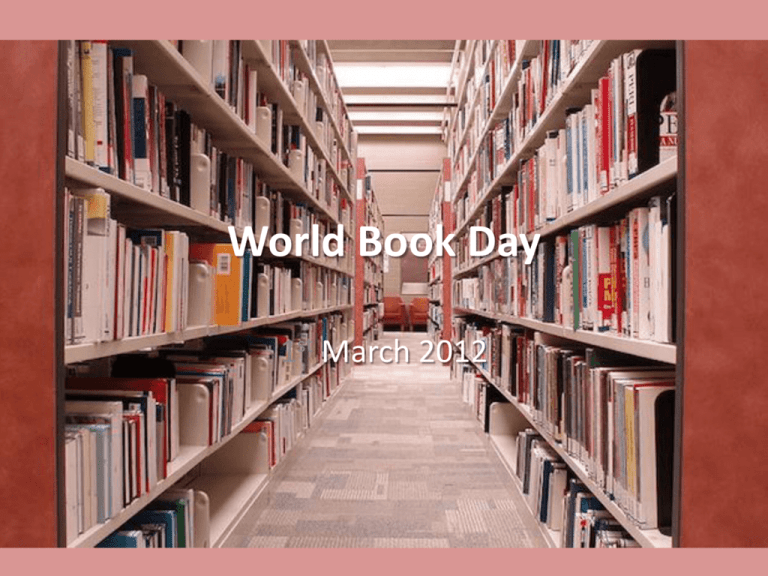 World Book Day
1st March 2012
What is World Book Day?
World Book Day is a celebration! It's a
celebration of authors, illustrators, books and
(most importantly) it's a celebration of reading.
In fact, it's the biggest celebration of its kind,
designated by UNESCO as a worldwide
celebration of books and reading, and marked in
over 100 countries all over the world.
Your World Book Day Token Explained
What's the point in reading?
• Some people read for entertainment
• Some people read to learn about the world
and people in it
• Some people read to escape their own world
• When you read you give yourself the best
opportunity to improve your communication
skills which every job in the world needs
• You read everyday in school
You don't just have to read books
though
• Reading magazines, newspapers, the internet
and adverts are other texts you can read
which will help you to improve your
vocabulary and communication skills
Not sure what to read?
• Ask your friends, your teachers, or your
parents
• In the meantime, the following are some
books recommended by staff and students at
Redhill…
Some teacher recommendations
• Mrs Hartley recommends: 'Witness' by Cath
Staincliffe
• This follows the lives of 4 very different
individuals in Manchester who are witness to
a young lad being shot dead. It explores how
they are affected by seeing the crime and how
they cope deciding whether or not to be
official witnesses for the police or not.
Some teacher recommendations
• Mrs Dyce recommends: 'The Woman In Black'
by Susan Hill
• This book has been made into a successful
play and a film which is perhaps testimony to
how good the story is. If you enjoy a spooky
read, this one's for you.
Some teacher recommendations
• Mrs Heneghan recommends: 'Gangsta
Granny' by David Walliams
• The plot is great – young boy, whose parents
don't really care for him, gets dumped with
cabbage-smelling and eating, granny. He finds
something which leads him to believe granny
may not be all she seems.
Some teacher recommendations
• Mr Foster recommends: 'Pigeon English' by
Stephen Kelman
• Loosely based on Damiola Taylor case. Deals with
knife crime and gangs in London from the
viewpoint of an 11 year old boy. Very good on the
everyday concerns of kids at school. Fast-moving
and convincing. Older readers would enjoy.
Recommended for several awards including
Booker Prize but don't let that put you off.
Some teacher recommendations
• Mr Holman recommends 'His Dark Materials'
a trilogy by Phillip Pullman, and has just read
all of George RR Martin's 'A song of fire and
Ice' series which starts with 'Game of
Thrones'. It's a bit dark and more suited to
older students but really, really good!
Some teacher recommendations
• Miss Rabey recommends 'War Horse' by
Michael Morpurgo
• Although it has been made famous by the
recent Spielberg film, the book is far superior.
It is written from the perspective of a horse,
Joey, who is sent out to war. It's an interesting
insight into a topic that you possibly wouldn't
have considered before.
Some teacher recommendations
• Miss Burgess recommends: 'The Alchemist' by Paul
Coehlo
Brazilian storyteller Paulo Coehlo introduces Santiago, an Andalucian
shepherd boy who one night dreams of a distant treasure in the Egyptian
pyramids. And so he's off: leaving Spain to literally follow his dream.
Along the way he meets many spiritual messengers, who come in
unassuming forms such as a camel driver and a well-read Englishman. In
one of the Englishman's books, Santiago first learns about the alchemists-men who believed that if a metal were heated for many years, it would
free itself of all its individual properties, and what was left would be the
"Soul of the World." Of course he does eventually meet an alchemist, and
the ensuing student-teacher relationship helps him to stay true to his
dreams.
Some teacher recommendations
• Mr Langford recommends 'The Hobbit'
by Tolkein
• Soon to be made into a film, this story
follows hobbit, Bilbo Baggins, on a
treasure hunt. There is a reason why
this book has stood the test of time.
Recommendations from AAS
•
•
•
•
•
•
•
•
•
•
Harry Potter
Diary of a Wimpy Kid
The Hunger Games
His Dark Materials
Georgia Nicolson books
Goose Bumps
Twilight
Alone on a Wide Sea
Boy in the Striped Pyjamas
Private Peaceful
Other currently popular reads…
I Capture the Castle: Dodie Smith
The first entry in Cassandra Mortmain's diary ends
with her feeling happier than she ever has in her
life, despite her depressed father and impoverished
state. "Perhaps it is because I have satisfied my
creative urge; or it may be due to the thought of
eggs for tea." The story of the restoration of a
degree of the family fortunes unfolds in the same
briskly beguiling voice and appeals to the romantic
streak in every teenage heart. Trust no one who
does not love this or, of course, 101 Dalmatians
His Dark Materials: Philip Pullman
Bleak, brutal, warm, lush and exhilarating by
turns, fiercely intelligent, compassionate and
compelling always, it will undo all the harm or
all the good you feel was done by letting your
offspring loose on Narnia. That's what reading is
for.
The Chaos Walking trilogy: Patrick
Ness
An unbelievably thrilling read that nevertheless
poses profound questions – about the effects of
war, the constraints of love and hate, the
competing claims of vengeance and forgiveness
– as the epic tale of Todd's efforts to escape
various warmongering forces unfolds.
Profoundly humane and utterly magnificent.
Are You There, God? It's Me,
Margaret: Judy Blume
At a time when the disturbingly affectless Gossip
Girl series and Twilight books, with their
troubling attitudes towards teenage girls'
sexuality, have such a stranglehold, Blume's
concentration on the lived experience of
adolescence makes the books an increasingly
valuable corrective to this prevailing mood, as
well as continuing to be great reads.
Goodnight Mr Tom: Michelle
Magorian
Any synopsis makes it sound twee – irascible,
long-bereaved old man Tom Oakley grudgingly
takes London evacuee and abused child Will into
his home and their needs and gifts help heal
each others' wounds – but it is not. It is
beautiful, sad and true.
A Little History of the World: EH
Gombrich
Talking of beautiful, sad and true – Gombrich's
short, measured jog through the main
civilisations and events that have shaped the
world is a warm, witty presentation of vital facts
in narrative form, which grew out of a
correspondence the author had with his friend's
young daughter. And a useful reminder that
there is lots of fantastic non-fiction as well as
fiction out there too.
The Curious Incident of the Dog in the
Night-Time: Mark Haddon
The boy with Asperger's syndrome, who is trying
to navigate his way through a family break-up
and solve the mystery of who killed the dog next
door, provides an unlikely hero whose fresh
perspective engages the reader, although he
fails to engage with people himself.
Little Women: Louisa May Alcott
There is something for everyone (or, OK, every
girl – much as we hate to admit the possibility of
gender division in readers, we sometimes must)
in Alcott's bestseller. Tomboys have Jo, wannabe
celebs have Amy, homebodies have Meg and
drips have Beth. And, of course, because we all
contain multitudes, we love all of them equally
according to mood. Except, of course, for Beth.
Die, drip, die.
The Adventures of Tom Sawyer: Mark
Twain
And a classic for – ostensibly –the boys. Until
they are ready for the greater demands of
Huckleberry Finn, whet juvenile appetites with
Tom, his entrepreneurial spirit and his taste for
treasure-hunting adventure. A paean to true
boyhood.
Witch Child: Celia Rees
n 1659, 14-year-old Mary Newbury travels from
England to the New World, where she becomes
embroiled in what are effectively the Salem
witch trials. It's a completely absorbing account
of what happens when suspicion and rumour
fuel secret agendas, prejudices and politics. A
book to make you sigh with satisfaction
Exposure: Mal Peet
This contemporary retelling of Othello – the
doomed couple now a black Brazilian star
footballer and a pampered young pop goddess –
will continue to grip young readers for years to
come.
The Sterkarm Handshake/The
Sterkarm Kiss: Susan Price
These books cross effortlessly between science fiction
and fantasy, depicting life as it might have been in the
primitive past with rare and enthralling realism. A British
corporation, FUP, has developed the Tube, a means of
time-travelling between the 21st and 16th centuries, and
made contact with an ancient Scottish tribe. FUP expects
no difficulty in negotiating for resources with savages, but
the Sterkarms are unexpectedly ruthless – and Andrea,
FUP's 16th-century liaison, has complicated matters by
falling in love with the Sterkarm leader's son. Not for the
fainthearted, and with some decidedly adult language in
Kiss, these books never talk down or soften the
harshnesses of the past. Unforgettable.
The White Darkness: Geraldine
McCaughrean
Sym is a typical teenage girl in many ways,
wrestling with a colossal crush – unusually on
long-dead Polar explorer, Captain Oates. When
her eccentric uncle offers her the opportunity to
go to Antarctica, she's delighted – but Uncle
Victor's unnerving behaviour and the dark cold
of the South Pole are more than Sym bargains
for. Bleakly, heroically romantic.